'The People v. O.J. Simpson' Backstory: How FX Miniseries 'American Crime Story' Got Made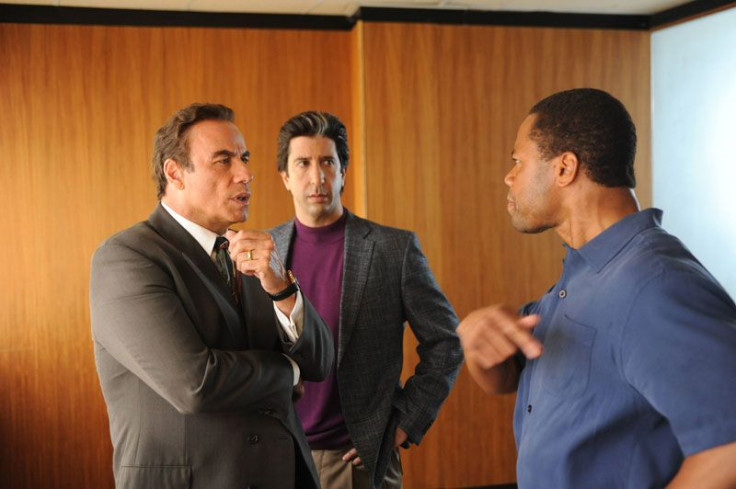 If you think the title of FX's latest anthology miniseries, "The People v. O.J. Simpson: American Crime Story,­" sounds like someone essentially Frankensteined two shows together, you're not far off the mark. The series, which premieres Tuesday night, had one of those long, strange trips through the development process that depend on serendipity, sanguinity and the kindness of executives.
It began, as not as many TV dramas as you might think do, with a book. In this case, that was journalist Jeffrey Toobin's "The Run of His Life: The People v. O.J. Simpson.­"
"People v. O.J." executive producers Nina Jacobson and Brad Simpson (no relation) brought the idea for a miniseries based on the book to FX Networks President and CEO John Landgraf. FX's corporate sibling, the Fox broadcasting network, was neck-deep in developing so-called limited and event series like "Wayward Pines,­" "Gracepoint­" and "The X-Files,­" and so FX Productions, the network's production arm, sold the project to the broadcaster, then run by Kevin Reilly.
"I was deeply envious that it wasn't at FX,­" Landgraf told a gathering of journalists in Pasadena, California, in January. "It felt very much like an FX project." But he called up his old co-worker from his NBC days and said, "Look, you are crazy if you don't make this."
A force perhaps more insidious than insanity intervened. Reilly ended up leaving the network shortly thereafter, leaving "The People v. O.J. Simpson" in limbo.
"American Horror Story­" creator Ryan Murphy had called up Landgraf a couple of years ago with the idea for another anthology miniseries, based on true crimes, called "American Crime Story.­" Murphy and FX have had a cozy relationship for years, going back to 2003, when Murphy brought soapy plastic surgery drama "Nip/Tuck­" to the network. "American Horror Story,­" which just wrapped its fifth season, has been one of the few new ratings success stories on FX and cable in general. Landgraf jumped at the chance to buy another Ryan Murphy hit.
But Murphy was having trouble finding the proper story to focus on, and everyone was looking glumly at the number of potential legal hurdles involved in bringing that kind of project (with real people and real cases) to TV, and so "American Crime Story­" fell by the development wayside.
Serendipity brought "The People v. O.J. Simpson­" into Murphy's hands. "What I loved about the scripts is that they read to me like a thriller, and I thought that I had known everything about that case," Murphy told that same gathering of reporters in Pasadena.
There was another problem, though. Murphy is currently under a massive overall deal with studio 20th Century Fox TV, overseen by Dana Walden and Gary Newman, who now also run the Fox broadcasting channel, and Walden didn't want Murphy distracted by a one-off miniseries.
A bit of an ingenious solution was proposed by Murphy: The O.J. story would simply be the first of the true-crime tales told by "American Crime Story." Murphy would join Jacobson, Brad Simpson, Larry Karaszewski and Scott Alexander as an executive producer — and tack on a couple of directing credits.
But the project was still technically at Fox. After a bit of back-and-forth between Walden and Landgraf, Landgraf won the series back. "Dana was very gracious about that," he said. (Understandably so: 20th Century was still the producing studio, and FX was still buying "American Crime Story" from her.)
There were still legal hurdles involved in the story that didn't just clear themselves. "Every script and every cut of every episode, every line of every script, has been gone over by at least five lawyers," Murphy said.
It's not as though Murphy or the writers, or author and consulting producer Jeffrey Toobin, needed to embellish any aspect of the tale. "This is the story about everything that obsesses the American people,­" said Toobin. "This is the story about race, sex, violence, sports, Hollywood, and the only eyewitness is a dog."
© Copyright IBTimes 2022. All rights reserved.
FOLLOW MORE IBT NEWS ON THE BELOW CHANNELS