Peyton Manning Doping Allegations Update: Al-Jazeera Reporter Reveals Second Source Confirming Human Growth Hormone Use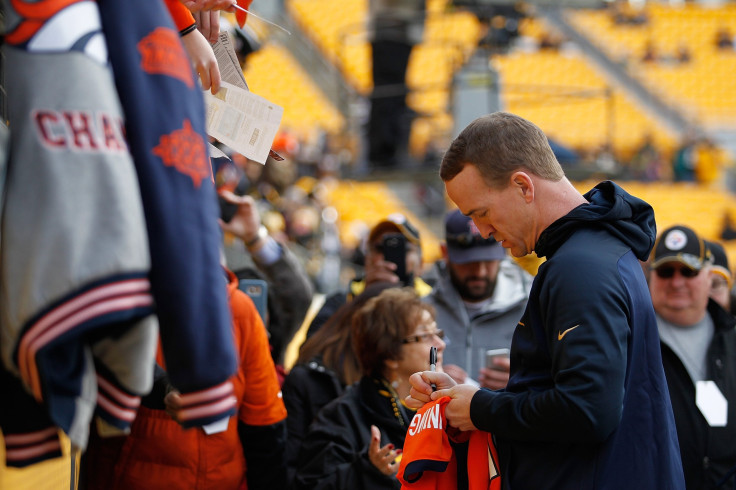 An Al Jazeera journalist who released a documentary last week alleging that Denver Broncos quarterback Peyton Manning used performance-enhancing drugs told CNN Sunday she has a second source who confirms her allegations. Deborah Davies' report came under criticism last week after her main source recanted his original assertion that the drugs had been delivered to the football player's home.
The Al Jazeera report alleges while recovering from a neck injury, Manning used human growth hormone to speed healing. The hormone is banned by all major athletics associations, including the International Olympic Committee, and abuse of it is often referred to as "doping." After Davies' main source, Indiana pharmacist Charlie Sly, recanted his claims of delivering HGH to Manning's home, the journalist told CNN that she had a second confidential source who confirmed Sly's original allegations.
Davies told CNN she had an "impeccably placed, knowledgeable, and credible" source who confirmed what Sly had alleged. She said the source was confidential, which is why he or she was not included in the documentary.
The original allegations came from Sly, who had worked as an Indiana pharmacist and claimed Manning had used HGH prescribed to his wife. Sly also claimed he had given illegal performance-enhancing drugs to other professional sports players.
Manning has denied the claims, and reportedly was furious with Al Jazeera for publishing its documentary. "What hurts me the most about this, whoever this guy is, this slapstick trying to insinuate that in 2011, when more than less I had a broken neck — I had four neck surgeries. ... It stings me whoever this guy is to insinuate that I cut corners, I broke NFL rules in order to get healthy," Manning told ESPN last Sunday. "It's a joke. It's a freaking joke."
© Copyright IBTimes 2023. All rights reserved.