Pink Responds On Instagram To Fat Shamers With Body Positive Picture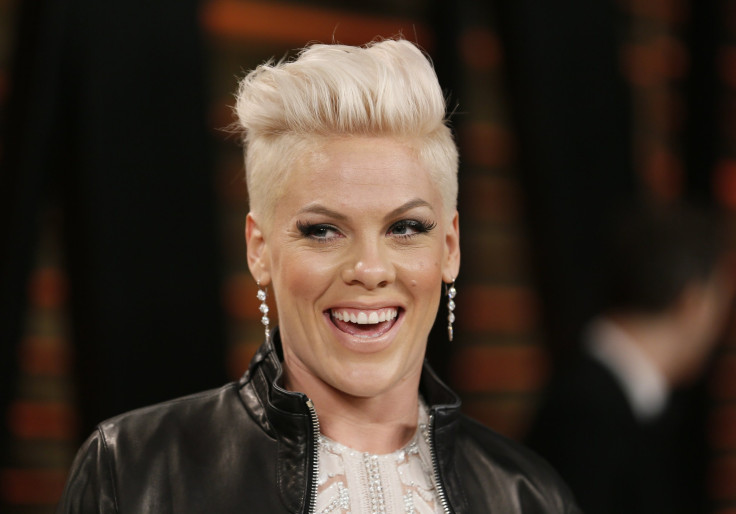 Pop singer Pink took to Instagram over the weekend to shut down conventional notions of weight. The mother of two posted a photo of herself posing mid-workout Sunday.
"Would you believe I'm 160 pounds and 5'3"? By 'regular standards' that makes me obese," the 37-year-old Pennsylvania native wrote in the caption. "I know I'm not at my goal or anywhere near it after Baby 2 but dammit I don't feel obese. The only thing I'm feeling is myself. Stay off that scale ladies!"
Read: Body Shaming Triggers Cardiovascular Problems In Overweight And Obese People
Pink, whose real name is Alicia Moore, gave birth to her second child with husband Carey Hart in December. And despite looking fit and healthy, federal standards would categorize her as being on the cusp of obesity. A person who is 5-foot-3, like Pink, is obese at 169 pounds, according to the United States National Institutes of Health.
But most experts agree that the calculations, based on body mass index (BMI), height and weight, are not accurate barometers of health. The measurements don't take into account other important factors like overall body composition, bone density, age and sex, and most importantly, muscle mass.
This is not the first time Pink has commented on weight and body-image issues. In 2015, she spoke out after receiving criticism for the way she looked at an event.
Read: Weight Watchers Shames Women In Sex Campaign Gone Wrong
"I can see that some of you are concerned about me from your comments about my weight. You're referring to the pictures of me from last night's cancer benefit that I attended to support my [dear] friend Dr. Maggie DiNome. She was given the Duke Award for her tireless efforts and stellar contributions to the eradication of cancer. But unfortunately, my weight seems much more important to some of you," read the text screenshot the singer posted on Twitter. "While I admit that the dress didn't photograph as well as it did in my kitchen, I will also admit that I felt very pretty. In fact, I felt beautiful. So, my good and concerned peoples, please don't worry about [me.] I'm not worried about me. And I'm not worried about you either. I am perfect fine, perfectly happy and my healthy, voluptuous and crazy strong body is having some much deserted time off. Thanks for your concern. Love, cheesecake."
© Copyright IBTimes 2023. All rights reserved.