Plus Size Model Laura Wells On 'Skinny-Shaming' And Fashion Week Diets: 'One Cracker A Day'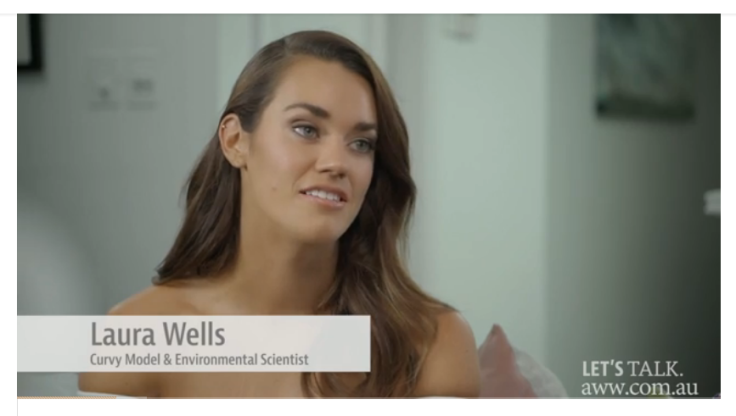 If you ever wondered if the rumors that stick-skinny fashion models starved themselves were true, plus-size model Laura Wells is here to tell you the answer: Yes. In an interview with Helen McCabe on the Australian Women's Weekly show "Let's Talk," Wells discussed the twilight zone that so-called plus-size models occupy, size-wise, in the modeling world along with the dangerous cult of thin encouraged by the fashion industry.
Wells was a law and environmental science student when, on a trip to New York City with her model sister, she was approached by modeling scouts. But she balked when they told her she had a future as a "plus-size" model.
"I was offended, I didn't know they existed," Wells told McCabe. "My sister was the model in the family, I was a scientist -- and basically I thought they were calling me fat." McCabe wondered if the term "curvy" was better, "because there's a certain stigma to 'plus size.' " Wells replied that "plus size" was a relative term, one she's not bothered by anymore.
"We are 'plus' 4 to 6 sizes, bigger than a standard model, however we're not plus size in reality," Wells said. "I get called out on not being plus size, or not plus size enough. It's crazy -- in a way it's skinny-shaming the plus-size models!"
But Wells separates fashion reality from the real world: "I am a plus-size model, I am not a plus-size person," she said.
Wells appreciates that certain publications, including Cosmopolitan and Australian Women's Weekly use plus-size models, because it doesn't happen a lot for standard editorial shoots, and as a bonus, they're not called 'plus size.' "It's not labeled, just – here's another beautiful woman," she said.
As for the "straight-size" modeling world, Wells painted a grim picture of what models do to stay thin. She should know; she roomed with several "straight-size" models when she lived in New York City, and she witnessed starvation diets that didn't even yield modeling work.
"It goes to the extremes," she said. "No food is being eaten. [There are] prescription diet pills, agents telling girls that they're only allowed to have one cracker and a couple glasses of water a day in the lead-up to fashion week. It's completely unhealthy not only for their bodies but mentally. These girls are going to the extremes to look like that. They're not being booked for any jobs. And they're living with a plus-size model who's working every single day, and they're comparing themselves to me, who's eating."
Wells has her idea of what progress is going to look like around the issue of body image, which she acknowledged is the source of so much anxiety and depression for women.
It won't be the "celebration" of larger than 4-6 size body types -- the kind shown in the recent Lane Bryant #ImNoAngel campaign -- but when "it's not celebrated anymore." Regarding so-called plus-size women, Wells asked, "Why isn't it just thought of as normal?"
© Copyright IBTimes 2023. All rights reserved.