Police, Protesters Clash In Providence Amid Moped Incident
KEY POINTS
Hundreds of people attended a rally in Providence to show their support for Jhamal Gonsalves
A viral video showed a police cruiser hitting Gonsalves while riding his moped last week
19 people were arrested and one officer was reported to have been injured
The capital city of Rhode Island was turned into a danger zone late Tuesday as demonstrators flocked the streets to protest an incident involving a police cruiser and a moped rider over the weekend.
Hundreds of people, including dozens of bikers, gathered in a show of force and support for 24-year-old Jhamal Gonsalves, the moped rider who was allegedly struck by a police cruiser Sunday.
The incident was caught on video and showed Gonsalves riding his moped. As he was making a right turn, a trailing police cruiser suddenly hit the moped, sending the rider to the ground.
Gonsalves' mother, Tia Tribble Perry, told the Providence Journal that he remains in a coma at Rhode Island Hospital.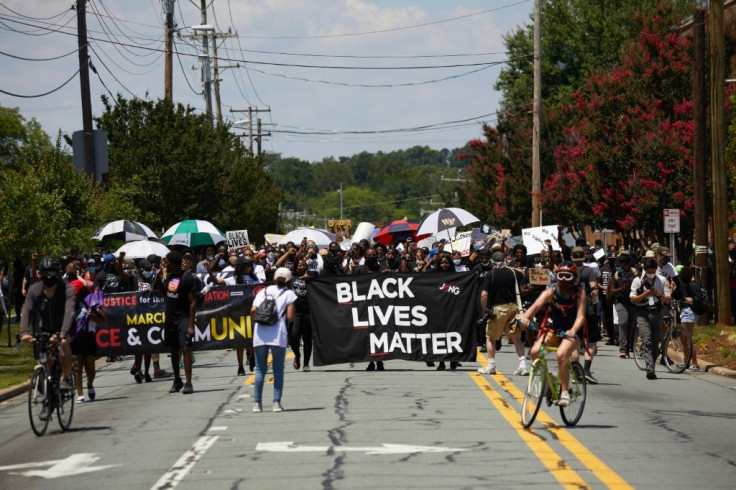 With the video going viral, members of the community staged a gathering that began at the Knight Memorial Library on Elmwood Avenue. Bikers revved their engines and burned rubber, while others marched with slogans that read "Justice for Jhamal" and chanting "Black Lives Matter."
"Tonight, the men and women of the Providence Police Department showed extreme professionalism while witnessing their city, yet again, be attacked by reckless protesters. Our department is second to none and we will face any and all matters of adversity head-on, as we always do," wrote the Providence Police Department on Twitter.
Protesters and the police locked horns when the march reached the Providence Safety Complex before 8:00 p.m. Officers in riot gear set up a barrier and formed a line as rioters later pressed against metal gates. Dirt bike riders and ATVs also showed their support to Gonsalves, a member of the local biker community.
But while Mark Gonsalves, Sr., Jhamal's father urged the crowd to remain peaceful, the violence began. Fireworks were set off and glass bottles and rocks were thrown at the police. They were later told to disperse as authorities no longer considered the gathering a protest.
"The Providence Police used beyond great restraint. By that point they'd already thrown a dozen objects at the police, they'd already fired off several pieces of fireworks. That's why the order was given to disperse and move," Providence Police Colonel Hugh Clements, Jr told the Journal.
A total of 13 men, five women and one juvenile were arrested following the clash. One officer was also reported to have been injured, said Fox News.
© Copyright IBTimes 2023. All rights reserved.