Al Franken Says Mike Pence Is A 'Zealot' Who 'Would Be Worse' Than Trump On Domestic Policy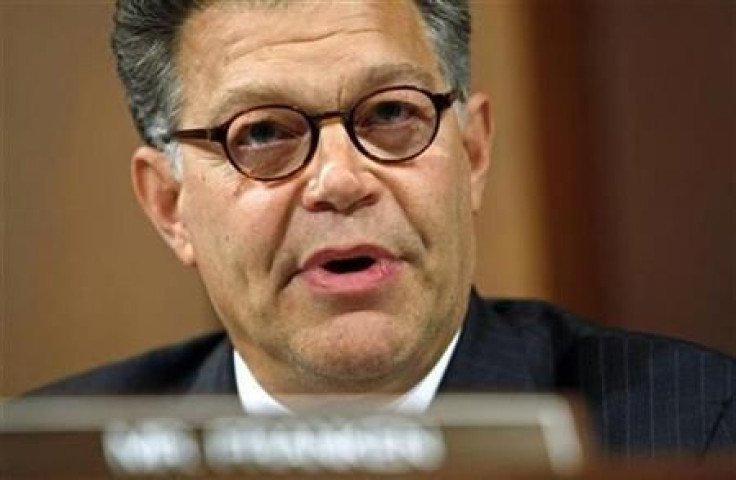 If Donald Trump were impeached, as some Democrats would like, Mike Pence "would be worse" for domestic policy than the current president, U.S. Sen. Al Franken told International Business Times. But the vice president would be less dangerous on foreign policy, said Franken.
Franken made the comments in an interview with IBT during a stop on his book tour in Denver. During the wide-ranging discussion, the Minnesota Democrat said his party could use the so-called "nuclear" option to try to block the Trump administration's health care bill. On a contentious environmental issue, Franken parted ways with many progessive Democrats in saying that natural gas from fracking is helping "transition" America to cleaner energy. He also said the Democratic Party is less divided than Sen. Bernie Sanders and other progressives think. Podcast subscribers can listen to the entire interview here.
One of his party's highest-profile lawmakers, Franken has pressed law enforcement officials to step up their scrutiny of Trump's finances and has said "everything points to" collusion between Trump's team and the Russian government. But he warned that the outcome of impeachment would not be the answer to Democratic dreams.
"Pence ran the transition and some of the very worst nominees, I felt — [EPA chief Scott] Pruitt, [Education Secretary Betsy] DeVos, [HHS Secretary Tom] Price, [Budget director Mick] Mulvaney — were Pence selections, clearly, I think," Franken told IBT. "He's ideological, I consider him a zealot, and I think that in terms of a lot of domestic policy certainly would be worse than Trump."
Franken added that he believes Pence would be better able to manage foreign policy matters.
"If you're talking about how we handle North Korea or something like that, I'd probably be more comfortable with Pence ultimately making those decisions than Trump, because of Trump's personality and character," he said. "I think that [Trump] is so outside the norm in his behavior that that actually does concern me, and it concerns me that I don't know what he will do if he looks like he's going to be impeached and he wants to deflect. I don't know what he's capable of, and that really does concern me."
Trump's health care bill may be the next test for Franken's party. Senate Democrats in the minority have the power to withhold unanimous consent — which can grind the Senate to a halt. Vox reported last week that despite pressure from progressive groups, some Senate Democrats are resisting using this so-called "nuclear" option in their fight to stop GOP legislation repealing the Affordable Care Act. The Senate version of that legislation remains shrouded in secrecy. Franken said that if Republicans do ultimately bring a repeal bill out of committee and to the full Senate for a vote, he expects Democrats to use all of their power to try to stop legislation.
"I don't know if we're there yet," he said of the nuclear option. "I want to see, first, if they come up with something. I'm not sure they're gonna get 50 votes for something, and then that would change what we're doing. I think then we...could do regular order, we'd have hearings, et cetera. But if they actually bring something out of this secret group and they get 50 votes, then I think we'll be fighting with every tool we have."
© Copyright IBTimes 2023. All rights reserved.