Chris Christie Attack On New Jersey Health Insurer Could Help Kushner Family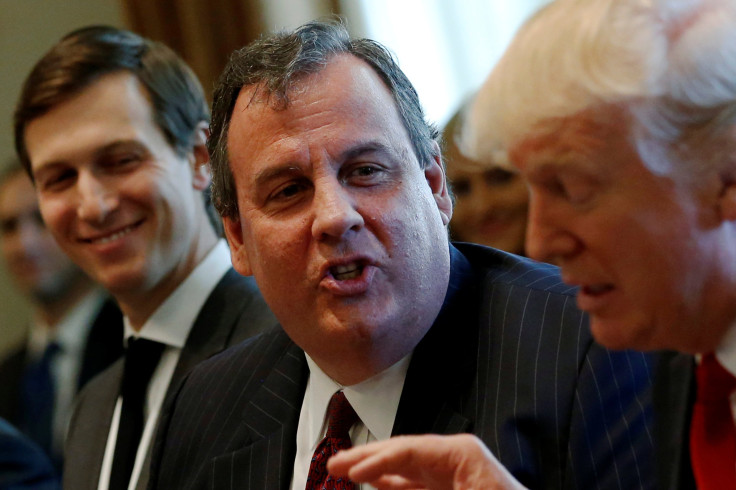 New Jersey Gov. Chris Christie has taken up a crusade against his state's largest health insurer in his final year in office, perplexing observers and lawmakers on both sides of the aisle. His campaign against Horizon Blue Cross Blue Shield could benefit a health insurance provider linked to Joshua Kushner, brother of the man who could decide if Christie gets a job in the Trump administration when his gubernatorial term ends — and who has reason to loathe him.
Last week, Christie announced that the New Jersey Department of Human Services was slapping a $15.5 million fine on Horizon Blue Cross Blue Shield, the state's largest health insurer. Christie said that the company "brazenly failed its members" and mishandled Medicaid claims. The non-profit, tax-paying insurer had recently agreed to pay two fines worth a total of $550,000 for similar violations that arose from technical problems with the company's claim system. It also agreed to pay a $1.1 million fine in February for not encrypting the private info of some policyholders. Horizon insures 3.8 million New Jerseyans, and together with AmeriHealth, is one of only two insurers left on the state's exchange.
Read: New Jersey Gov. Chris Christie News: Trump Cabinet Position Job Report 'Absolutely Not True,' Christie Aide Says
That could soon change. On the same day Christie abruptly called a press conference to slam Horizon, Oscar Health announced it is aiming to expand its business in New Jersey and five other states in 2018. Oscar, which formed in 2013, was previously part of the New Jersey health exchange, but withdrew last year. The company is now looking to get back into the state's marketplace, where it would compete with Horizon and AmeriHealth if its application is approved by state regulators.
Oscar was co-founded by Joshua Kushner, younger brother of Jared Kushner, the senior adviser to Donald Trump who is married to the president's daughter Ivanka. Joshua Kushner's venture capital firm, Thrive Capital, is a backer of Oscar. That firm has counted Jared Kushner as both a board member and investor (he is currently divesting his holdings). It has also received investments from Silicon Valley billionaire — and Trump backer — Peter Thiel.
Oscar did not respond to requests for comment. Christie's administration directed International Business Times to the New Jersey Department of Human Services for comment, and rejected IBT's request to review Oscar's application to rejoin the New Jersey health care exchange. A DHS spokesperson told IBT there was no publicly available information about the fine at this time.
Christie's battle with Horizon could help not only Oscar but also AmeriHealth, which is partly owned by a company run by Christie's political ally, Democratic Party boss George Norcross. In March, the state gave an $86 million tax break to Conner, Strong and Buckelew, the insurance firm Norcross has run since 1979, to build an office tower in Camden. In 2015, the Christie administration's top insurance regulator, Ken Kobylowski, accepted a job at AmeriHealth.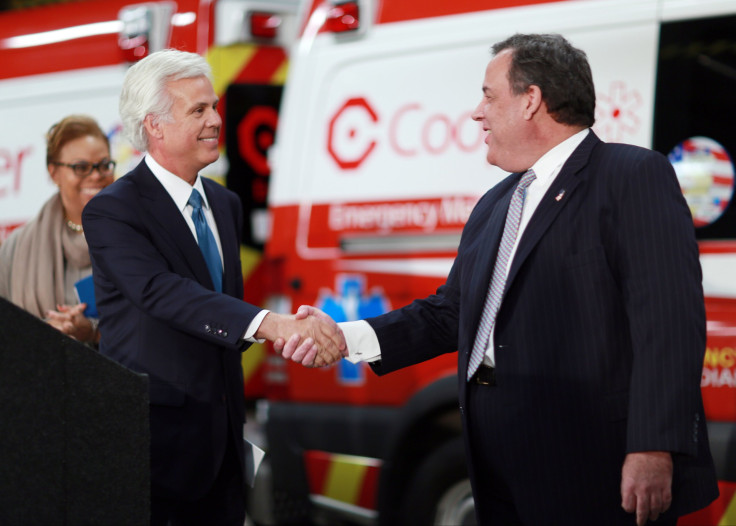 While slamming Horizon, Christie has not similarly criticized Oscar or AmeriHealth, even though the latter has recently faced questions from legislators about its relationship with Norcross's firm.
"I've never seen a governor go out there and announce fines. It's out of the ordinary," Assembly Speaker Vincent Prieto, a Democrat, told the Philadelphia Inquirer. The governor acknowledged during his press conference that DHS does not typically announce or post information about contract violations.
"He seems to have an axe to grind and I don't know why. It seems to be personal," Ray Castro, director of Health Policy at think tank New Jersey Policy Perspective, told IBT. "He's been supportive of the private sector, that's what's surprising about this. [Horizon] is a nonprofit but it's one of the biggest private organizations in the state."
"The Governor Had Nothing To Say About Horizon"
Christie's unprecedented public slap at Horizon came as he was proposing to siphon $300 million from the company's $2.4 billion surplus into drug treatment programs. Trump recently named the Republican governor to head a White House commission focused on combating opioid addiction.
Horizon has said that it needs the surplus to protect policyholders against market fluctuations. According to the insurer's annual report, it paid out more than $10 billion last year, up from $9.64 billion in 2015.
"Our profit margin is 1 percent. We can't make it any lower and still survive for very long," Horizon chief financial officer David Huber testified to a state Senate committee on Monday. "If we need more money to fulfill our mission — covering 9 million people and not just 4 million — we are going to have to raise the rates."
In response to the governor's press conference, a company spokesman denied wrongdoing and said the sanctions make "us question the motivation behind levying a large, and unreasonable, penalty without permitting the opportunity for the customary appeal and review." He added that "for seven years, the governor had nothing to say about Horizon."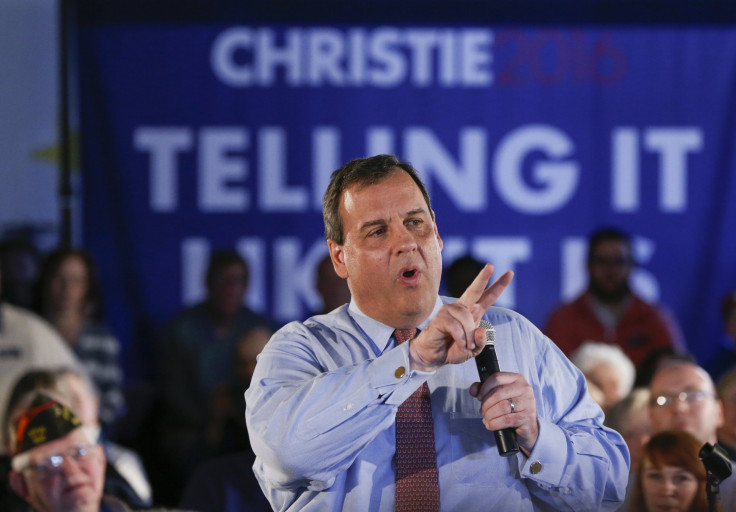 Starting at the end of February, the governor suddenly had plenty to say about the insurer, calling for the creation of a fund to which Horizon would contribute every year from its surplus. He did not propose to tap funds from any other insurer.
"Today, I would propose we use this fund to help [New Jersey's most vulnerable] population gain even greater access to in-patient and out-patient drug rehabilitation treatment," Christie said in the February 28 budget address. "This is a public health crisis which is killing our citizens at an alarming rate." He said the fund would not be used to fill gaps in the budget, which he asserted was in the black and "needs no such one-shot gimmicks to be balanced."
But in May, the head of Christie's Treasury department told lawmakers New Jersey was facing a $527 million budget gap — which the state's constitution mandates must be filled by July 1. Contrary to Christie's claims, Newark Star Ledger columnist Tom Moran reported that a draft bill which Christie's team was shopping around the legislature would allow the state to raid Horizon's coffers without any guarantee that the money be spent on anti-addiction efforts.
Horizon reportedly offered the Christie administration $135 million of its surplus before Christie called for the move in his address. While legislators have resisted Christie's proposal, the governor has managed to put the restructuring of Horizon squarely in the middle of the state's tense budget negotiations.
On Monday, a Senate committee voted 11-1 to okay a bill introduced by Democrats that would give Christie some of what he wants. The legislation would institute a public process for deciding how large a surplus Horizon should be allowed to carry in the future. It would also tilt the composition of Horizon's board of directors toward state control — something Christie has advocated — and make sure Horizon has a "charitable mission."
The bill stipulates that if the surplus surpassed the limits set by the public process, proposals would be in place to use the excess funds to benefit policyholders and improve the health of New Jersey residents. The bill also ensures that no decisions on using the surplus could be made until February 2018, when Christie is out of office.
Opposition to the bill has created strange bedfellows. Pro-business and conservative groups, including the New Jersey Chamber of Commerce and New Jersey Chapter of the Americans for Prosperity — the Koch brothers' political organization — have opposed the bill, as have labor organizations like the AFL-CIO.
"He says he wants to use the money to fight opiate addiction, a nice goal, but there are more, better ways to do it," former Republican presidential candidate Steve Forbes said during a talk radio interview in May. "You can't raid private companies, especially non-profits, for whatever reason you think."
Read: Jared Kushner And Trump Family Have Given Hundreds Of Thousands Of Dollars To Democrats
Christie, speaking in Trenton on Tuesday, questioned his critics' motives. "I know this is a concept that is abhorrent to discuss, but there are times that interest groups in this city are bought and paid for on a number of different levels."
Health experts said Horizon's structure and surplus are important issues but are hardly the most critical health care problems in the state.
"It's not a pressing issue," Linda Schwimmer, president and CEO of the New Jersey Health Care Quality Institute, told IBT. "They aren't focusing on the pressing issues, like what are we doing about rates in the individual market, what we're doing about the fact that our small employer market is as small as it's ever been since it was created, and what are we doing about potentially extremely painful cuts to our Medicaid program."
"Kushner's Revenge"
The term-limited Christie is just seven months away from moving out of the governor's mansion in Princeton.
In the lead-up to the 2016 election, Christie ran Trump's presidential transition team, a post that seemed to position him to land a coveted White House job. After Trump won, Christie was demoted — though he reportedly was still angling for a federal job.
So far, no such job has been forthcoming.
Christie has a fraught history with the Kushner clan. While he was New Jersey U.S. attorney under President George W. Bush, Christie prosecuted Kushner's father; Charles Kushner spent 14 months in jail for tax evasion, witness tampering and illegal campaign donations. Christie's demotion on the transition team was "a Kushner revenge," Rutgers University political scientist Ross Baker told USA Today.
"That's the only way to explain these demotions and departures," Baker said. "I think it's Jared Kushner's high hand behind this whole thing and it's a little bit of karma, because Christie is known for getting even with people, too."
In a rare interview with Forbes after the election, Trump's son-in-law denied having anything to do with the purge.
"Six months ago Governor Christie and I decided this election was much bigger than any differences we may have had in the past, and we worked very well together," Kushner said. "The media has speculated on a lot of different things, and since I don't talk to the press, they go as they go, but I was not behind pushing out him or his people."
In January, Christie said he'd turned down multiple jobs with the Trump administration, while adding that there was "about one" job that he had his heart set on. Christie didn't say what the job was, but NJ Advanced Media reported that the governor coveted the role of Attorney General, a job that ultimately went to then-Senator Jeff Sessions.
In recent weeks, as his battle with Horizon intensified, Christie has clashed with Jared Kushner: Trump's son-in-law stymied the New Jersey governor's candidate for the state's U.S. attorney slot, according to the Philadelphia Inquirer. But Christie and Trump seem to maintain some connection. Earlier this month, Trump nominated Christopher Wray, the lawyer who charged New Jersey taxpayers $2.1 million to represent the governor in "Bridgegate," to be the new FBI director.
Christie hasn't ruled out joining the Trump administration after his term ends in January. The more important question may be, has Jared?
FOR FREE to continue reading
✔️ Unlock the full content of International Business Times UK for free
offer available for a limited time only
✔️ Easily manage your Newsletters subscriptions and save your favourite articles
✔️ No payment method required
Already have an account?
Log in
© Copyright IBTimes 2023. All rights reserved.