Democratic Senator Sherrod Brown Slams Obama-Backed TPP As 'Massive Sellout Of American Workers'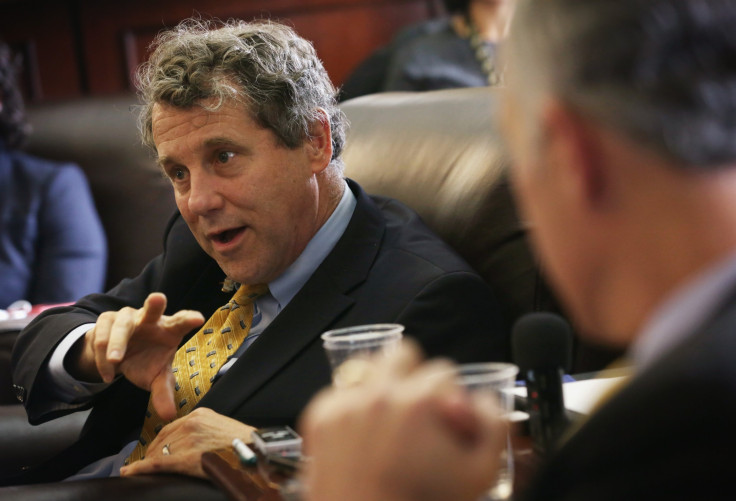 Democratic senators have typically used deferential language when discussing Obama administration initiatives, even ones they don't support. In that, they have emulated Ronald Reagan's (possibly apocryphal) "Eleventh Commandment" about not publicly attacking members of your own party. But that may be changing with the president's push for a 12-nation trade agreement, known as the Trans-Pacific Partnership.
In a blast email sent out Wednesday morning, senior Democratic Sen. Sherrod Brown -- who represents the all-important swing state of Ohio -- slammed the White House initiative in terms typically reserved for attack ads against Republicans. He declared that Obama's proposal "is an enormous giveaway to huge corporations and CEOs and a massive sellout of American workers and jobs."
Brown is now urging voters to sign a petition demanding Obama immediately release the text of the TPP, which was finalized earlier this month. The Obama administration is obligated to release the full text of the agreement before any congressional vote on the TPP, but the administration recently went to court to keep the text secret for the time being. Brown asserted that as a legislator, he needs to see the text immediately.
"My job is to represent the people of Ohio," he wrote, "and that job gets a lot tougher when I don't know the specifics of a proposal with huge potential impact on our state."
With corporate groups spending tens of millions of dollars lobbying for the TPP, President Obama has declared that the deal reflects America's values and gives our workers the fair shot at success they deserve" and he has asserted that it "includes the strongest commitments on labor and the environment of any trade agreement in history."
But in a new letter to Obama echoing Brown's call for more transparency, AFL-CIO president Richard Trumka on Tuesday expressed dismay about how the administration could at once proudly promote the deal as a good one for American workers yet also have the U.S. Trade Representative's (USTR) office keep the text of the agreement under wraps.
"In my experience, when there is such good news to share, there is no need for secrecy," Trumka wrote. "If TPP will do for the American middle class all that USTR claims, releasing the text would be the single best way to prove that."
Consumer, privacy and environmental watchdog groups that have reviewed leaked sections of the deal have sounded the alarm about the agreement's provisions on everything from pharmaceutical patents to copyrights to strengthening corporations legal rights in their challenges against domestic laws.
© Copyright IBTimes 2023. All rights reserved.