Trans-Pacific Partnership Terms Still Secret, Even As Nations Agree To Trade Deal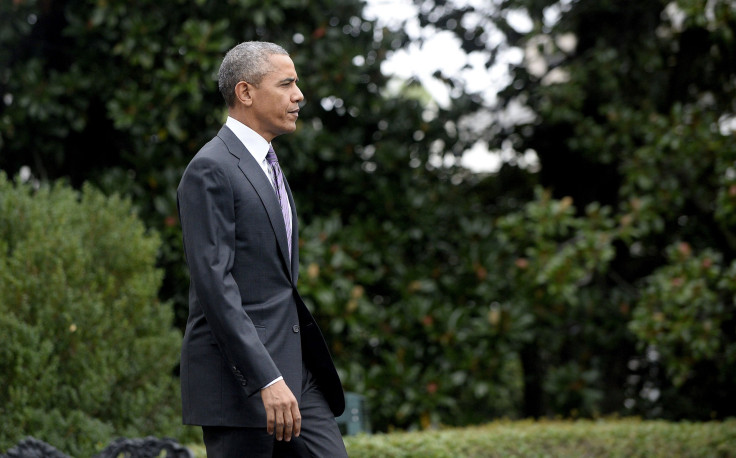 Only days before the announcement Monday that 12 nations had finalized a sweeping trade deal known as the Trans-Pacific Partnership (TPP), those hoping to keep the deal's terms under wraps received a major boost: A federal court ruled that the Obama administration can keep it secret.
The ruling last month, in response to a lawsuit by a Yale University group, says that the confidentiality agreements the U.S. government signed with foreign governments can be used by the Obama administration to block requests under the United States' own open records laws. That means, for the time being, only the administration and foreign officials get to determine who can see a pact that will reshape the rules governing roughly 40 percent of the global economy.
The administration has wielded that power in ways that critics say is unacceptable. President Barack Obama entered office on a pledge to create the most transparent government in history, but some congressional lawmakers have said his administration has declined to provide them full, uninhibited access to the text of the deal. Late last month, senior members of both parties in the House and Senate sent a letter to the administration demanding it "intensify" its "consultations and coordination immediately" with Congress.
Watchdog groups note that the White House's secretive posture toward Capitol Hill has flourished at the very same time Obama aides have consulted with corporate groups on the TPP's provisions and its negotiations.
Earlier this year, the office of U.S. Trade Representative Michael Froman told International Business Times that he values transparency, and he said that "it is very important that as we pursue these trade negotiations we do so in a way that takes into account input from the public."
Yet, in recent months, the administration has declined to respond to open records requests for communications between Froman -- a former Citigroup executive -- and financial services companies with vested interests in the deal's structure.
If Congress ends up voting on a final deal, the text presumably will become public, and reports from the Atlanta negotiations say the administration could release the deal's full terms in a month. But previously leaked drafts have raised concerns that the deal could skew world commerce rules in favor of pharmaceutical companies, manufacturers and banks that have aggressively lobbied on the issue.
Leaked texts suggest the deal will expand the legal rights of corporations and investors, and allow them to sue countries in international tribunals for damages caused by public interest laws like financial, environmental or labor regulations.
In the past, activists have expressed concern that TPP will include longer-lasting patents on new pharmaceutical products and prevent development of cheaper generic drugs, though reports from Atlanta suggest the patent protections proposed by the U.S. have been dialed back.
There has also been concern that the trade deal will create longer copyright protections favored by film and television producers, and impinge on free speech rights by forcing Internet providers to remove content that might run afoul of U.S. copyright laws in countries that currently have less stringent standards.
Environmental organizations, consumer groups and labor unions are already girding for a fight to block its passage.
"We ask the administration to release the text immediately, and urge legislators to exercise great caution in evaluating the TPP," Richard Trumka, president of the AFL-CIO, said in a statement Monday. "As we've said, rushing through a bad deal will not bring economic stability to working families, nor will it bring confidence that our priorities count as much as those of global corporations. We will evaluate the details carefully and work to defeat this corporate trade deal if it does not measure up."
As strong as that criticism is, its effects on the presidential campaign remain unclear. Democratic candidate Hillary Clinton has won the endorsement of some major labor groups, even though she was one of the country's highest-profile proponents of the TPP as secretary of state. Meanwhile, Republican Donald Trump has surged in polls while slamming the deal.
© Copyright IBTimes 2023. All rights reserved.
FOLLOW MORE IBT NEWS ON THE BELOW CHANNELS