Election 2016: Chris Christie Says Three Bridgegate Probes Found 'I Knew Nothing'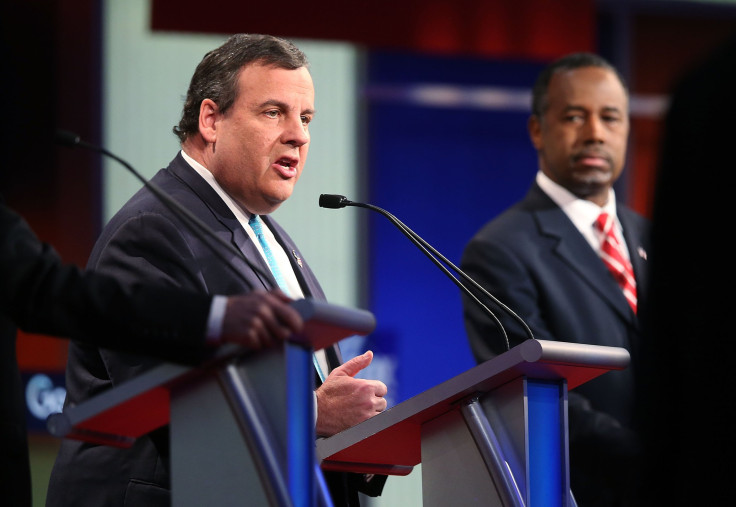 Chris Christie says that Republican primary voters can trust the Bridgegate scandal won't be any trouble for him if he wins the party's presidential nomination. During Thursday night's GOP debate, the New Jersey governor declared that "there's been three different investigations that have proven that I knew nothing" — even though a federal probe isn't over, and another inquiry was led by a law firm his administration chose.
Two separate probes found no evidence Christie had prior knowledge of Bridgegate, which caused a traffic jam for days to the George Washington Bridge from Fort Lee, New Jersey, to New York. One of those investigations was commissioned by New Jersey's Democratic legislature, and discovered a Christie aide had deleted text messages she sent the governor during the week of the lane closures. Another was commissioned by Christie and led by a law firm he selected. Paid for by state taxpayers, that firm has come under scrutiny for failing to keep notes or data from interviews its lawyers conducted as part of its probe. The third and most potentially serious investigation, led by New Jersey's top federal prosecutor, Paul Fishman, is not done.
Just last week, a Newark Star-Ledger editorial criticized Christie for trying to assure voters that Bridgegate was no longer an issue. "Bridgegate is not over, as Christie claims. It remains a dire threat to his presidential campaign, despite his phony claims that it is all tied up in a neat bundle," the paper wrote. Though questions have been raised about Fishman's independence from Christie — who led the New Jersey U.S. Attorney's office before becoming governor — Fishman has indicated there were "unindicted co-conspirators" in the bridge plot, and told reporters in May last year: "It's like the end of 'Downton Abbey.' You have to wait for the next season."
Chris Christie | InsideGov
As Fox News moderator Chris Wallace pointed out, two of Christie's former aides are scheduled to go on trial in that case in May -- and one of his appointees, who has pleaded guilty and claims Christie was aware of the Bridgegate plan, is expected to testify for the government. Last year, a grand jury indicted Christie's former Deputy Chief of Staff Bridget Anne Kelly and Bill Baroni, a top appointee at the Port Authority of New York and New Jersey. Fishman's office also announced another high-ranking appointee at the agency, David Wildstein, had admitted to working with Kelly and Baroni to carry out the scheme as an act of political retribution against Fort Lee's Democratic mayor, who had declined to endorse Christie's 2013 re-election campaign.
Christie took credit for firing Kelly during the debate Thursday. "I fired the people who were responsible. And that's what you expect from a leader," he said.
While Bridgegate has drawn the most scrutiny, Fishman is leading another investigation involving the Port Authority — which is controlled jointly by Christie and New York Democratic Gov. Andrew Cuomo. That probe is focused on the agency's former chairman, David Samson, a Christie appointee, and a poor-performing flight route United Airlines offered between Newark, one of its major hubs, and Columbia, South Carolina, near Samson's weekend home.
A separate investigation is being carried out by federal regulators and Manhattan prosecutors into whether the port authority misled bondholders when it diverted $1.8 billion in toll money to repair New Jersey roads, including the Pulaski Skyway. The agency said the expenditures would improve access to the Lincoln Tunnel "even though they are miles from the tunnel, do not connect to it directly and do not generate any revenues for the Port Authority," according to the Bergen Record. On Thursday, the Associated Press reported that the Pulaski Skyway funding has become a "key issue" in a lawsuit over the agency's toll hikes.
© Copyright IBTimes 2023. All rights reserved.
FOLLOW MORE IBT NEWS ON THE BELOW CHANNELS