Elizabeth Warren: 'Donald Trump Is A Threat To The Economy'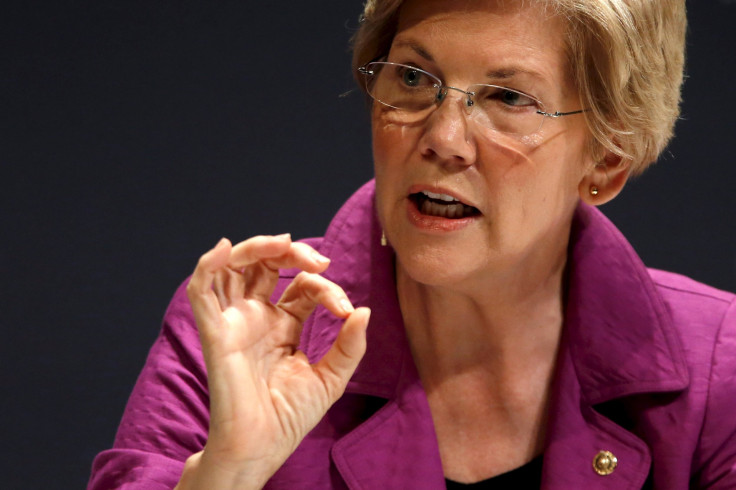 In a wide ranging interview with the International Business Times, Massachusetts Sen. Elizabeth Warren dished on Wells Fargo, explained why Wall Street donors are backing Clinton, and expressed frustration that the Obama administration didn't go after banking executives after the financial crisis.
Warren has been in the headlines after a video of the senator berating Wells Fargo CEO John Stumpf went viral. The bank was recently fined $185 million for opening millions of fake accounts to boost its sales numbers; Stumpf continues to blame the fraud on low-level bank employees.
During the Senate hearing last week, the Democratic senator laid into the CEO: "Okay, so you haven't resigned, you haven't returned a single nickel of your personal earnings, you haven't fired a single senior executive," she said to a stone-faced Stumpf. "Instead, evidently, your definition of 'accountable' is to push the blame to your low-level employees who don't have the money for a fancy P.R. firm to defend themselves."
Afterwards, Warren told IBT that the Justice Department needs to look into prosecuting Stumpf. "If they don't, I want to know why not," she said.

On Wednesday, Wells Fargo's board decided to claw back $41 million of Stumpf's compensation, a move Warren said was overdue. "It took weeks," she said, and it happened only when the bank was "under intense attack" from critics.
The architect of the watchdog Consumer Financial Protection Bureau, Warren is perhaps the loudest critic of Wall Street in the federal government. Over the summer, when Warren was floated as a possible vice presidential choice for Hillary Clinton, Clinton allies in the financial industry warned that a Warren pick would chase away donors, Politico reported.
Warren told IBT that Clinton would be tough on financial crime, even while Clinton's campaign has received a steady injection of capital from the financial industry — and even though some traditional GOP donors on Wall Street have switched to Clinton. "[She] has said that she will be aggressive against wrongdoers on Wall Street," Warren said. "She's been pretty explicit about that."
Wall Street donors are backing Clinton, Warren said, "because Donald Trump is a threat to the economy, and the survival of this country."
"The folks on Wall Street look at [Clinton] as someone who will at least work hard to keep the economy up and running, and not get us into wars abroad — versus someone who can't be trusted with economic decisions or a finger on the nuclear trigger," Warren said.
Warren criticized the Obama administration's lack of action, telling IBT that the Department of Justice has "one excuse after another" for its failure to prosecute Wall Street executives in the wake of the financial crisis.
"I've talked about it with people at the DOJ and gotten the same kind of answer every time," she said. "'Oh, it's complex'; 'Oh we looked into it,' and uh, uh, uh, uh… In other words, there's never been a real answer."
Dissatisfied, last spring Warren had her staff look through the archives of the Financial Crisis Inquiry Commission, where they found criminal referrals that were never followed up on. Warren wrote to the Inspector General of the Department of Justice earlier this month, demanding an internal investigation into why those referrals were not pursued.
"I want to know why the Department of Justice did nothing," she said.
© Copyright IBTimes 2023. All rights reserved.