Elizabeth Warren Tells Hillary Clinton Not To Hire Wall Street Donors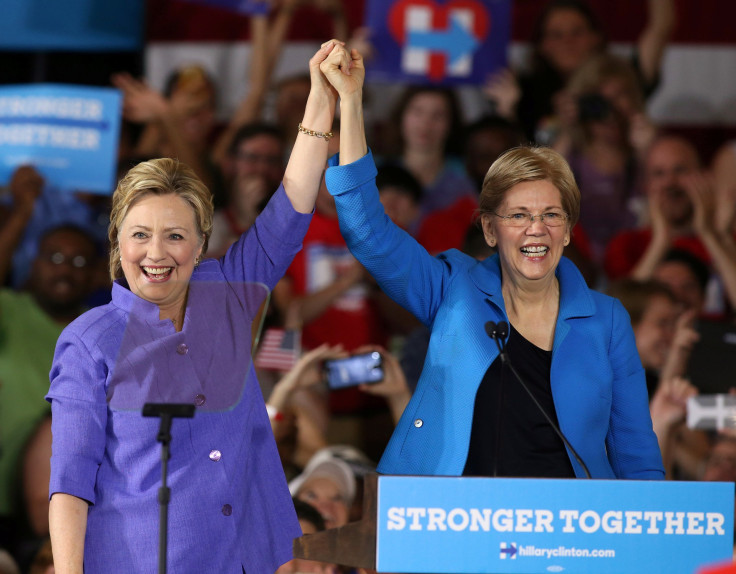 Sen. Elizabeth Warren had a message for Hillary Clinton on Wednesday: Don't staff your White House with your Wall Street donors.
In a speech to the Center for American Progress — which was set up and is run by former Clinton aides — the Massachusetts Democratic senator said groups backing Clinton's election campaign should be focused on making sure that a prospective Clinton administration is run by those who intend to enact a progressive agenda.
"I know that personnel is policy," she told the group. "But let me be clear — when we talk about personnel, we don't mean advisors who just pay lip service to Hillary's bold agenda, coupled with a sigh, a knowing glance, and a twiddling of thumbs until it's time for the next swing through the revolving door, serving government then going back to the very same industries they regulate. We don't mean Citigroup or Morgan Stanley or BlackRock getting to choose who runs the economy in this country so they can capture our government."
Warren delivered the broadside at the Center for American Progress even though two of those companies —Morgan Stanley and Citigroup (through Citi Community Development) — are listed as donors to the organization. All three firms she mentioned have strong ties to the Clinton campaign.
Morgan Stanley's vice chairman is Tom Nides, who went through the revolving door from the Clinton-led State Department to his current position on Wall Street. He was at Morgan Stanley just before Clinton appointed him to his State Department position. Donors from Nides' firm have delivered more than $700,000 to Clinton's two presidential bids, according to data from the nonpartisan Center for Responsive Politics. Nides himself is listed on Clinton's website as a "Hillblazer" who has personally raised more than $100,000 for the campaign.
Morgan Stanley donors were also, collectively, one of Clinton's top donors during her time in the U.S. Senate, when she voted for the bank bailout that delivered billions to Morgan Stanley. Clinton previously said that she voted for the bailout specifically to help the banks.
Earlier this year, Matt Mallow, a senior executive at BlackRock, held a high-profile fundraiser for Clinton in New York City. Mallow himself is "Hillblazer," and the firm's donors have delivered more than $79,000 to her campaign, according to CRP. Hillary Clinton's former top aide, Cheryl Mills, moved from the State Department to BlackRock's board — and she, too, has hosted a fundraiser for Clinton's campaign. The Intercept has reported on the apparent angling of BlackRock's CEO to be appointed Treasury Secretary, and how the firm employs various executives who got to their jobs through the revolving door from government.
Citigroup, which also benefited from the Clinton-backed bank bailout, was the longtime home of Robert Rubin — Bill Clinton's former Treasury Secretary — and it too has donated heavily to Hillary Clinton's campaigns. In 2008 and 2016, the firm's donors gave a total of more than $577,000 to her presidential bids.
During the campaign, Clinton has refused to endorse calls to reinstate the Glass-Steagall Act, a Depression-era regulatory check on banks which some critics of Wall Street say is necessary to prevent another financial crisis. She also refused to rule out appointing a Wall Street executive as Treasury Secretary.
Clinton has not appeared averse to the revolving door. During her time at the State Department, in addition to appointing Nides from Morgan Stanley, she also appointed former Goldman Sachs executive Robert Hormats to a top position. Her current campaign is being advised by a top executive at Beacon Global Strategies, a shadowy defense industry consulting firm run by former government officials. And her transition team is run by former Interior Secretary Ken Salazar — who left his government job and is now employed at a major corporate lobbying and law firm.
Warren, however, reminded her audience — and the candidate herself — that Clinton has vowed to close the revolving door.
"This is about people who understand the urgency of the need for rebuilding opportunity in America now and who will fight for it with everything they've got," Warren said. "People who will fight for every single promise Hillary Clinton has put forward during this campaign —including her promise to end the revolving door between Wall Street and Washington."
© Copyright IBTimes 2023. All rights reserved.