State Department Delays Records Request About Clinton-Linked Firm Until After The 2016 Election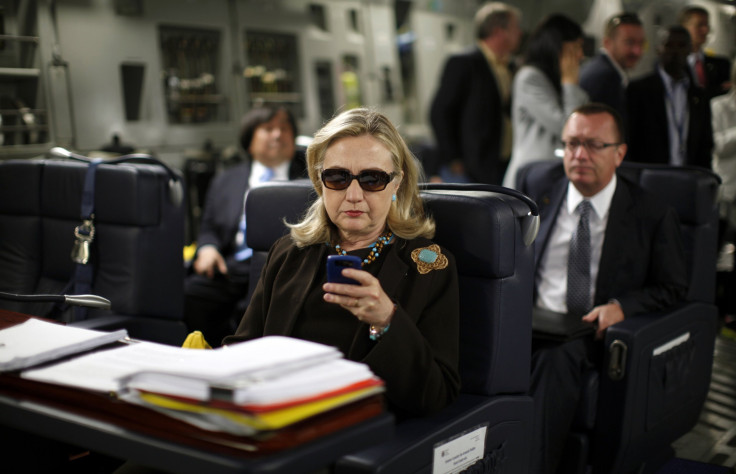 Beacon Global Strategies is a shadowy consulting firm that's stacked with former Obama administration officials, high profile Republicans and a number of Hillary Clinton's closest foreign policy advisers. But beyond its billing as a firm that works with the defense industry, it is unclear for whom specifically the company works, exactly what it does, and if Beacon employees have tried to influence national security policy since the firm's founding in 2013.
And now the Obama administration has complicated the effort to find out — at least until after the presidential election. Last week, the State Department delayed its response to a 2015 public records request for any correspondence between Beacon and agency officials until May 2017.
International Business Times sought email correspondence between the State Department and employees of Beacon to try to gain insight into the work Clinton allies have done out of government, and to understand the business interests in which they may have a stake under a prospective Clinton presidency.
The State Department did not confirm whether it possesses any documents in response to the request — the agency's Charlotte W. Duckett only informed IBT that "the estimated completion date for your request is May 2017."
That delay is the latest in a string of similar postponements. Last month, federal officials said they would not release all of Clinton's State Department schedules until after the November election. A few months before that, the Obama administration delayed an IBT request seeking correspondence about the controversial Trans-Pacific Partnership by Clinton's State Department office.
Earlier in the summer, the Associated Press convinced a federal judge to compel State to release emails between Clinton staffers and a British defense contractor that had committed more than 2,500 violations of the International Traffic in Arms regulations. At the time, U.S. District Judge Richard J. Leon accused State of delaying for political reasons. "We're now reaching a point where there's mounting frustration that this is a project where the State Department may be running out the clock," he said only months after the State Department's own inspector general separately slammed the agency's handling of public records requests.
Last week, a State Department official told congressional lawmakers it is "simply physically impossible" to fulfill all of its open records requests before the election.
The latest delayed request aims to shed light on a consulting firm that has become one of the most shadowy parts of Clinton's political network.
Beacon, which was founded right after Clinton left the State Department in 2013, has kept a low public profile despite hiring some of the biggest names in the national security establishment. On its website, the firm touts its collective experience "in the White House, State Department, Defense Department, CIA, Justice Department, on Capitol Hill," and promises to help clients achieve "business objectives" and expand "market share at home and abroad."
Though Beacon officials have not registered as lobbyists, the firm's business model seems to rely on the revolving door between government and the for-profit defense and security sectors: It offers insider knowledge of government bureaucracy to clients whose business requires an inside track to the national security establishment.
The firm's principals include former Pentagon Chief of Staff Jeremy Bash, a Clinton campaign adviser who has made specific policy promises on behalf of the candidate; Clinton's former Senate and State Department aide Andrew Shapiro, who ran the office that oversaw arms export authorizations; former Clinton State Department spokesperson Phillipe Reines; former CIA director Leon Panetta; former CIA director Michael Morrell, who recently wrote a New York Times op-ed praising Clinton and who is rumored to be in line to run the CIA in a Clinton administration, and Michael Vickers, a former CIA and Pentagon official. The latter three endorsed Clinton's presidential campaign, and Morrell and Vickers appeared last week at a roundtable with her.
The firm has also brought on high profile GOP luminaries including: Francis Townsend, a Bush administration Homeland Security official, and Brian Hook, a former Romney staffer. Beacon advisers have provided foreign policy pointers to both Marco Rubio and Ted Cruz. During the Democratic primary, three Beacon employees — Bash, former Assistant Defense Secretary Derek Chollet and former deputy national security adviser Julianne Smith — signed an open letter criticizing Sen. Bernie Sanders for suggesting the U.S. should pursue détente with Iran.
While Beacon has advertised its ties federal agencies and to lawmakers on both sides of the aisle, the firm has not disclosed its actual business clients. Defense News reported in 2013, shortly after the Beacon's launch, that it primarily catered to defense contractors — a clientele that Beacon officials know well.
For example, during Clinton's tenure at the State Department, Shapiro oversaw a significant increase in arms export authorizations to foreign governments that donated to the Clinton Foundation. Those deals benefited defense contractors that also donated to the foundation.
When he founded Beacon in 2013, Shapiro told Defense News one of the group's focus areas would be helping shepherd complicated weapons sales to the Middle East. He published an op-ed citing global political instability as a potential growth opportunity for defense contractors, and advised those firms on how to boost the kind of arms export approvals he previously oversaw. The op-ed was promoted on Beacon's website as one in which Shapiro "provides insight" for defense contractors "aiming to increase international sales."
"Some U.S. defense firms have learned to crack the code to increased [foreign military] sales," he wrote. "They have learned that long-term success requires C-suite decisions to realign their business development teams toward growing in-country presence, and dedicating other resources to building long-term relationships with not only foreign militaries but with U.S. Defense and State Department officials."
The IBT request for Beacon correspondence was aimed at determining if Shapiro or any of his business partners communicated with State after entering the private sector, and if they helped connect their new clients with old colleagues. Since many of of Beacon's principals — including Morrell and Shapiro — could be in line for jobs in a Hilary Clinton administration, these revelations would help provide a clearer picture of how Clinton's foreign policy team operates behind closed doors.
Because State decided to put off the records request until May, the emails will not be available if Beacon principals are nominated and confirmed for high profile posts in a Clinton administration. Reines, the former Clinton aide now at Beacon, has said going back through the revolving door and into government may be a goal.
"In terms of going back in, I think we all want to," he told Defense News in 2013.
© Copyright IBTimes 2022. All rights reserved.
FOLLOW MORE IBT NEWS ON THE BELOW CHANNELS