Hillary Clinton Allies Press Donald Trump For More Transparency, While Keeping Their Own Clients Secret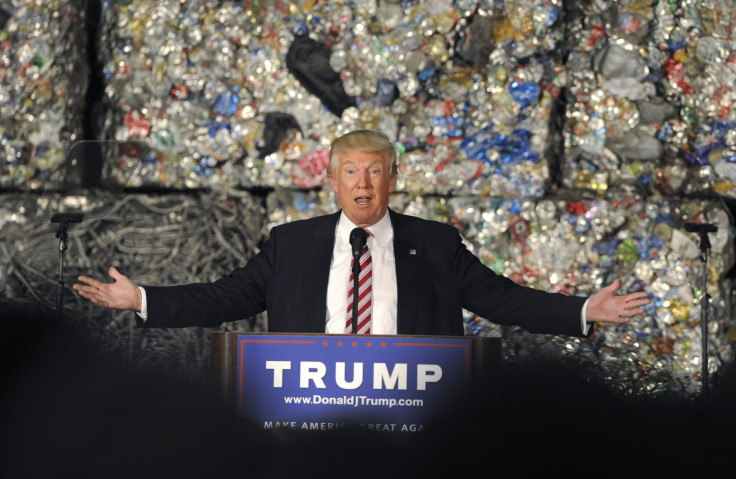 More than 50 former government officials published an open letter to Donald Trump demanding he fully disclose all of his foreign business entanglements. Among the signatories are former government officials backing Hillary Clinton — many of whom have not disclosed their own defense industry clients.
The letter to Trump, which was published in the New York Times, followed a report in Newsweek raising the prospect that Trump's international business dealings could pose conflicts of interest for a Trump administration. The Newsweek story detailed Trump's sprawling business empire — and its work with government-connected firms — from India to Dubai to Turkey.
"It's not hard to see why these reported relationships would be problematic," the signatories say in the letter. "They could impact the foreign policy Mr. Trump would pursue as president, and they seem to have already influenced the policy positions he has taken as a candidate."
While the letter is titled "A Call For Transparency," a number of former government officials who signed it did not disclose their own ties to industries that could end up doing business with a Clinton administration.
For example, Andrew Shapiro is listed on the letter only as a former assistant secretary of state for political-military affairs — an office he held in the Clinton-led State Department as that office boosted arms export authorizations to Clinton Foundation donors.
But even as Shapiro called on Trump to be more transparent, he neglected to mention his own opaque business endeavor. When he left the State Department in 2013, Shapiro founded Beacon Global Strategies — a consulting firm that says it specializes "in international policy, defense, cyber, intelligence and homeland security" and "develop(s) strategies and provides services that enable companies to achieve their business objectives."
When Shapiro launched Beacon in 2013, he said the consulting firm would help businesses navigate the complex bureaucracy surrounding international arms sales. He told Defense News most of his clients were in fact defense contractors.
It's impossible to know if Shapiro or his clients have a concrete financial stake in the election. That's because Beacon's principals do not register as lobbyists and the firm does not publicly disclose its clients. Beacon has not responded to multiple requests from International Business Times to further clarify its business practices and client relationships. Last week, the State Department decided it wouldn't fulfill an open records request for documents related to Beacon until after the 2016 election, all but ensuring Beacon's work would remain opaque until after the next president is selected.
Shapiro was not the only Beacon signatory calling for transparency. Other Beacon principals on the letter included Jeremy Bash, a former CIA and Pentagon official now advising the Clinton campaign; Julianne Smith, a former adviser to Vice President Joe Biden; Michael Morell, a former CIA director; and Michael Vickers, a former top Pentagon official. Morell and Vickers have published op-eds promoting Clinton's candidacy. According to the New York Times, the pair organized the transparency letter with Samantha Vinograd, whose LinkedIn page lists her as a vice president at Goldman Sachs.
Other signatories work at institutions whose work intersects with government — but those ties were not explicitly disclosed in the letter.
Thomas Nides, for instance, is listed on the letter as a former assistant secretary of state: His role as the current vice chairman of Morgan Stanley was unmentioned. Michele Flournoy is listed on the letter as a former undersecretary of defense for policy, not as the CEO of a think tank funded by foreign governments, oil companies and defense contractors. Michael Chertoff is listed as a former secretary of homeland security. Not mentioned? His role as the namesake of a security consulting firm or as chairman of the board of a major defense contractor.
© Copyright IBTimes 2022. All rights reserved.
FOLLOW MORE IBT NEWS ON THE BELOW CHANNELS