United Airlines Spent Millions Fighting Proposals To Protect Passenger Rights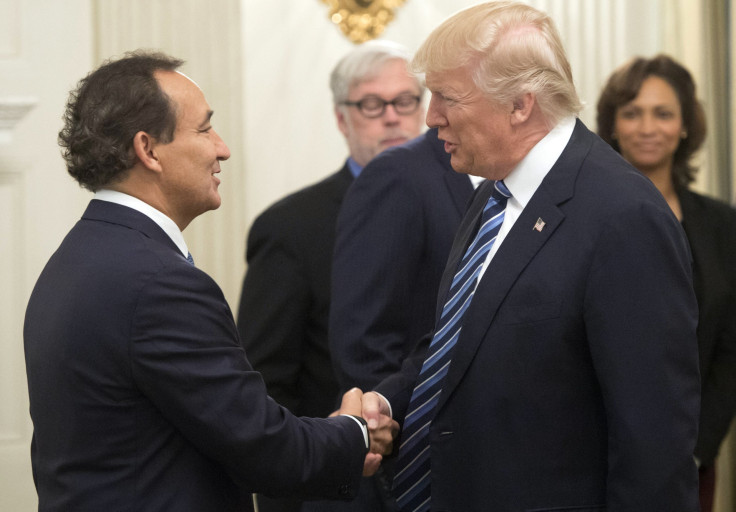 United Airlines, the Chicago-based giant at the center of a public relations storm for its forcible removal of a passenger from a weekend flight, has spent more than $41 million during the past decade to lobby the federal government, often battling consumer-friendly causes.
A MapLight/International Business Times review of records kept by the Center for Responsive Politics found that during the last two-year session of Congress, the airline spent $7.26 million to fight legislation that included measures to create minimum airline seat sizes; require airlines to allow families to sit together on flights; and prohibit airlines from charging customers to use an airplane bathroom.
United backed up those lobbying expenditures with millions of dollars of campaign contributions to federal lawmakers and political committees — and it is a member of a lobbying group that successfully pressed the Trump administration to delay proposed rules requiring airlines to more transparently disclose their fees.
United's efforts to thwart consumer-focused legislation could be in the spotlight thanks to the furor over a video showing the airline removing an Asian-American man from an one of its flights. The passenger, a Kentucky physician who had already been seated, was bloodied, knocked semi-conscious and dragged from the airplane.
Although the airline has apologized for the use of force, it initially described the mayhem as "re-accommodating" the customer, and its chief executive claimed that United was legally within its rights to eject already-boarded passengers to make room for four airline employees. Previously, the company assured federal regulators that ticketed passengers are guaranteed seats.
The reaction to the video highlighted the increasingly hostile relationship between the public and a U.S. industry whose political power has grown in the wake of a 1978 law that deregulated the airlines. The law prompted a major consolidation of the airline industry, freeing it to maximize record profits — often at the expense of consumers. Four major airlines control about 85 percent of U.S. air traffic.
"Unrestrained power has led to record profits, a dramatically degraded traveling experience, and an arrogance that verges on contempt for the average passenger," said David Morris, co-founder of the Institute for Local Self-Reliance. "And when citizens turn to the government for help, they increasingly find Washington as corporate-oriented and corporate-controlled as the airline industry itself."
United Airline officials did not respond to IBT requests for comment.
Bill of Rights
Consumer advocates have been critical of the airline industry's treatment of passengers for more than a decade. Relations between the flying public and airlines reached their nadir in the 2000s, when Congress and some state legislatures began considering "passenger bill of rights" proposals to address growing frustration over delayed flights.
At the state level, the airline industry has largely succeeded in preventing tough regulation. Over the last decade, United and its parent company have spent almost $1 million on state politics, according to data from the National Institute on Money In State Politics. New York lawmakers passed a passenger bill of rights in 2007 but it was struck down by a court the next year. California lawmakers considered a similar bill in 2008, but it was killed. State records show United successfully lobbied against the legislation after delivering $20,000 to then-Gov. Arnold Schwarzenegger during his 2006 reelection campaign.
At the federal level, the Obama administration implemented rules to protect consumers in December 2009. The head of the Air Transport Association, a Washington-based airline industry trade organization whose members include United, criticized the regulations at the time, saying they "will lead to unintended consequences — more canceled flights and greater passenger inconvenience." The group (which was renamed Airlines for America) later declared that it will "continue to believe that market forces, not added government regulation, are a better approach to improving the customer experience."
United had reason to fear the new rules; in 2013, it received a record-setting fine for excessive tarmac delays. The Federal Aviation Administration slapped the company with a $1.1 million fine for 13 individual tarmac delays that exceeded three hours at O'Hare International Airport in Chicago. Last year, United was fined $750,000 for excessive delays at O'Hare and a Houston airport, as well as another $2 million for violating rules designed to assist passengers with disabilities.
Much of United's lobbying efforts have concentrated on the nuts-and-bolts of operating a regulated industry. For instance, in the lead-up to its proposed merger with Continental, the company lobbied extensively on antitrust issues, according to federal disclosure forms. The Justice Department's antitrust unit approved the merger in 2010, over the objections of consumer groups who said it would raise ticket prices.
In 2014, United argued against proposed rules to mandate better disclosure of fees charged to airline consumers. In its federal filings against the regulations, the company told regulators that "every ticket, of course, guarantees a passenger a seat on the plane" — a statement that has been called into question by this week's video of the passenger being removed from United's plane.
This year, after departing Obama officials proposed a new fee transparency rule, Airlines for America requested the Trump administration delay the regulation. Three days after that request, the Trump administration complied with the request. Trump's move to delay the rule followed his meeting with airline executives -- including with United CEO Oscar Munoz -- at the White House in February. At that meeting, Trump promised the executives he would begin "rolling back burdensome regulations."
Pay Toilets and 'Ridiculous Fees'
Since the 2012 election cycle, donors from United and its affiliates have given more than $2.4 million to federal candidates and political committees. The total includes nearly $500,000 that has flowed to lawmakers on the House and Senate committees that regulate the airline industry. In that time, the company has succeeded in blocking many legislative measures designed to help passengers.
Last year, the company reported lobbying on 57 separate pieces of legislation, with subjects ranging from airport security improvements to training for airline employees to identify victims of human trafficking. One proposal the company lobbied on was an initiative sponsored by Sen. Robert Menendez (D-N.J.) that would have increased the maximum fine for unfair or deceptive airline pricing advertisements to $55,000. The bill died in committee.
Airline lobbyists also helped thwart a pair of measures that would have set minimum seat sizes in U.S. airlines. Since airlines were deregulated in 1978, seat widths have shrunk from 18 inches to 16.5 inches; at the same time, the typical American man has put on an additional 30 pounds, while American women have added 26 pounds. The narrower seats have led to concerns about evacuation safety and raised the potential for deep-vein thrombosis, a potentially fatal condition that's become increasingly associated with prolonged air travel.
A House bill to mandate minimum seat dimensions — introduced by Rep. Steve Cohen (D-Tenn) — died in committee. A similar measure introduced in the Senate by Minority Leader Charles Schumer (D-N.Y.) also died in committee. Federal records show United lobbied on both bills. The airline announced last year that it would reduce the width of its seats in a bid to boost its bottom line. United reported making $3.8 billion in pre-tax profits last year.
A 2015 bill, the Comfortable and Fair Flight Act, would have barred airlines from charging customers to use aircraft restrooms and would have required them to refund fees if checked bags don't arrive within two hours of a scheduled landing. Airlines have almost tripled "ancillary revenue" since 2010, reaping more than $67 billion from charges for checked bags, wireless internet, headphones, early boarding privileges, premium seat assignments, food and drinks.
The measure was introduced in the wake of a poorly received idea to charge for bathroom use by Ryanair, a budget Irish airline. "Unfortunately, commercial flights are not required to depart with a functioning bathroom, sometimes forcing passengers to endure a trip without this basic necessity," Rep. Daniel Lipinski (D-Ill.) said in a statement introducing the bill. "Moreover, as ancillary fees continue to grow, the specter of an in-flight bathroom fee continues to loom."
Federal records show that United lobbied on Lipinski's bill; the measure died in committee.
A similar 2016 measure, the FAIR (Forbid Airlines From Imposing Ridiculous) Fees Act, was introduced last year by Sen. Edward Markey (D-Mass.). United lobbied on the bill, which would have prohibited air carriers from charging fees that "are not reasonable." It died in committee.
United lobbyists haven't restricted their activities to issues affecting passengers. The company was also successful in its bid to derail the Silent Skies Act of 2015. The measure was sponsored by Rep. Joe Crowley (D-N.Y.), whose congressional district includes LaGuardia Airport. The legislation would have required airlines to replace one-quarter of older, noisier aircraft every five years, culminating in a quieter fleet by 2037.
A Rare Defeat
During the most recent election cycle, United gave more than $750,000 to political candidates. The airline, which divides its contributions relatively evenly between Democrats and Republicans, was a top contributor to 26 House and Senate campaigns. Its largest total donation was $175,000 for the Cleveland 2016 Host Committee, the organization that sponsored the Republican National Convention. United employees also gave $137,435 to former Secretary of State Hillary Clinton's unsuccessful presidential bid.
Despite its financial clout on Capitol Hill, the airline and its allies suffered a rare defeat last summer when its lobbyists were unable to block a provision requiring them to provide adjacent seating for traveling families. The measure known as the Families Flying Together Act was sponsored by Rep. Rodney Davis (R-Ill.) and won approval when its main provisions were inserted into a Federal Aviation Administration funding bill.
The provisions won accolades from consumer and family organizations. But a spokeswoman for Airlines for America called it "bad for airline customers, employees, the communities we serve and our overall U.S. economy."
This story is a collaboration between International Business Times and MapLight, a nonpartisan nonprofit that reports on money in politics.
© Copyright IBTimes 2023. All rights reserved.