Vance Donations Review Has Ties To Investigators Hired By Harvey Weinstein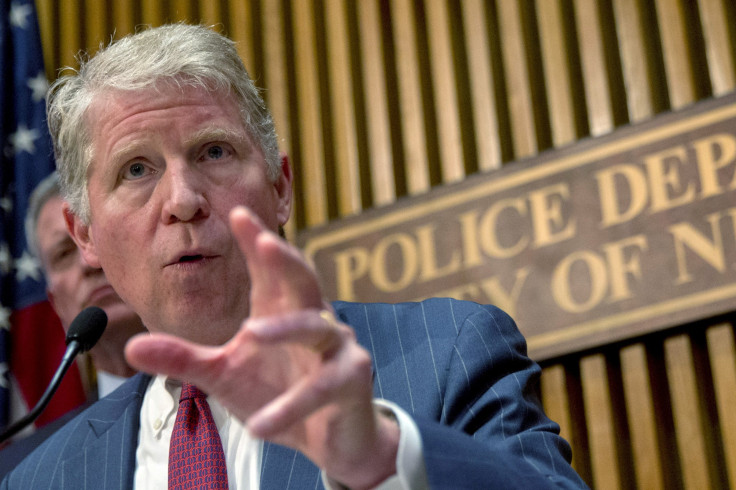 In response to reports he accepted campaign contributions from attorneys connected to the Trump family and Harvey Weinstein while they were being investigated by his office, Manhattan District Attorney Cyrus Vance, a Democrat, announced last month that he would halt all campaign donations and commission an independent review of his campaign finances.
"The Center for the Advancement of Public Integrity (CAPI) will begin an independent review of how we handle campaign contributions," Vance wrote in an op-ed published in the New York Daily News on October 15. "In 90 days, they will report back with recommendations on how to handle them moving forward. In the interim, I have directed my campaign not to accept a single dollar more."
But the organization Vance chose to conduct the independent review of the more than $6.2 million he has collected in campaign donations since 2008 also has connections to Vance's donors and the legal apparatus used to defend Harvey Weinstein against allegations of sexual abuse. They include Kroll Associates, one of the world's largest corporate intelligence companies, which bankrolled CAPI — and helped investigate Weinstein's accusers. They also include Weinstein attorney David Boies, one of the most famous lawyers in the U.S. and law partner of Jonathan Schiller — chair of the board of trustees at Columbia University, which is home to CAPI.
CAPI is a non-profit launched in 2013 as a joint venture between Columbia Law School and the New York City Department of Investigation. The Center's mission "is to improve the capacity of public offices and practitioners to deter, identify, and combat corruption," according to the organization's website. It is housed at Columbia Law School but is funded by grants and donations.
Kroll has given $20,000 to the CAPI since it opened in 2013, according to the Center's 2014 and 2015 annual reports, which each listed Kroll as one of the organization's two "corporate supporters." The center's most recent annual report didn't list Kroll as a donor and CAPI Executive Director Jennifer Rodgers confirmed that Kroll has not made any donations to CAPI in 2016 or 2017.
"No one from Kroll has influenced CAPI's operations in any way," Rodgers told IBT in an email. Kroll spokeswoman Nicole Cueto told IBT in an email that Kroll supported CAPI financially "because its objectives were consistent with Kroll's decades-long work investigating business crimes and promoting integrity in private enterprise and government."
"Although we did not make contributions in subsequent years, we continue to support CAPI's work," Cueto said. "Kroll has never influenced, or sought to influence, CAPI's operations in any way."
CAPI profiled Vance in 2015 as part of its "profiles in public integrity" series. That same year, it profiled Kroll Associates chairman Daniel E. Karson as part of the same series. Karson donated $1,000 to Vance's campaign between 2008 and 2013, according to New York State campaign finance records.
Karson was personally involved in the efforts to discredit Weinstein's accusers, according to the New Yorker. He sent information about the women making allegations and journalists investigating those allegations to Weinstein at his personal email address. Karson emailed Weinstein about efforts to dig up dirt on New York magazine editor-in-chief Adam Moss, whose magazine was investigating Weinstein.
"No adverse information about Adam Moss so far (no libel/defamation cases, no court records or judgments/liens/UCC, etc.)," Karson wrote in an email to Weinstein in late 2016, according to the New Yorker, which also reported that longtime Weinstein attorney Boies was copied on emails between the two men.
As International Business Times reported, Boies donated $10,000 to Vance's campaign just months after Vance dropped an investigation into claims of sexual assault against Weinstein by an Italian model in 2015. In total, Boies' firm, Boies Schiller Flexner, and its partners have given $182,000 to Vance's campaigns. Boies, who represented Al Gore in the aftermath of the 2000 presidential and has a longtime relationship with the Weinstein Company, was not representing Weinstein during the 2015 criminal investigation. But he did help investigate Weinstein's accusers and the reporters they were speaking with, according to the New Yorker report.
In response to Boies' actions in trying to suppress reporting about Weinstein and seek damaging information about reporters who were investigating the movie producer, the New York Times announced Tuesday evening that it was severing its own relationship with Boies, who has represented the paper in legal matters.
Boies Schiller Flexner paid a corporate intelligence firm run by former Mossad agents called Black Cube to deploy an undercover "agent" and an investigative journalist to gather information about accusers and suppress negative stories about Weinstein.
The eponymous Schiller in Boies Schiller Flexner is Jonathan Schiller, a graduate of Columbia Law, and one of the New York's most powerful attorneys. A member of Columbia University's board of trustees since 2009, Schiller has been the board's chair since 2014. Schiller has given $26,000 to Vance's campaigns, including a $25,000 donation in January of 2013, the largest donation Schiller has ever given to a politician in New York State, according to campaign finance records. Schiller is also a member of the Dean's Council of Columbia Law School.
"I don't know Jonathan Schiller and didn't know he was head of the trustees for CU, but he has no relationship to CAPI," Jennifer Rogers, executive director of CAPI told IBT in an email responding to questions about Schiller. "CAPI is housed at the law school, and has never had any interaction with CU trustees. I don't believe Schiller being a donor raises any conflict at all."
CAPI also has a 13-member advisory board. One of the members, Michele Hirshman, a white-collar defense lawyer and partner at the law firm Paul, Weiss, has donated $1,500 to Vance. Rogers said members of CAPI's advisory board would not be involved with the review of Vance's campaign finances.
A spokesman for Vance, who has repeatedly said that donations do not affect the district attorney's prosecutorial decisions, emphasized the review would be fully independent.
"The Board of Trustees at Columbia has absolutely nothing to do with the Center for the Advancement of Public Integrity review," Steve Sigmund, Vance's campaign spokesperson, told IBT in an email. "CAPI is an independent non-profit project of the law school and the City's Department of Investigation, with its own staff, advisory board, and fundraising. Its findings will be entirely independent, which is exactly why the DA asked CAPI to conduct this review."
Vance ran for his third term as Manhattan district attorney with his name appearing unopposed on the ballot in Tuesday's election. But after a series of news reports in early October that detailed Vance's decision not to prosecute Weinstein or the Trump children, former Brooklyn district attorney candidate Marc Fliedner announced a write-in campaign to oppose Vance.
"Vance's selection of the Columbia-based Center for what he calls an 'independent review' of his campaign fundraising practices, in light of the hefty contributions made to his campaign by both the Chair of Columbia's Board of Trustees Chair and his partner, reveals that he still doesn't get it," Fliedner told IBT in an email. "It smells of cynical political damage control, a way to address the controversy in the moment before strolling back into office and doing business just as he always has."
NYPD secured an undercover audio recording of Weinstein, who has now been accused of sexual misconduct by more than 75 women, admitting to an alleged assault against an Italian model in 2015, and an NYPD source told the New Yorker the department had enough to prosecute Weinstein. Despite the recording and the accuser's statements, Vance's office declined to prosecute.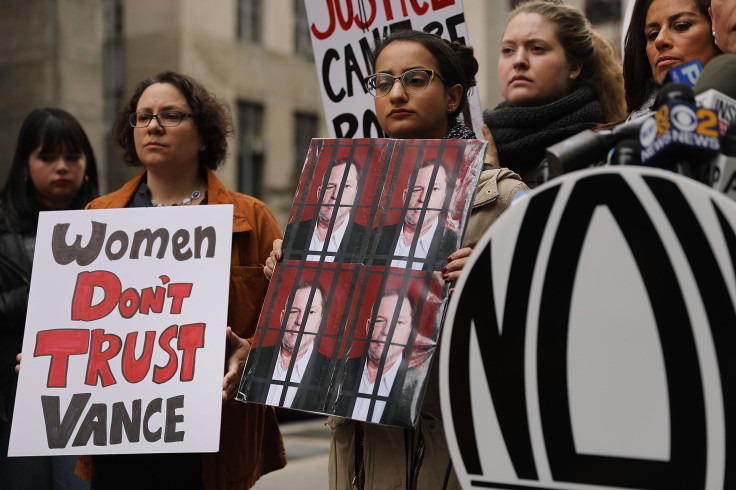 "We had the evidence," a police source involved in the operation told the New Yorker's Ronan Farrow. "It's a case that made me angrier than I thought possible, and I have been on the force a long time." (Last week, the NYPD said it was building a separate case against Weinstein based on allegations he raped an actress seven years ago in New York. On Tuesday afternoon, sources told NBC New York Vance's office would soon present evidence in the case to a grand jury. )
The reports on Weinstein and Vance's investigation into allegations against him followed a ProPublica, New Yorker and WNYC investigation that found Vance overruled his prosecutors and declined to press fraud charges against Donald Trump Jr. and Ivanka Trump in 2012 in connection with the Trump SoHo development project. During the investigation, Vance took a meeting with longtime Trump lawyer Marc Kasowitz about the case, and afterward received a $32,000 donation from Kasowitz. Vance returned the donation last month after the press began asking about the donation. Nearly half of all Vance's campaign contributions since 2014 have come from lawyers and law firms, Politico reported.
Vance's relationship with the founder of Kroll Associates and his family raised concerns earlier this year. Jules Kroll founded Kroll Associates in 1972 and ran the company before it was sold in 2004 for $1.9 billion. Kroll and his son Jeremy founded K2 Intelligence in 2009. In 2015, Vance's office started paying K2 nearly $550,000 for its work using data analytics to identify corruption, the Daily News reported in July. K2 executives have donated at least $23,485 to Vance's campaigns, the Daily News said.
The Manhattan gynecologist who abused his patients — and never went to jail
Columbia was party to another case that drew attention to the relationship between Vance's office and his political donors.
The university employed gynecologist Robert Hadden, who pled guilty in 2016 to sexually abusing patients after 18 women accused him of a variety of inappropriate behaviors, including licking their genitals during exams. In addition to his role seeing patients at New York Presbyterian/Columbia University Medical Center, he was also an assistant professor at Columbia, according to Hadden's LinkedIn page. Vance's office gave Hadden a plea deal that allowed him to avoid any prison time, probation or community service. The deal required only that Hadden surrender his medical license and register as a level 1 sex offender, the lowest possible sex offender designation. Level 1 sex offenders are not included in New York's public sex offender registry.
Hadden's attorney, Isabella Kirshner, is a partner at Clayman & Rosenberg LLP. As reported by IBT, that firm gave $24,000 to Vance's campaigns, and its partners kicked in another $18,000. CBS News found Kirshner herself gave Vance's campaign $250 on the same day she filed a motion in the case in 2015.
Kirshner denied the timing of the donation had anything to do with the Hadden case, saying she and her firm made donations to Vance's campaign because they believed he was the best person for the job.
"The truth is that every criminal defense attorney, or at least many of us, have made donations. Frankly, nobody else really cares about that race," Kirshner told CBS.
Hadden was arrested after one of his patients called the police in June 2012, but was immediately released. He then resumed seeing patients, including one woman who told police he "forcefully pulled her pants and underwear down off her body" before groping her and inserting his gloveless fingers into her vagina. It wasn't until September that Hadden was finally relieved of his duties. Schiller, who was a member of the board of trustees at the time but not yet the board's chair, made the $25,000 donation to Vance in January, three months after Hadden stopped seeing clients.
Several of the alleged victims filed a lawsuit against Hadden, The Trustees of Columbia University and New York Presbyterian in June 2013, alleging that the university should have known Hadden was abusing patients and should have stopped him. Court documents show that the DA's office interviewed a nurse who said she saw Hadden sexually abusing a patient who spoke no English while working at the Audubon Clinic, part of the New York Presbyterian system, between 1993 and 1994. The nurse said she immediately told two supervisors what she saw, only to be told to "stay with your doctor." The suit is ongoing.
Hadden was charged with five counts of felony criminal sexual acts, two counts of forcible touching and two counts of sexual abuse in connection with crimes against six victims in June of 2014. Thanks to the deal with prosecutors, he pled guilty to two of the charges covering two of the victims in March 2016.
Last month, the New York Daily News talked to four of the victims who believed campaign contributions prevented Hadden from seeing any prison time. Prosecutors originally sought a four-year sentence for Hadden at his arraignment, court documents reviewed by IBT show.
"I was under the impression they were going to fight for me and the other victims but they didn't do their part," a 35-year-old victim told the Daily News.
Vance has also accepted $65,500 in donations from 13 people who were members of the board of New York Presbyterian when Hadden was arrested. The board currently has 89 members, many of whom are some of the most wealthy and powerful people in New York City. Among them is billionaire and philanthropist Ronald Perelman, who has given Vance $35,000, including $15,000 in May.
Updated 11/7, 10:00 p.m.:This story was updated to include the New York Times' decision to sever its relationship with David Boies.
© Copyright IBTimes 2023. All rights reserved.
FOLLOW MORE IBT NEWS ON THE BELOW CHANNELS