Criminal Defense Firm Bankrolled Manhattan DA Cyrus Vance, Kept Clients Out Of Prison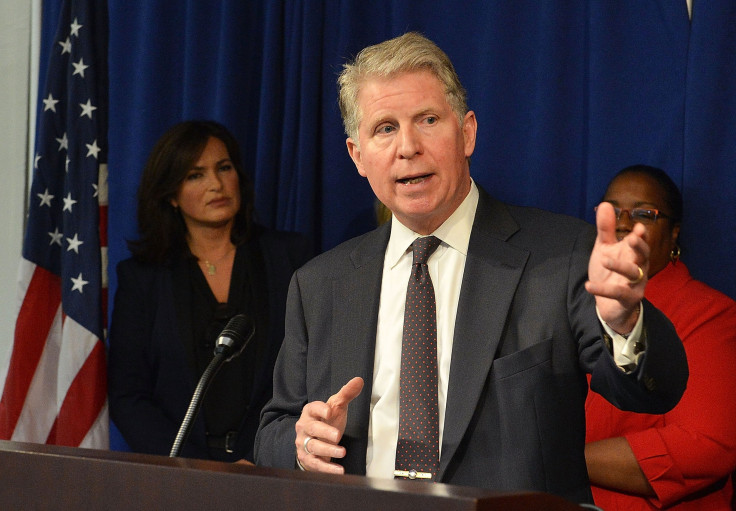 A New York City criminal defense firm and its partners together gave more than $42,000 to Manhattan District Attorney Cyrus Vance, Jr., according to an International Business Times review of campaign finance records. Vance's office negotiated deals that resulted in light sentences for some of the firm's clients, and in certain cases allowed them to avoid prison time altogether.
New York state records show that attorneys at the criminal defense firm Clayman & Rosenberg LLP have been contributing to Vance since the Democrat started running for office in 2008. Over $24,000 of the donations came straight from the company's coffers, and another more than $18,000 came from individual lawyers at the firm.
The disclosures follow a previous IBT report that showed Vance received $182,000 from Hollywood mogul Harvey Weinstein's lawyer and his law partners. Vance declined to file sexual assault charges against Weinstein; his lawyer David Boies gave Vance $10,000 soon after. That report came just a day after ProPublica, WNYC and The New Yorker reported Vance declined to prosecute Ivanka and Donald Trump, Jr. for fraud in 2012. Five months later, Vance received a $32,000 campaign contribution from President Donald Trump's longtime lawyer, Mark Kasowitz.
Boies and Kasowitz have said their donations were unrelated to Vance's decisions not to prosecute their clients, and Vance has said there was no quid pro quo. Vance, who is running unopposed for a third term in November, returned Kasowitz's donation last week in response to the reports.
"Contributions have never and will never influence Cy Vance's work," Steve Sigmund, Vance's campaign spokesperson, told IBT in an email. "Every contribution is vetted by the DA'S office and a vetting committee, accepted where appropriate and flagged and turned down or returned where appropriate. The campaign neither does, nor should, know the details of any case before the DA's office."
A spokeswoman for the district attorney's office said the contributions didn't affect the office's work.
"It is completely standard to resolve a case with a plea to lesser charges, particularly if the defendant does not have a criminal history, or is suffering from mental illness or addiction," spokeswoman Joan Vollero told IBT. When asked if there was any concern about campaign donations to Vance creating conflicts of interest, she said: "None whatsoever."
Clayman & Rosenberg did not immediately respond to requests for comment from IBT.
"This is pay-to-play — it is clearly an attempt to buy influence and it has to stop," said John Kaehny of the government watchdog group Reinvent Albany. "We have to change state law to prevent people with business before district attorneys and judges from making large campaign contributions. New York City has a law restricting campaign contributions from people doing business with the City and it works."
Clayman & Rosenberg's website says the firm's lawyers " regularly appear in state and federal courts in the New York City metropolitan area, as well as in a variety of other jurisdictions nationwide, on behalf of clients charged with violations of federal and state drug laws, racketeering, assault and battery, identity theft, extortion, robbery, larceny, domestic violence and gambling." The biographies of many of the firm's attorneys say they previously worked in the Manhattan district attorney's office. Among them is Isabelle Kirshner, whose biography notes that she served as a member of Vance's 40-member transition team.
Vance campaigned "on promises to pursue crimes directed at women," City & State reported, and in May Mariska Hargitay's Joyful Heart Foundation honored Vance with its 2017 Heart of Gold Award "for his dedication to testing backlogged rape kits across the United States." Some of the cases involving Clayman clients, though, ended with favorable plea deals for men accused of assaulting women.
For instance, in a 2016 case, Kirshner represented Dr. Robert Hadden, a gynecologist charged with the sexual assault of six pregnant patients. Kirshner secured a plea deal with Vance's office for her client, who admitted in court to engaging "in an act of oral sexual conduct against a patient for no valid medical purpose." Hadden was accused of abuse by 20 women, according to the New York Daily News, but most of the alleged incidents occurred outside of the statute of limitations for medical malpractice charges. Hadden pleaded guilty in a deal that allowed him to avoid jail time and community service. He was only required to register as a level 1 sex offender, the lowest possible registration, and surrender his medical license.
"The Manhattan District Attorney's Office has promised not to charge him for any additional conduct they learned about in their investigation prior to Tuesday," the Daily News reported at the time. "It was not immediately clear why prosecutors offered him a jail-free deal that does not even require him to do community service or comply with probation."
Campaign finance records show Kirshner, Charles Clayman and Seth Rosenberg together donated $3,000 to Vance roughly two months after the Hadden case ended. Kirshner references the case in her bio on the Clayman and Rosenberg website. Under a list of her accomplishments, one bullet point reads: " Obtained a favorable result for a doctor accused of sexually abusing multiple patients."
In a 2015 case, the Daily News also reported that court documents showed Scott Ratner — the son of Madison Square Garden's former CEO — "allegedly smacked a 27-year-old woman at the lounge in the face, fracturing her jaw." Ratner was represented in the case by Thomas Rotko — who is listed as an attorney at Clayman. The Daily News reported Ratner received a deal from Vance's office allowing him to pay $4,000 and perform community service, and noted that the reduced punishment "is a violation, not a crime."
In 2014, Kirshner represented Knicks point guard Raymond Felton after he was arrested and charged with "one count of felony third-degree criminal possession, as well as one felony count of criminal weapons possession," Newsday reported. The newspaper added that "an unnamed complainant brought a loaded, high-powered semiautomatic handgun to police," and that "Felton's wife had alleged the Knicks player had handled the gun during a domestic argument."
The Manhattan DA's office gave Felton a deal in the summer of 2014, allowing him to avoid jail time. A few months later, Clayman and Kirshner gave Vance's campaign a combined total of $3,000.
Clayman & Rosenberg clients have not always avoided jail time in cases prosecuted by Vance's office. In 2013, NBC 4 reported that Charles Clayman and Kirshner represented Aaron Greene, son of the founder and chairman of an architectural restoration firm, after "a police search of their home turned up weapons, chemicals used to make explosives and papers titled 'The Terrorist Encyclopedia' and 'Deadly Homemade Weapons.'" The New York Times reported that police officials said Greene was plotting to blow up Washington Square Park. The Manhattan DA's office agreed to a deal reducing Greene's jail sentence to 7 years. A clerk with the New York Supreme Court told IBT that Rotko was listed as the attorney on the case.
Campaign finance records show that Clayman & Rosenberg as well as Kirshner donated $3,500 to Vance in early 2013.
New York University School of Law professor Stephen Gillers told IBT that "while there may or may not be an appearance of favoritism" in the cases, "We can't assume that the contribution is the reason for any favorable treatment." He added that the public has to rely on prosecutors' honesty.
"There is no pay-to-play rule for prosecutors in New York," Gillers said. "For prosecutors, we rely on their integrity not to allow a contribution influence their prosecutorial discretion. We also hope they will be sensitive to appearances if the clients of a lawyer who is a large contributor gets what appears to be favorable treatment."
Alex Kotch and Lydia O'Neal also contributed to this report.
© Copyright IBTimes 2022. All rights reserved.
FOLLOW MORE IBT NEWS ON THE BELOW CHANNELS