Who Is Lobbying Mike Pence And Why? Health Insurers and Big Oil Seek To Influence Vice President
Mike Pence has been among the Trump administration's most prominent voices pressing to replace the Affordable Care Act, repeal post-crisis financial regulations, privatize American infrastructure and promote fossil fuels. Those positions would benefit the industries that have been directly lobbying Pence since he was elected vice president, according to federal documents reviewed by International Business Times.
Amid speculation that Pence could mount his own presidential bid — or replace Trump if he leaves office early — the former Indiana governor and U.S. congressman has been directly lobbied by major health care and drug companies, Wall Street firms, oil and gas interests and industry groups interested in shaping a federal infrastructure privatization initiative. Pence's office has also been lobbied by his former congressional chief of staff on behalf of insurance, defense contracting and telecommunications companies — and that lobbying revolved around health care policy, defense spending and net neutrality. Pence has enthusiastically backed the policies by the lobbying firms.
While other vice presidents have been the target of lobbying in the past, Pence has been viewed as one of the most powerful vice presidents in recent history. He is a longtime politician serving a president with no experience in elected office, and during his vice-presidential selection process, Trump was reportedly offering potential running mates a vast policy portfolio to oversee. Pence also oversaw Trump's White House transition, which shaped the administration's personnel decisions and many of its policy proposals.
Companies that have lobbied the vice president have spent tens of millions of dollars in total federal lobbying so far this year. Here is a deeper look at the major industries lobbying him — and what exactly they have been pushing for in their efforts to influence the vice president.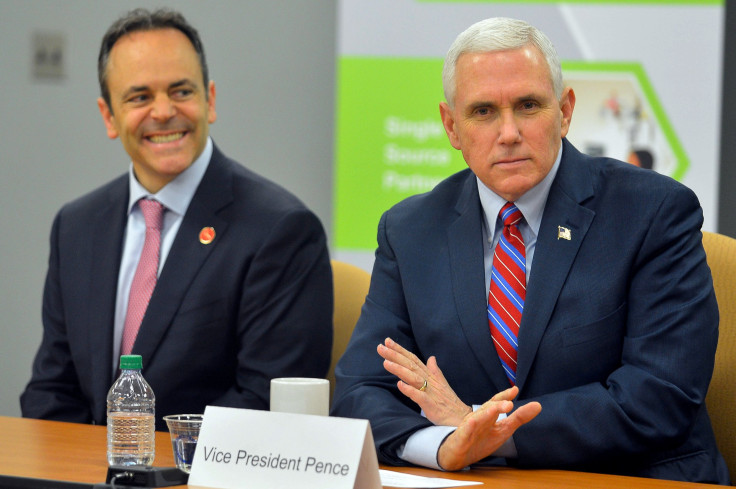 Health
Despite his onetime support for expanding Obamacare subsidies in his home state, Pence has reversed course and led the Trump administration's legislative bid to repeal the Affordable Care Act — just as health insurers have been lobbying him in 2017.
"If you're one of those Americans who want to see Obamacare repealed and replaced, we literally are days, or maybe just weeks, away from being able to accomplish that historic objective," he told conservative talk radio host Rush Limbaugh last month. "We believe if they can't pass this carefully crafted repeal and replace bill — we do those two things simultaneously — we ought to just repeal only and then have enough time built into that legislation to craft replacement legislation."
The Pence-led repeal effort could be a financial boon to health insurers like Blue Cross and Blue Shield, as well as UnitedHealthcare Group — both which have been in direct contact with Pence, according to records reviewed by IBT.
Blue Cross and Blue Shield, which spends far more on federal lobbying than any other insurance company of any kind, lobbied Pence specifically on House Republicans' stalled American Health Care Act of 2017. Aflac, which provides supplemental health insurance policies, signed up Pence's former chief of staff, Bill Smith, who then lobbied the vice president's office on health care policy. And UnitedHealthcare lobbied Pence on health insurance policy through the Indiana-connected firm Bose Public Affairs Group. That firm — which was hired by UnitedHealthcare when Pence took office — had previously funneled more than $116,000 to Pence's gubernatorial campaign.
While Trump had campaigned on a promise to crack down on drug companies, he has of late backed off those promises — just as Pence has assumed a policy leadership role in the White House, and just as Pence has been lobbied by major pharmaceutical manufacturers.
As Republicans attempted to hack away at the Affordable Care Act this year, lobbyists representing pharmaceutical companies and pharmacy chains sought to influence Pence, who has been supported by drugmakers during his time in Congress, including by Indiana-based Eli Lilly, his third largest congressional donor. Industry allies helped shape Trump's drug policy during his White House transition, which Pence led.
Major drug manufacturer Amgen has lobbied the vice president on, among other things, a bill introduced by Sen. Bernie Sanders of Vermont that would allow drug imports from Canada. The Congressional Budget Office recently scored that bill and concluded that Sanders' plan would save the federal government alone over $6 billion.
PhRMA, the leading pharmaceutical industry lobbying group, spoke with the vice president's office about roughly 40 Congressional bills, including numerous affordable drug efforts. CVS Health, which sells prescription drugs and operates the pharmaceutical benefit management company CVS Caremark, lobbied Pence on twin House and Senate bills that help bring down the cost of drugs and also include drug importation provisions. Many other pharmaceutical manufacturing and distribution companies including KemPharm, McKesson, Walgreen, BioMarin and Gilead Sciences have also lobbied Pence in 2017.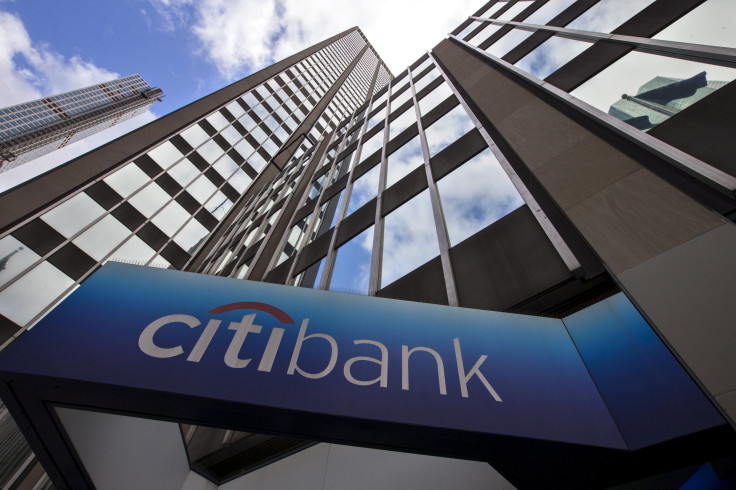 Finance
Since the Dodd-Frank financial regulations were enacted in January, hedge funds, investment banks and other members of the finance industry have hoped for a reversal. In Trump and Pence, they found a powerful advocate for those causes.
Addressing congressional Republicans on Jan. 26, Pence said that "dismantling Dodd-Frank" and its "overbearing mandates" remains a top priority for the new administration.
In order to help push diminish Dodd-Frank, the finance industry has been a frequent presence in Pence's offices. At least 14 financial companies, such as investment banks Citigroup, JP Morgan Chase and asset manager BlackRock, have lobbied the vice president in 2017. The vast majority of financial firms lobbied on issues related to Dodd-Frank, which imposed regulations on the industry after its reckless and often fraudulent practices caused the 2008 global financial crisis.
When Dodd-Frank became law, Pence said, "This so-called financial reform bill will kill jobs, raise taxes, restrict the flow of credit, make bailouts permanent and turn the Democrats' disastrous too-big-to-fail approach into federal law."
Firms lobbied Pence specifically on Texas Republican Rep. Jeb Hensarling's CHOICE Act, which would significantly roll back the Dodd-Frank reforms and eliminate the Consumer Financial Protection Bureau. The CHOICE Act passed the House in June and is now sitting in a Senate committee.
Among the firms lobbying Pence is BMO Financial Corporation, a subsidiary of the Canadian-based Bank of Montreal, that the corporate lobbying firm founded by top Clinton ally John Podesta and his brother, Tony, represented. Podesta Group lobbyists, including Tony Podesta, lobbied on "Dodd-Frank financial reform implementation" and "issues related to infrastructure development."
Pence has received more than $1.4 million from donors in the finance, insurance and real estate sector, according to the Center for Responsive Politics.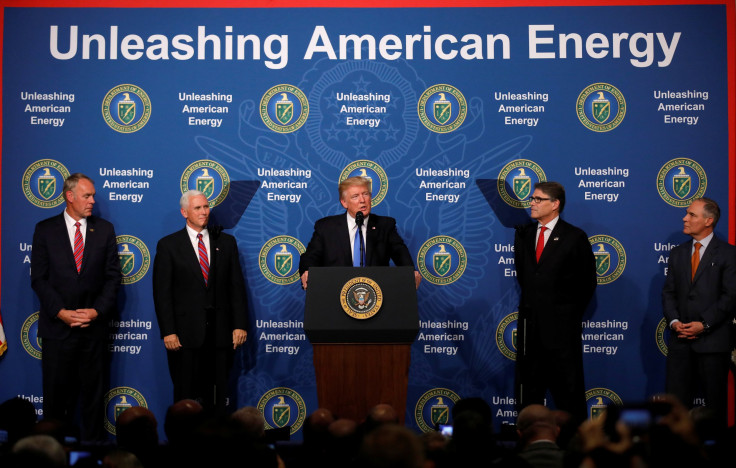 Energy
During an August campaign stop in Iowa last year, Pence declared, "Donald Trump is going to end the war on coal on Day 1 of his administration." As vice president, Pence supported Trump's decision to abandon the international Paris Climate Agreement, calling it "a transfer of wealth from the most powerful economy in the world to other countries around the planet."
The positions reflected the agenda of the fossil fuel extraction, refining, transmission and utility companies that have been lobbying the vice president. Among these businesses are industry groups the American Coalition for Clean Coal Electricity and the American Petroleum Institute, as well as oil and gas companies Citgo Petroleum, Marathon Oil, Lucas Oil and Noble Energy, along with utilities APR Energy and Citizens Energy Group.
Two other energy companies lobbying Pence's office have ties to the vice president from their work in Indiana:
—White Stallion Energy, which owns Indiana-based White Stallion Coal, was the largest Indiana donor to Trump's inauguration committee, and the company's chairman hosted an August 2016 GOP fundraiser headlined by both Trump and Pence. Chairman Steven Chancellor wrote to the previous administration on behalf of his company in December 2016, requesting that the EPA take another look at its Cross State Air Pollution Rule. Federal records show White Stallion Coal specifically lobbied Pence on "energy, environment and infrastructure issues including coal permitting- related matters" and "Clean Water Act and Clean Air Act related issues."
—Vectren, an Indiana-based fossil fuel company, has lobbied Pence on "energy-related issues and legislation" and "pipeline growth and pipeline safety." On the day in June 2015 when Pence first announced his state would not adhere to the Climate Plan, he was photographed with Vectren CEO Carl Chapman. Vectren PACs and employees have consistently donated to Pence's House campaign committees, and the company PAC, as well as Chapman, donated to Pence's gubernatorial campaign in 2011. Vectren also donated $25,000 to Trump's inaugural committee. Bob Grand, managing partner of the Indiana law firm Barnes & Thornberg, which lobbied the vice president on behalf of Vectren, was vice-chairman of the inaugural committee. Grand personally lobbied Pence this year.
Meanwhile, Citgo — which is jointly owned by the Venezuelan and Russian governments — lobbied Pence on potential "sanctions-related issues." The administration is considering a ban on U.S. imports of crude oil from Venezuela.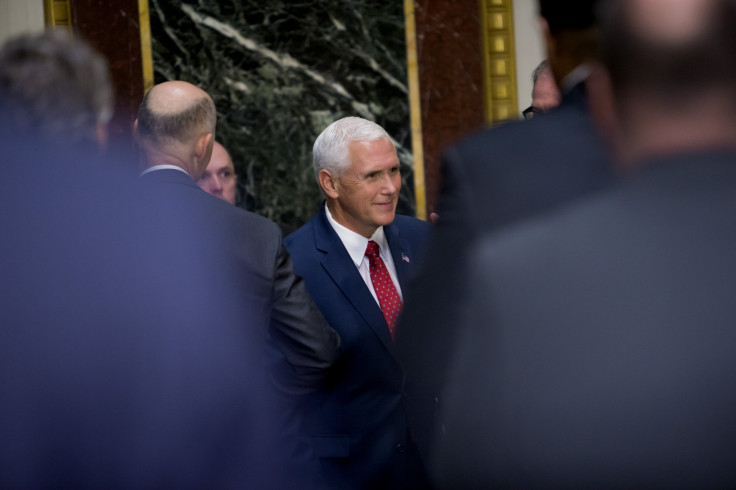 Infrastructure and Transportation
On June 8, Pence addressed a group of business leaders at an infrastructure "working luncheon," saying, "Our administration is working to craft a truly historic infrastructure package. And it's going to be big."
Australia-based IFM Investors, which hired Bose Public Affairs Group to lobby on its behalf, has lobbied Pence on infrastructure policy as Pence pushed a privatization plan that could enrich foreign infrastructure investment firms.
The Associated Builders and Contractors, Inc. (ABC), a prominent trade group that represents non-union construction firms, has lobbied the vice president on a lengthy list of issues such as labor agreements on federal construction projects, wages, and several National Labor Relations Board standards. ABC is a big-time major political donor, contributing over $1 million each election cycle to candidates, and overwhelmingly to Republicans. In 2010, Pence was the trade group's fourth-largest congressional recipient of campaign cash.
Transportation companies looking for help with on specific federal policies were among those lobbying Pence.
For example, Texas Central Rail Holdings, which is preparing to build a high-speed rail line between Houston and Dallas, lobbied Pence on the project. The Pence-led Trump's transition team planned to fast-track the permitting process for the $12 billion for the project as part a prelude to a federally funded infrastructure plan. Another rail project by the Northeast MAGLEV, in conjunction with Japan Railroad Company, lobbied the vice president on appropriations for transportation programs.
Indiana-based Cummins, which makes diesel and alternative fuel engines and generators, is lobbying Pence on the North American Free Trade Agreement (NAFTA) modernization. While Pence was a House representative, Cummins' political action committees and employees combined to be the top corporate contributor and second-biggest overall donor, having given nearly $80,000 to Pence's House campaigns.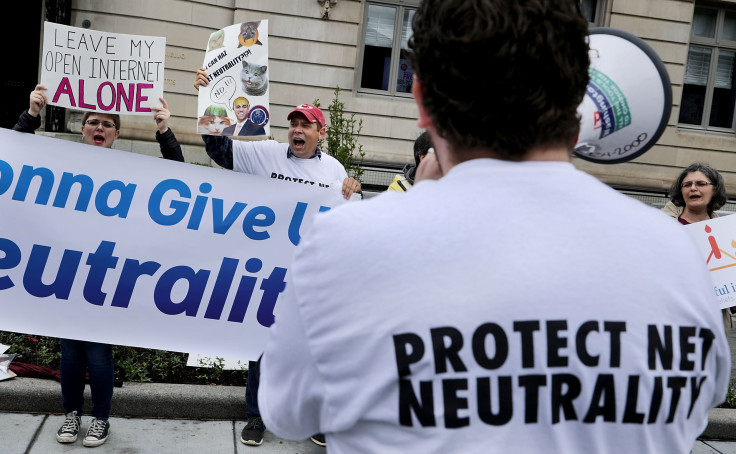 Telecom, Tech and Charter School Interests Lobby Pence Through His Former Top Aide
In 2014, Pence's former chief of staff in Congress and the governor's office, Bill Smith, left his government job to found Indiana-based government-relations firm Sextons Creek. Now, he's lobbying his former boss.
So far this year, Smith has lobbied the vice president on behalf of industry leaders from numerous sectors. For Verizon and AT&T, Smith lobbied Pence on Federal Communications Commission internet rules — some that facilitate "net neutrality" — a potential executive order on "cyber," and tax reform. As a congressman in 2011, Pence co-sponsored the Internet Freedom Act, which would have allowed internet service providers to create a "tiered service," which could allow faster access for companies that pay more, killing net neutrality.
Smith also lobbies for Microsoft on tax reform, trade and increasing the "flexibility and numbers of H-1B Visas," which Silicon Valley tech companies depend on. Trump wants to restrict legal immigration, and he ordered a review of the H-1B visa program in April. More recently, he announced his support for a merit-based immigration law that would cut down on legal immigration.
Smith is registered to lobby for Indianapolis-based Greater Educational Opportunities Foundation, a charter school management company that accepted a $1 million federal grant in 2010 and had a school closed for poor performance the following year. As Indiana governor, Pence pushed for increased funding for charter schools and for publicly funded vouchers for students to attend private schools, both key initiatives in Trump and Education Sec. Betsy DeVos' education plan.
Another client of Smith is the new Turkish-American lobbying firm Washington Strategy, which has links to the controversial Turkish-American imam, Fethullah Gulen, who is accused of being the mastermind behind the failed Turkish coup in 2016. Two members of Washington Strategy are former charter school administrators, according to pro-government Turkish paper, the Daily Sabah. One member is reportedly the former board president of a charter school company, Indiana-based Concept Schools, which was raided by the Federal Bureau of Investigation in 2014.
Also among Smith's clients is Fuels America, a biofuels trade group. Smith lobbied Pence on renewable fuel standards on the company's behalf. In February, Fuels America had a dispute with special White House adviser and hedge fund billionaire Carl Icahn, over his proposed changes to biofuel standards. Smith has also lobbied Pence on behalf of aerospace giant General Dynamics.
© Copyright IBTimes 2022. All rights reserved.
FOLLOW MORE IBT NEWS ON THE BELOW CHANNELS