Pope Francis Advises Limits On Free Speech, Urges People To Refrain From Mocking Faith, Religion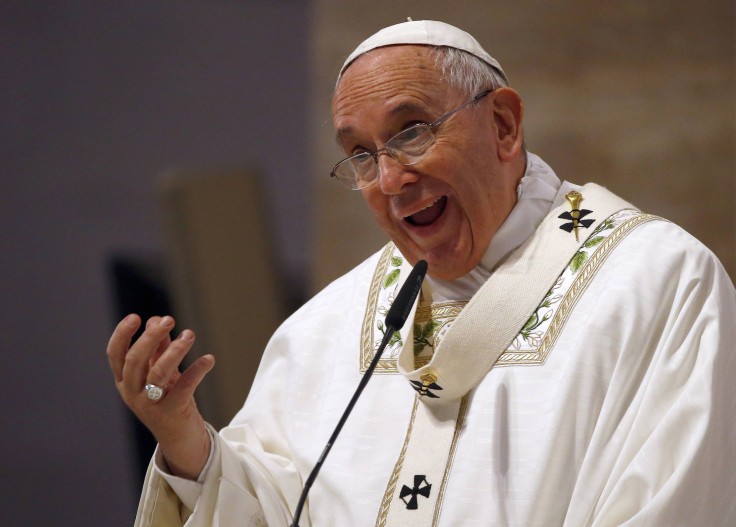 Pope Francis, who is currently on a week-long tour to Asia, said on Thursday that there are limits to freedom of expression, especially when it insults someone's faith and religion, according to media reports. The pope's comments, made on board the papal plane en route to the Philippines from Sri Lanka, were reportedly made in response to a question about freedom of speech and religion.
"You cannot provoke. You cannot insult the faith of others. You cannot make fun of the faith of others," Francis reportedly said, adding that while freedom of religion and freedom of expression are both fundamental human rights, there are limits to freedom of expression. "If my good friend Dr. Gasparri says a curse word against my mother, he can expect a punch," Francis said, throwing a mock punch toward his assistant standing beside him. "It's normal."
The pope's statements assume special significance in light of last week's attack on the office of the French satirical magazine Charlie Hebdo by militants allegedly affiliated to al Qaeda. The attack, which was reportedly carried out to avenge a perceived insult to Islam and the Prophet Muhammad, has sparked fierce debates over the limits to free speech and the right to criticize religion.
Following his comments, a Vatican spokesperson clarified that the pope's statement should not be interpreted as justification for last week's violence in Paris, according to a report by CNN.
"His response might be similar to something each of us has felt when those dearest to us are insulted or harmed," Vatican spokesperson Thomas Rosica told CNN, adding that the pope has "spoken out clearly against the terror and violence that occurred in Paris and in other parts of the world."
In his comments, Francis also condemned violence in the name of religion without specifically mentioning the attack on Charlie Hebdo in Paris. "One cannot kill in the name of God. This is an aberration … I believe that this is the principal point in terms of religious liberty. One has freedom in this, but without imposing or killing in the name of religion," he said.
On Friday, the pope also urged the Philippines' leaders to end "scandalous social inequalities" and fight corruption -- a call that carried resonance in the graft-plagued nation.
"The great biblical tradition enjoins on all peoples the duty to hear the voice of the poor. It bids us break the bonds of injustice and oppression which give rise to glaring, and indeed scandalous, social inequalities," Francis reportedly said, during a speech at the presidential palace on Friday. "It is now, more than ever, necessary that political leaders be outstanding for honesty, integrity and commitment to the common good."
© Copyright IBTimes 2023. All rights reserved.