Pope Francis: Catholic Church Must Focus Less On Abortion, Homosexuality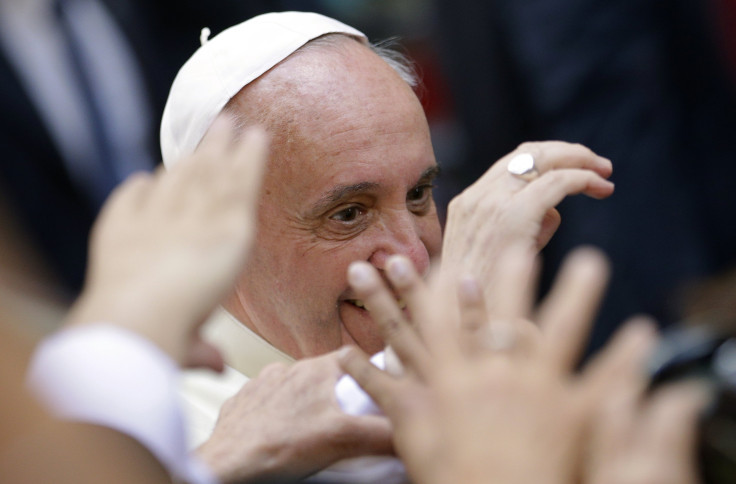 Pope Francis has spoken out against the Catholic Church's history of spending large amounts of time dealing with controversial subjects like homosexuality.
Speaking with the Italian Jesuit magazine La Civilta Cattolica, Pope Francis declared that the Catholic Church must spend less time focusing on divisive issues like homosexuality and abortion and instead focus on the spiritual lives of its members.
"A person once asked me, in a provocative manner, if I approved of homosexuality," he told La Civilta Cattolica. "I replied with another question: 'Tell me, when God looks at a gay person, does he endorse the existence of this person with love, or reject and condemn this person?'
"We must always consider the person," Francis continued. "In life, God accompanies persons, and we must accompany them, starting from their situation. It is necessary to accompany them with mercy. When that happens, the Holy Spirit inspires the priest to say the right thing."
The 12,000-word interview, originally conducted in Italian, was simultaneously published in 16 Jesuit magazines across the globe. Rev. James Martin, editor-at-large of America, which published an English translation of the interview, says that Pope Francis personally looked over the original Italian transcript before publication.
"Some of the things in it really surprised me," Father Martin told the New York Times. "He seems even more of a free-thinker than I thought — creative, experimental, willing to live on the margins, push boundaries back a little bit."
Much of the interview discusses Pope Francis' life and history as a Jesuit, but Francis delves into other issues as well. He says that many in the Church have reprimanded him for not speaking out enough on the subjects of homosexuality, abortion and contraception. However, Pope Francis says that focusing only on these divisive issues is counterproductive and will only hurt the Church in the long run.
"We cannot insist only on issues related to abortion, gay marriage and the use of contraceptive methods. This is not possible. I have not spoken much about these things, and I was reprimanded for that," Pope Francis said. "But when we speak about these issues, we have to talk about them in a context. The teaching of the church, for that matter, is clear and I am a son of the church, but it is not necessary to talk about these issues all the time.
"We have to find a new balance; otherwise even the moral edifice of the church is likely to fall like a house of cards, losing the freshness and fragrance of the Gospel. The proposal of the Gospel must be more simple, profound, radiant. It is from this proposition that the moral consequences then flow."
© Copyright IBTimes 2023. All rights reserved.