Pope Francis Urges 'Pursuit Of Truth' To Heal Sri Lanka's Lingering Ethnic Wounds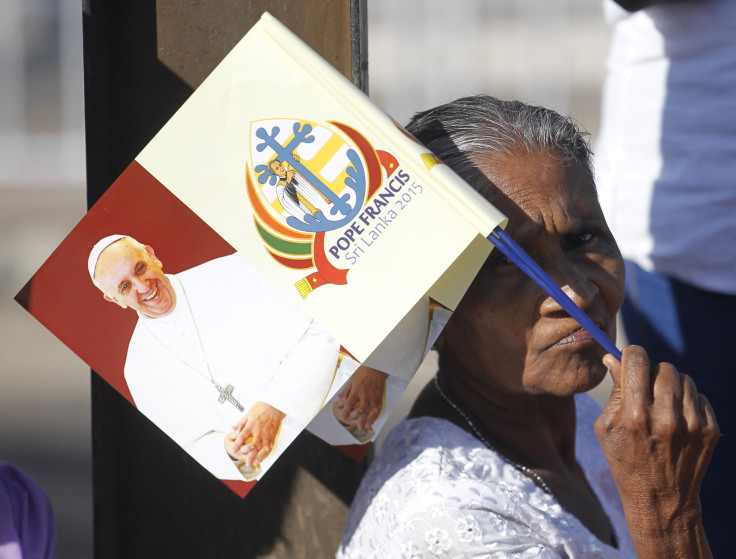 Addressing a crowd at Colombo's international airport on his arrival in the island nation, Pope Francis on Tuesday said that Sri Lanka cannot fully heal from its nearly three-decade-long civil war until it understands what happened during the war, according to media reports. Francis is in Sri Lanka for two days before departing for the Philippines as part of his week-long Asia tour.
"The process of healing also needs to include the pursuit of truth, not for the sake of opening old wounds, but rather as a necessary means of promoting justice, healing and unity," Francis reportedly said on arrival, after he was welcomed by Sri Lanka's newly sworn-in President Maithripala Sirisena.
However, Francis did not directly refer to the previous Mahinda Rajapaksa-led government's refusal to cooperate with a United Nations commission of inquiry into allegations of war crimes committed during the country's 26-year long civil war that ended in 2009. According to a U.N. report released in 2011, over 40,000 civilians, mostly Tamils, were killed in the war that pitted the majority Buddhist Sinhalese population against the minority Hindu Tamils.
In the first papal visit to Sri Lanka since the end of the civil war in 2009, Francis also urged Sri Lankans to overcome the "bitter legacy" of ethnic conflict, according to media reports. This, he reportedly said, could only be done "by overcoming evil with good, and by cultivating those virtues which foster reconciliation, solidarity and peace."
Francis' visit to Sri Lanka, where Catholics account for less than 7 percent of the 20 million population, comes just days after Sirisena ended the decade-long rule of Rajapaksa, whose tenure was marred with allegations of corruption, nepotism and dynastic politics.
Francis is in Sri Lanka until Thursday morning, after which he will depart for the Philippines -- Asia's largest Catholic country. During his Sri Lanka visit, he is also expected to hold a meeting with representatives of the country's two major religious groups -- Buddhists and Hindus.
© Copyright IBTimes 2023. All rights reserved.