Possible Playstation 4 Feature? Sony Patents A Heat-Controlled Game Controller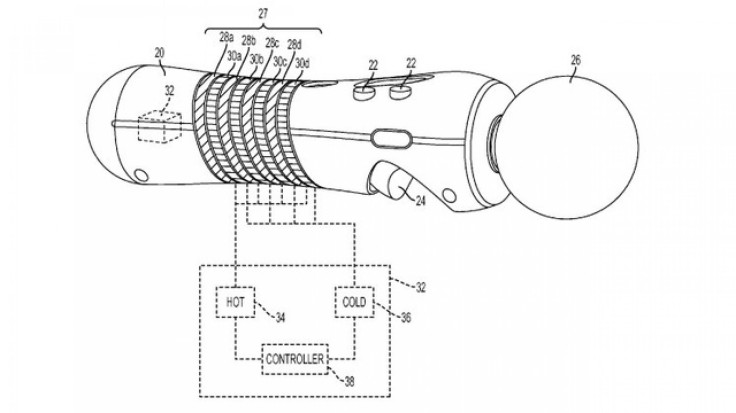 The IBTimes tech team has been busy with New York Comic Con coverage this week, but one thing that didn't show up on the main floor of Javits Center Thursday or Friday was new hardware from the Japanese video game and tech giant Sony Corp. (NYSE: SNE). Still, that didn't stop the popular video game site Kotaku from getting wind of a patent application filed by Sony on Thursday for a new video game controller that could heat up and cool down along with gameplay cues.
The model for the alleged controller (Sony representatives have so far refused to comment) is based off the Playstation Move -- Sony's motion-controlled device that complements certain Playstation 3 games, similar to Microsoft's (Nasdaq: MSFT) Kinect device. The main addition is a row of metal bands that heat up or cool down depending on different actions happening in-game.
"In one embodiment, a user controls the firing of a weapon in a video game," the patent reads. "As the weapon is repeatedly fired, the weapon may heat up and the controller may exhibit increasing heat feedback to communicate this fact to the user. At a certain point, the weapon may become inoperable, and the user must then wait for the weapon to cool off before firing the weapon again."
The patent went on to say that the controller may even "change from a change from a cooler color to a warmer color, such as from blue or green to orange or red" to offer "lighted feedback in conjunction with the thermal feedback."
Like the recent smash hit of a Kickstarter campaign championed by the Oculus Rift -- another nearly too-good-to-be-true idea, Sony's new controller promises gamers an immersive augmented reality experience that they had previously only been able to dream of. Another possibility that the patent described would have the controller respond "when the character is hit by enemy fire or an explosion." Other possible features including a heated sensor that gets warmer or colder as users search for objects within a game, and cool down whenever their hands get too warm or sweaty.
Sony declined to comment on the new patent.
© Copyright IBTimes 2023. All rights reserved.