?Potential Violence? In Mexico After Cartel Arrests: US State Department Travel Warning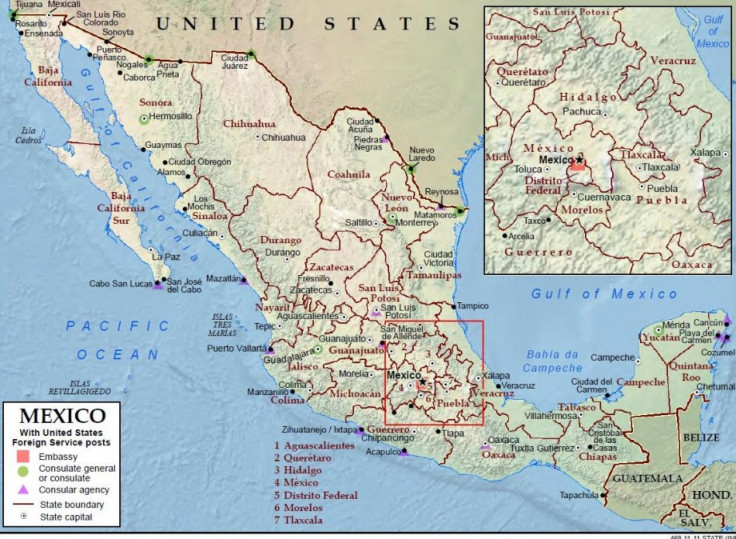 American travelers headed to Mexico should be forewarned of possible violent retaliation for this week's arrest of seven alleged Zetas drug cartel members, according to a new travel warning issued by the U.S. State Department.
Though the report issued Wednesday does not specifically mention the name of the cartel, it highlights concerns about violence from transnational criminal organizations. On Tuesday, federal authorities arrested the alleged associates of the powerful Zetas drug cartel in Oklahoma and New Mexico for reportedly laundering millions in drug profits through breeding and racing horses in the U.S.
The State Department advised U.S. citizens to defer nonessential travel to the state of Tamaulipas, just south of the Texas border on the Gulf Coast.
Given the history and resources of this violent TCO, the U.S. Embassy urges U.S. citizens to maintain a low profile and a heightened sense of awareness, the Department said.
The Zetas cartel formed in 1999 and is engaged in an often violent turf war with the Gulf Cartel in the east and south of Mexico. Their base of operation is in Nuevo Laredo, located in Tamaulipas state, just south of the border from Laredo, Texas.
READ ALSO: Mexico Travel Warnings Have you Scared? Don't Be, Go Here
In February, the State Department issued a new 2012 state-by-state travel warning and map for visitors to Mexico that detailed areas of violence but also pointed out areas like Mexico City and Riviera Maya where travel advisories are not in effect.
The warning was broader, more detailed and more alarming than previous iterations, giving specific cities and states where gun battles and drug trafficking violence are likely to occur. One of those states was Tamaulipas, where the Department recommended avoiding all nonessential travel.
The State Department noted that millions of U.S. citizens safely visit Mexico each year for study, tourism and business, including more than 150,000 who cross the border every day.
The Mexican government makes a considerable effort to protect U.S. citizens and other visitors to major tourist destinations, the Department said back in February. Nevertheless, U.S. travelers should be aware that the Mexican government has been engaged in an extensive effort to counter TCOs, which engage in narcotics trafficking and other unlawful activities throughout Mexico. As a result, crime and violence are serious problems throughout the country and can occur anywhere.
The department said that U.S. citizens have fallen victim to homicides, gun battles, kidnapping, carjacking and highway robbery. The number of U.S. citizens reported to the Department of State as murdered in Mexico increased from 35 in 2007 to 120 in 2011.
According to the most recent homicide figures published by the Mexican government, 47,515 people were killed in narcotics-related violence in Mexico between Dec. 1, 2006, and Sept. 30, 2011, with 12,903 narcotics-related homicides in the first nine months of 2011 alone.
Gun battles have occurred in broad daylight on streets and in other public venues, such as restaurants and clubs. During some of these incidents, U.S. citizens have been trapped and temporarily prevented from leaving the area, the latest nationwide travel advisory said.
The State Department added, however, that resort areas and tourist destinations in Mexico generally do not see the levels of drug-related violence and crime reported in the border region and areas along major trafficking routes.
There are no advisories for popular destinations like Cabo San Lucas, Cancun, Cozumel, Riviera Maya, Chichen Itza and Mexico City.
Americans are urged to exercise caution in other popular areas such as cruise ship port Mazatlan, Tijuana and Monterrey.
Travel warnings are created based on internal guidance that embassies and consular offices use to decide where it is safe for U.S. diplomats and federal employees to travel. They typically err on the side of caution.
Nevertheless, the State Department recommends that visitors defer travel to the areas indicated in the travel warning, tone down any displays of wealth and exercise extreme caution when traveling throughout the northern border region.
For full details, view the State Department's travel warning here.
© Copyright IBTimes 2023. All rights reserved.