Poverty Driving Madagascar's Women Into Prostitution, While Foreign Workers Flourish
ANALYSIS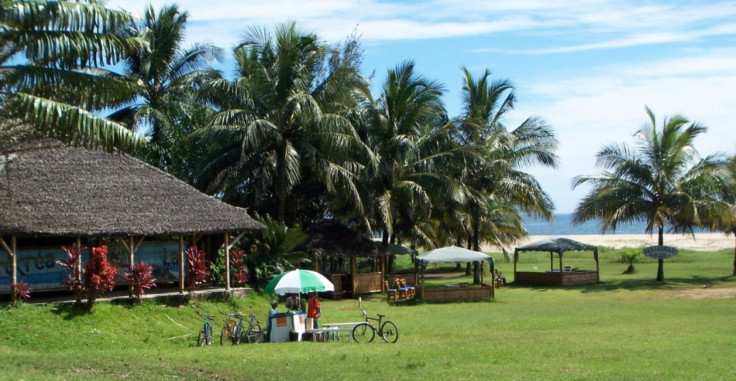 Prostitution is rising to dangerous levels in the African island nation of Madagascar, and this has become one of the most visible signifiers of the country's political and economic breakdown over the last three years.
In the port city of Toamasina, the alarming trend is very evident. According to the United Nations humanitarian news agency IRIN, the number of registered sex workers there has climbed to 29,000 -- that's up from 17,000 in 1993.
Germaine Razafindravao, a member of one sex worker organization, told IRIN that prostitution was an easy trade to fall into.
"Girls come from the countryside to work as maids," she said. "Then, when they have a problem with their employer, other girls from the region introduce them to prostitution."
But the increase in prostitution is not limited to Toamasina -- all over the country, many women see no choice but to pursue this dangerous line of work. This has much to do with the political turmoil that has destabilized the county over the last three years. Until those problems are resolved, unrest is liable to continue trickling down to affect the livelihoods of young women across the country.
A Capital Offense
Madagascar has seen piecemeal development since it first implemented free general elections in 1992, but that fell apart in 2009 with the overthrow of then-President Marc Ravalomanana, a former businessman who was elected to office in 2002.
Ravalomanana had taken steps to liberalize the economy and to ramp up investments in infrastructure, health care and education -- GDP grew steadily during his term in office. But this rising tide did not lift all boats; as the cost of living increased, many citizens found it more difficult to make a living. Poverty remained endemic.
Critics of Ravalomanana charged him with neglecting the poor, enriching his inner circle through business connections, and practicing authoritarianism.
Andry Rajoelina, then 34 years old, was the mayor of Antananatrivo, the capital city. He led the public crusade against Ravalomanana, eventually claiming the presidency for himself in January of 2009. He ascended to the post officially in March, following Ravalomanana's official resignation.
But the political strife that began in 2009 is ongoing. Rajoelina presides over a divided and gridlocked political establishment; he is in talks with Ravalomanana to establish a partnership and move forward, but the former president refuses to return to Madagascar from South Africa for fear of facing prosecution for the deaths of dozens of protesters who were shot by security forces ahead of the coup.
Meanwhile, the situation for Madagascar's population of 21 million people has worsened considerably. Poverty levels rose from 68.7 percent in 2005 to 76.5 percent in 2010, according to a report from the country's National Institute of Statistics. The costs of basic staples remain high, while infrastructure development has stalled.
One of the most damaging effects of the 2009 coup was a slash in international assistance -- international donor states did not want to support a non-elected government.
The United States in particular had been essential to Madagascar's ongoing development, but revoked the country's designation as a "beneficiary sub-Saharan African country" in December of 2009. A duty-free trade agreement was cancelled, which hurt Madagascar's manufacturing industries and resulted in mass unemployment.
Humanitarian and social investments in Madagascar have actually increased since 2009, according to a World Bank report published in 2011. But since official donors no longer work with the government, that aid has been poorly organized and comparatively ineffective.
As a result, found the report, "many households have suffered from significant financial losses and so are less able to finance their education and health expenses; and the public health and education systems are lacking of funding and materials, especially in rural areas."
Another Influx
But Madagascar has been the site of a different kind of international investment -- one that has brought in thousands of foreign workers. For the foreign corporations moving in to make a profit, Madagascar's development is low on the list of concerns.
These international corporations contribute to the economy in a very different way. On the island of Nosy Be, for instance, where fishing is big business, women found themselves turning to prostitution as a last resort when the most lucrative jobs went to foreign nationals.
"In Nosy Be a lot of women had come to work in a shrimp factory, and when the factory started shedding labor, the unemployed became prostitutes. The Japanese fishermen had money, and that's when big prostitution started," said Jocelyn Gabriel, a member of an anti-prostitution network, to IRIN.
Fishermen because one base of clientele for Madagascar's sex workers; miners became another.
The Ambatovy nickel mine, for instance, opened in Toamasina this year. It is jointly owned by corporations from Japan, South Korea and Canada. The resulting influx of mostly male workers has brought prostitutes from all across the country to this port town -- IRIN reports that about one in seven residents there are now sex workers.
Tourism has also brought foreigners to Madagascar's resorts, and this has also served as a client base for women from across the country.
Jean Claude de Bikiny, the deputy administrator of Nosy Be, said that "Girls from all 22 regions [of Madagascar] come here because of tourism and the opportunity to have a white husband."
One French national visiting the island told an IRIN reporter that the sex work could be mutually beneficial.
"There may be some who think a 55-year-old man having a relationship with a young Malagasy woman is not right. But then, what if after a lifetime of work, the man's wife leaves him?" he said.
"His children have already left the home. Should he sit alone in [France]? Why cannot he come here and meet beautiful women? The man has a new life, and the women and their family benefit from it too."
No Other Option
The fact is, many women do benefit from prostitution -- at least in the short term. In a country where most people live on less than $1 a day, those who earn ample money from sex work are often envied and can serve as advertisements for the trade, motivating even more young women to try their luck.
Though some social stigma exists, prostitution is legal in Madagascar. Sex workers must carry ID cards proving that they are over the age of 18. Those who apply for a sex work permit are entitled to certain protections under the law, as well as health care benefits.
But efforts to regulate the industry are often effective. In 2007, even before the increased social turmoil that resulted from the political coup in Antananatrivo, a UNICEF survey in Nosy Be and Toamasina revealed that between 30 and 50 percent of female prostitutes were not yet 18.
The recent increase in prostitution across the country has resulted in more unwanted pregnancies, as well as more sexually transmitted infections like syphilis. AIDS/HIV rates remain fairly low, but could easily worsen if the sex trade continues to grow.
But for now, that's simply not enough to deter women who have no other way to make a decent living.
One sex worker told the BBC last year that she lost her virginity to a client at the age of 13, when she first turned to prostitution as a way to make money.
"The reason I sought money is because my parents were in financial difficulty," she explained. "They have difficulties, and I can help them. I've paid my school fees since I was 13 years old. The first time I was scared, but I made an effort because of my parents' money problems."
She said that eight of her friends had also taken up prostitution.
But this young woman, along with the tens of thousands who ply the same trade on the streets of Madagascar, are putting themselves at risk in ways that could hurt them in the long term. And with the government mired in political deadlock, foreign assistance either absent or ineffective, and commercial investments bringing in thousands of foreign workers, the problem is only continuing to escalate.
© Copyright IBTimes 2023. All rights reserved.