President Obama Katrina Speech: New Orleans' 'Resilience' Is Model For America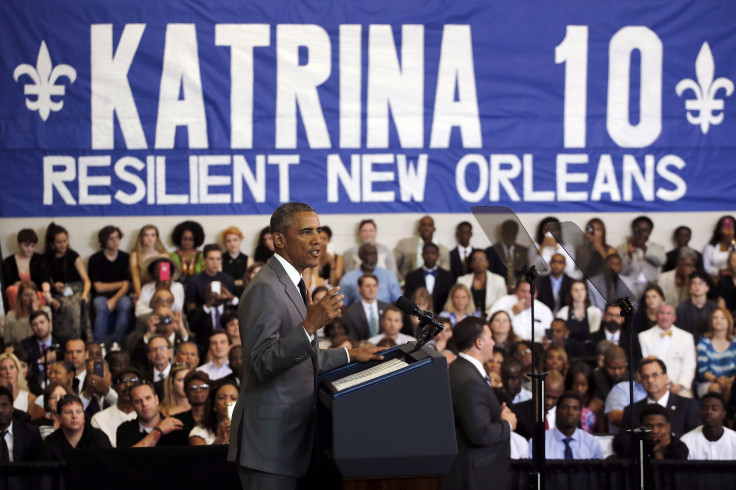 President Barack Obama applauded the resilience of those affected by Hurricane Katrina in a speech Thursday in New Orleans that marked the 10th anniversary of the storm ravaged the city and displaced more than a million people. Speaking from one of the hardest-hit neighborhoods, Obama acknowledged the failures of the federal government to respond effectively and highlighted the strides the city has made.
"If Katrina is an example of what happens when the government fails, the recovery is an example of what happens when the government works together," Obama said at Andrew P. Sanchez Community Center in the Lower Ninth Ward, a predominantly black neighborhood, which garnered national attention for trauma the area suffered in the aftermath of the storm.
Many expected the president to address climate change and its impact on natural disasters since environmental initiatives have been a cornerstone of his second term, but there were seldom mentions of renewable energy in his speech.
Obama told the crowd he would emphasize climate change concerns when he visits Anchorage, Alaska, but his omission of the subject Thursday led some to wonder what role Louisiana Gov. Bobby Jindal played in the decision. Jindal had written a letter to the president Wednesday urging him to resist discussing global warming.
Hurricane Katrina Deaths By Location | WeatherDB
Instead, Obama highlighted New Orleans' economic growth, which he pointed to as an example for the rest of the country of how it is possible to rebound from economic uncertainty. In light of recent financial crises in Greece and China, he used the opportunity to urge Congress to quickly carry out legislation that will enable the country to recover from economic meltdowns.
"It's been a volatile few weeks in the world," he said. "But the United States, for all the challenges we have, we continue to have the best cards. We just have to play them right."
Counties Affected by Hurricane Katrina | WeatherDB
Obama also addressed social and racial inequality that plagued the city, and how these gaps were exacerbated by Katrina. More than 1,000 people died as a result of the storm and the city suffered more than $100 billion in property damage.
"No matter how hard it's been, and how hard the road ahead might seem, you are working and building and striving for a better tomorrow," he said. "I see the evidence."
© Copyright IBTimes 2023. All rights reserved.