President Trump Pays Tribute To 'Immortal Souls' Of Fallen Soldiers On Memorial Day
KEY POINTS
President Trump and the First Lady paid tribute to the fallen soldiers on Memorial Day
Trump and his wife laid a wreath at the Arlington National Cemetery
​The President gave a rousing speech at Fort McHenry
President Donald Trump was joined by the First Lady as he laid a wreath at the Tomb of the Unknown Soldier in the Arlington National Cemetery to mark Memorial Day. They were joined by Vice President Mike Pence at the ceremony that was hosted by Secretary of Defense Mark Esper.
After the wreath-laying ceremony, it is customary for the President to deliver a speech in Arlington, but the pandemic has led to some changes and Trump gave his speech at Baltimore's Fort McHenry National Monument and Historic Shrine instead.
The President gave a rousing speech while remembering the fallen soldiers at a time when American is fighting a new battle against the coronavirus pandemic. In a video clip of the speech that has been released online by The White House, Trump paid tribute to the "immortal souls who fought and died" to keep the country free.
Trump recalled that more than 200 years ago, American patriots fought a hard battle, stood their ground, and repelled a British invasion. He said that every time the citizens sing the national anthem, they renew the "eternal bonds" of loyalty to the "fallen heroes."
"For as long as our flag flies in the sky above, the names of these fallen warriors will be woven into its threads. Because of them America is strong and safe and mighty and free. Because of them two centuries on, the Star Spangled Banner still proudly waves," Trump said.
The First Lady shared pictures of the ceremony at Fort McHenry on Twitter. Melania said that Memorial Day is a reminder of the "tremendous sacrifices and bravery" of the fallen service members. She added that on this day, she and her husband paid tribute to those who fought for America's freedom.
Melania also shared pictures of the ceremony at Arlington. She said that the fallen soldiers gave their lives for the nation and "countless others around the world." The First Lady added that the soldiers served with honor and she thanked them for defending the freedoms of all the citizens in the country.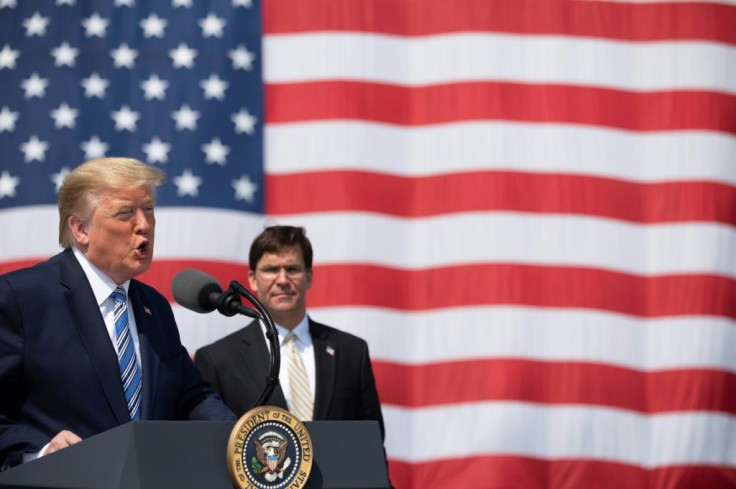 © Copyright IBTimes 2023. All rights reserved.