Priceless Treasures Discovered From 360-Year-Old Spanish Shipwreck In The Bahamas
KEY POINTS
Researchers are certain the ship has more stories to tell
The treasures will be displayed in a Bahamas Maritime museum
The ship had sunk on Jan. 4, 1656
Priceless treasures from a 360-year-old Spanish shipwreck in the Bahamas have been discovered, thanks to a recent expedition in the depths of the Atlantic Ocean.
Historic relics, medallions and precious jewels that once belonged to seafaring knights have been discovered from the legendary 17th century ship, Nuestra Señora de las Maravillas (also known as Our Lady of Wonders).
Solid silver bars, a gold chain -- measuring 5 feet, 9 inches long -- undamaged pottery, an emerald and gold pendant, a pearl ring, two glass wine bottles, and a silver sword blade, reportedly belonging to the soldier Don Martin de Aranda y Gusmán, were among the discoveries, according to Business Insider.
Carl Allen, the founder of Allen Exploration -- the team that discovered the treasures -- has opened the doors of the Bahamas Maritime Museum to the public, where the discoveries will be put on display.
The researchers are also "reconstructing the riddle of how the ship was destroyed and fell to pieces," project marine archaeologist James Sinclair said in a press statement, New York Post reported.
The Nuestra Señora de las Maravillas sank in 1656 off the coast of the Bahamas after colliding with another vessel in her fleet and hitting a coral reef. The ship was sailing from Cuba to Seville, Spain, with a cargo of riches, some of which were set aside as royal tribute for King Philip IV, according to CNN.
The 891-ton ship had been entrusted with bringing treasure rescued from another vessel that had sunk two years before, due to which it was carrying more goods than usual.
Allen Exploration traced a lengthy and convoluted debris trail of findings dispersed over a 13-kilometer stretch of the ocean floor using remote-sensing technology, such as magnetometers and sonar.
A 1.76-meter-long gold filigree necklace and a number of jeweled pendants that originally belonged to knights of the Order of Santiago, an ancient religious and military order, were among the invaluable discoveries. One of the gold pendants was set with the Cross of St. James, a big oval Colombian emerald, and twelve smaller emeralds thought to represent the 12 apostles. There were three knightly pendants, one of which had the appearance of a golden scallop shell.
"When we brought up the oval emerald and gold pendant, my breath caught in my throat," Allen told CNN, "How these tiny pendants survived in these harsh waters, and how we managed to find them, is the miracle of the Maravillas."
Other rediscovered relics, including Chinese porcelain, olive jars, and other items shed light on daily life on the Maravillas, which sailed during the Spanish Golden Age. According to Allen, some of the priceless cargo may have also been illegally taken in order to "grease the palms of Spanish merchants and bureaucrats."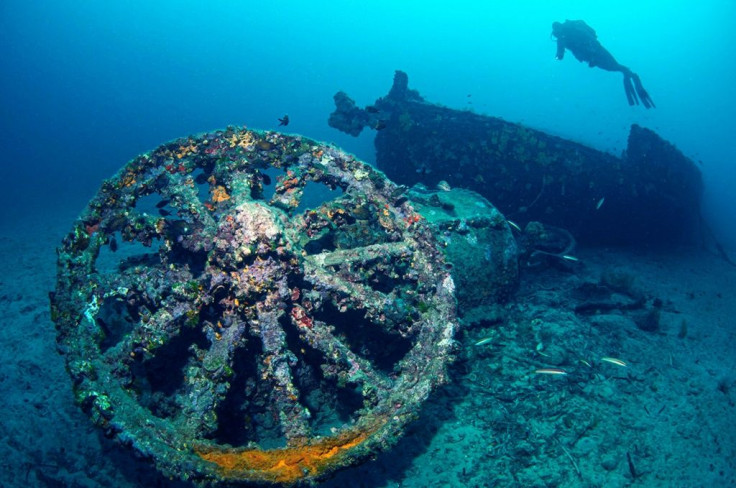 © Copyright IBTimes 2023. All rights reserved.