Prince Charles, Princess Diana Look Upset Around Each Other In Photo
Prince Charles and Princess Diana's marriage was a tumultuous one. The couple tied the knot in 1981, but it didn't take them long to call it quits.
Some photos of the former royal couple gave the public some hints on the real status of their marriage. However, it was only after the Princess of Wales spoke with Martin Bashir for Panorama that secrets about their union became exposed.
In an unearthed photo uploaded by a royal fan on Instagram, the Prince and Princess of Wales are hanging out with their two adorable sons, Prince William and Prince Harry.
Prince Charles and Princess Diana are wearing matching clothes, but the distance between them cannot be denied. The royals both have stern looks on their faces, which suggested that they simply wanted the outing to already be over.
Since Prince William and Prince Harry were just 3 years old and 1 year old in the photo, they didn't have any idea of what was to come regarding their parents' marriage. The royal siblings were very happy to be hanging out with Prince Charles and Princess Diana.
In the second photo, Princess Diana is caressing Prince Harry's hair and she now has a huge smile on her face. The Princess of Wales was always happy to be with her sons.
But behind them is Prince Charles who still looks sad or upset to be with his family. He is looking at Prince Harry with a questioning look plastered all over his face.
And when it was time to get up and walk, Princess Diana held on to Prince Harry's hand and assisted him while walking. Prince William looks quite independent since he's able to walk by himself.
Prince Charles stood a close distance from his family, and he didn't hold any of his two kids. Prince Charles and Princess Diana decided to go their separate ways in 1992, and their divorce was finalized in 1996.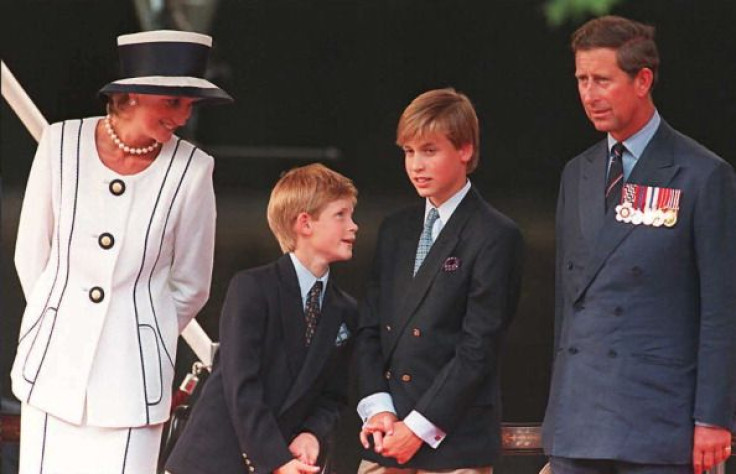 © Copyright IBTimes 2022. All rights reserved.
FOLLOW MORE IBT NEWS ON THE BELOW CHANNELS