Prince George, Princess Charlotte Look Moody In Princess Eugenie's Royal Wedding Photos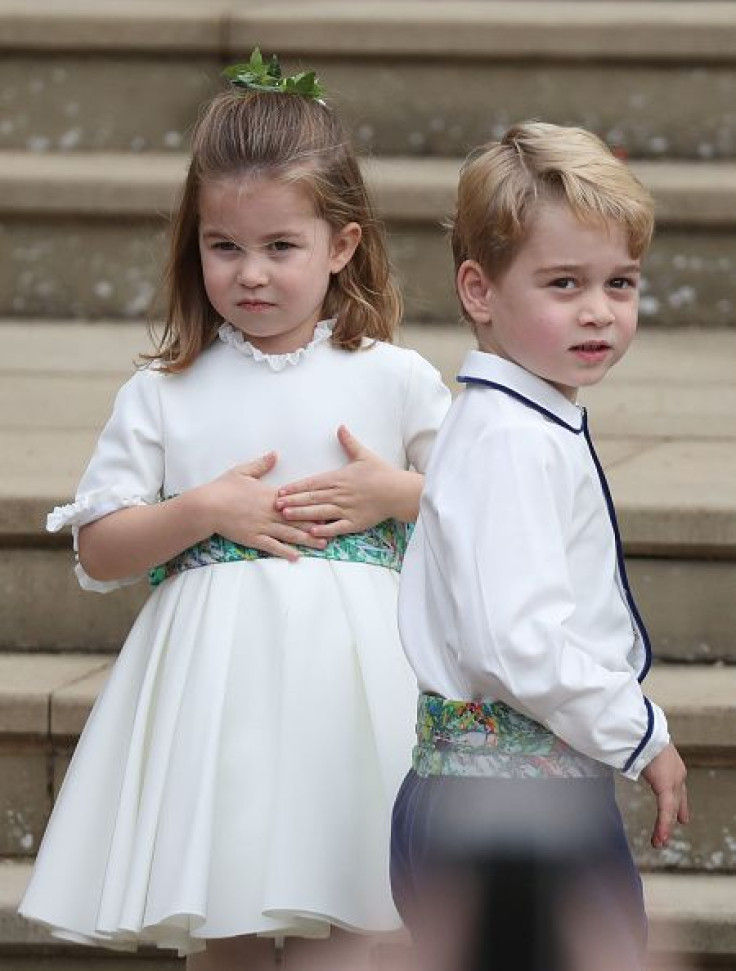 Prince George and Princess Charlotte were moody during Princess Eugenie's photoshoot.
Prince William and Kate Middleton's eldest and only daughter were among Princess Eugenie and Jack Brooksbank's page boys and bridesmaids. They were in great spirits prior to the royal wedding, but their energy seemed to reduce after the ceremony.
In the photo shared by Harper's Bazaar, the 5-year-old royal prince and 3-year-old little princess were "flagging a little when it came to posing later in the day." The publication noticed that Prince George and Princess Charlotte weren't in their usual smiley selves in the main family photo.
The Duke and Duchess of Cambridge's children quickly overcame it because in the photo that only included the bride, groom and the young bridal party, Prince George and Princess Charlotte seemed to cheer up. Prince George could be seen grinning at the camera. On the other hand, Princess Charlotte smiled sweetly while copying her mom's signature duchess slant by crossing her legs.
Princess Charlotte is reportedly fond of imitating her mom. According to an insider, she loves to play hostess at their home and she knows how to welcome their guests.
"She'll come up to guests and ask them if they want tea or coffee or offer them sweets — so adorable!" the source said. According to the insider, Princess Charlotte is "very bubbly" and added that "she's definitely the biggest character of the three children at the moment."
A number of royal fans likened Princess Charlotte to Queen Elizabeth II. In her first day of school portrait taken by Middleton, herself, many noticed her resemblance to the sovereign.
Princess Charlotte and Queen Elizabeth II have the same eye structure, matching blue eyes and arched eyebrows. They also have the same hair color when Her Majesty was the same age as the little Princess.
Aside from their striking resemblance, the pair shares the same favorite color and they are fond of wearing cardigans. That's not all, Princess Charlotte also inherited the Queen's passion for animals, especially to horses. In fact, Princess Charlotte is already training for horse riding.
Princess Charlotte also shows some resemblance to Princess Diana. Both look the same and they love dancing.
© Copyright IBTimes 2023. All rights reserved.