Prince Harry Called 'Pompous,' Hypocritical By Pundit Over UN Speech
KEY POINTS
British pundit Brendan O'Neill slammed the comments made by Prince Harry about U.S. politics during the royal's July speech at the United Nations
The author accused Harry of "posing as a defender of constitutional rights" after previously dubbing the First Amendment "bonkers"
Supreme Court Justice Samuel Alito recently mocked Prince Harry's criticism of the Roe v. Wade reversal
Prince Harry's speech at the United Nations last month continues to draw criticism.
During a recent appearance on Sky News Australia's "The Bolt Report," Brendan O'Neill — a former editor of Spiked magazine and a columnist who has been featured on The Australian, The Big Issue and The Spectator — weighed in on the comments made by the Duke of Sussex about U.S. politics during his speech at a U.N. session in New York City marking Nelson Mandela International Day on July 18.
While describing "a painful year in a painful decade" in his speech, Prince Harry seemingly criticized the overturning of the Supreme Court's Roe v. Wade decision on abortion rights, saying: "From the horrific war in Ukraine to the rolling back of constitutional rights here in the United States, we are witnessing a global assault on democracy and freedom—the cause of Mandela's life."
O'Neill was unimpressed by Prince Harry's comments, telling host Andrew Bolt: "You know, [Americans] kicked Britain and the royal family out of their country hundreds of years ago. They don't want the Duke of Sussex and his American wife [Meghan Markle] coming back now [and] wagging their fingers at them."
The "A Right to Plunder" author also praised Supreme Court Justice Samuel Alito's reaction to Prince Harry's U.N. speech.
While speaking in Rome, Italy, last week at a conference on religious law, Alito, one of the Supreme Court justices involved in the decision to overturn Roe v. Wade, mocked Prince Harry's comments while speaking out against foreign leaders who criticized the ruling and "felt perfectly fine commenting on American law."
Alito said sarcastically, "What really wounded me was when the Duke of Sussex addressed the United Nations and seemed to compare the decision, whose name may not be spoken, with the Russian attack on Ukraine," according to Deadline.
O'Neill told Bolt that he "loves" Alito's reaction, saying it was "exactly the approach that Americans should take to pompous British royals who tried to tell them how to run their affairs."
O'Neill then accused Prince Harry of being a hypocrite for criticizing the ruling despite previously dubbing the First Amendment "bonkers" during a 2021 interview.
"Last year, Prince Harry referred to the First Amendment as 'bonkers.' He said that the First Amendment of the American Bill of Rights, which guarantees freedom of speech, was disgraceful and made no sense to him," the British pundit claimed. "And now he's posing as a defender of constitutional rights, including in relation to Roe v. Wade. [He's] another hypocrite, another finger-wagger. The sooner Americans tell him to shut up, the better."
Prince Harry made the comment about the First Amendment during his May 2021 interview on Dax Shepard's "Armchair Expert" podcast, in which he and the actor discussed Shepard's campaign to stop paparazzi from photographing celebrities' children and the media "feeding frenzy" surrounding the duke and Markle's arrival in California in 2020.
"I've got so much I want to say about the First Amendment as I sort of understand it, but it is bonkers," Prince Harry confessed. "I don't want to start going down the First Amendment route because that's a huge subject and one which I don't understand because I've only been here a short time. But, you can find a loophole in anything. You can capitalize or exploit what's not said rather than uphold what is said. I believe we live in an age now where you've got certain elements of the media redefining to us what privacy means. There's a massive conflict of interest."
Though Prince Harry made it clear that he's not an expert on the subject, his comments sparked backlash at the time, with British former politician Nigel Farage, Texas Republican Rep. Dan Crenshaw and Meghan McCain among those who criticized the royal, according to Vanity Fair.
O'Neill isn't the only one who criticized Prince Harry's recent appearance at the U.N. British journalist Jonathan Sacerdoti told Us Weekly last month that he was "not impressed" by Prince Harry giving a keynote speech because the royal had "no qualifications" to be discussing worldwide issues.
"Why was he speaking at the U.N.? Because he's Prince Harry, otherwise, without meaning to be too offensive, no one would be interested in a guy who scraped through high school's opinion on world affairs," the royal expert told the outlet.
He continued, "He's literally completely unqualified to have anything important to tell to people, but instead he's using his position as somebody in the British royal family to spread what he sees as an important message."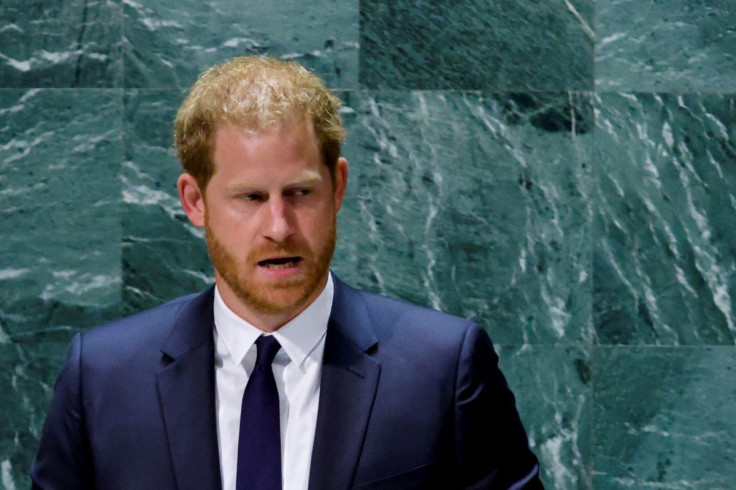 © Copyright IBTimes 2023. All rights reserved.