Prince Harry Criticized For Skipping Prince Philip's Memorial Service: 'He Is Such A Changed Person'
KEY POINTS
Royal biographer Angela Levin accused Prince Harry of "appalling behavior" for not attending Prince Philip's memorial service
She suggested Prince Harry cares little about things that aren't "impacting him and Meghan" Markle
Markle's half-sister Samantha also slammed Prince Harry over the royal's absence from his late grandfather's memorial service
Prince Harry received another round of criticism for skipping his grandfather Prince Philip's memorial service Tuesday.
The Duke of Sussex and his wife Meghan Markle had announced earlier this month that they will not be attending the Service of Thanksgiving to be held in honor of the late Duke of Edinburgh, who died in April 2021 at age 99, at Westminster Abbey. When the day of the event arrived, however, some royal experts and fans aired their disapproval over Prince Harry's absence from the family affair.
Royal biographer Angela Levin accused Prince Harry of "appalling behavior" and claimed that he doesn't seem to care about his family.
"He is such a changed person, it is difficult to know if he will even regret not attending. The Harry I interviewed was caring and kind and instinctive. Nowadays, he is so full of resentment and 'me me me,'" the "Harry: A Biography of a Prince" author told The Sun. "He doesn't seem to have any broader range to care about things unless they are things impacting him and Meghan."
Levin pointed out that a number of royals from abroad had made the effort to attend Prince Philip's memorial service and said she couldn't understand why the Duke of Sussex couldn't do the same.
"Harry's pathetic excuse is that he didn't feel safe. The police would have had it completely covered. The royal children were all there, the heirs to the throne, so it just doesn't make any sense that the protection wouldn't be there," Levin claimed.
Earlier this month, a rep for Prince Harry and Markle said in a statement obtained by Page Six that the duke "will not be returning to the U.K. in late March, but hopes to visit his grandmother as soon as possible."
Prince Harry is currently in a legal battle with the U.K.'s Home Office after his armed bodyguards were removed when he quit royal duties and the royal felt it was too dangerous to bring his family to his home country without police protection in place. A legal representative for Prince Harry said the Sussexes fund a "private security team," but their own security "cannot replicate the necessary police protection needed" while in the U.K.
Meghan Markle's half-sister, Samantha Markle, also slammed the prince over his decision not to attend the service, claiming that Prince Harry was being "ridiculous" as he "can afford security."
"He should have hired more of his own security, they live a lavish lifestyle, they can afford security, it's ridiculous," Samantha told Daily Star in an exclusive interview. "Security for a weekend of something is not that expensive, and I'm pretty sure they have security now. It would be so easy for him to pay for his own security."
Some experts and a number of royal fans, however, came to Prince Harry's defense on Twitter.
"Prince Harry has NOTHING to regret in missing Prince Philip's memorial service. Remembering his grandfather isn't a public right!" Dr. Shola Mos-Shogbamimu, author of "This Is Why I Resist," tweeted. "He attended [the] FUNERAL! Stop making up crap about Harry and Meghan. Be mad at why the royal family chose [the] dishonorable Prince Andrew as [the] Queen's companion today."
"Harry was at the funeral, and he can observe the memorial however he wants. Is the service for Harry or the family? They keep talking [about] how unimportant he is to the family [and] yet [have] panic attacks whenever he doesn't join family," another Twitter user wrote.
"He would [attend the service], but they took away his security. He doesn't feel safe. It's negative words like these that make it dangerous for him. Just leave him alone. Why must they always make Harry a target?" another Sussex fan wrote.
Queen Elizabeth II was accompanied by her disgraced second son Prince Andrew when the monarch attended the memorial service Tuesday.
Prince Charles and his wife Duchess Camilla were also in attendance alongside Prince William, his wife Kate Middleton and their eldest children, Prince George and Princess Charlotte. The Duke and Duchess of Cambridge's youngest child, Prince Louis, was not present at the event.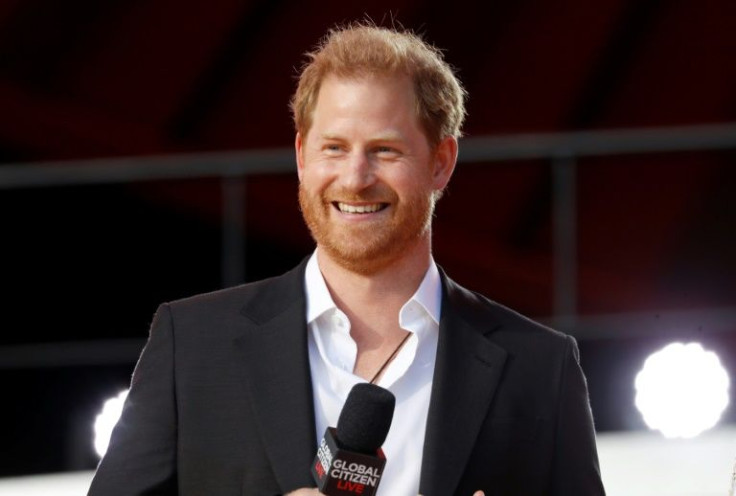 © Copyright IBTimes 2023. All rights reserved.