Prince William Didn't Reclaim Spotlight Amid Harry, Meghan Markle's Absence, Twitter Says
KEY POINTS
Prince William didn't reclaim the spotlight from Prince Harry and Meghan Markle
Prince William praised by netizens
Prince Harry and Meghan Markle should not return from long vacation
Prince William did not reclaim the spotlight during Prince Harry and Meghan Markle's absence because he never lost it.
According to Express, the Duke of Cambridge has done a "superb" job while the Duke and Duchess of Sussex are away from the U.K. The publication said that the future king has "reclaimed the royal spotlight" while mentioning the launching of Prince William's most prestigious environment prize in history in a bid to tackle climate change.
However, Twitter users reacted to the report. For them, the future king has always been superb regardless if the Sussexes are near or not.
"FYI Express Prince William has ALWAYS been SUPERB It makes no difference if other royals are present. Prince William shows love/dedication to charities and the British public. Hes smart dignified and will be a perfect future king!" one fan wrote on Twitter.
"Reclaimed it? Never went off him - he will be King. The other one gains the spotlight for totally different reasons," another user commented.
A different online user agreed and said that Prince William is "truly amazing." For the netizen, Kate Middleton's husband has always been respectful and aware of his future role. Prince William also prepares his wife for her future role. The Duke and Duchess of Cambridge know how to work well with the public and respect everyone while Prince Harry was never competitive until Meghan Markle came to his life.
In related news, Prince Harry and Markle might be removed from the royal family. Just recently, the palace shared a new photo of the Queen together with the three future kings: Prince Charles, Prince William and Prince George. According to reports, this is an indication of a more streamlined royal family.
It's not a secret that the heir apparent wanted a "slimmed-down monarchy." Some royal followers also believe that it's better if Prince Harry and Markle will be removed, with some urging the couple to not come back from their six-week vacation.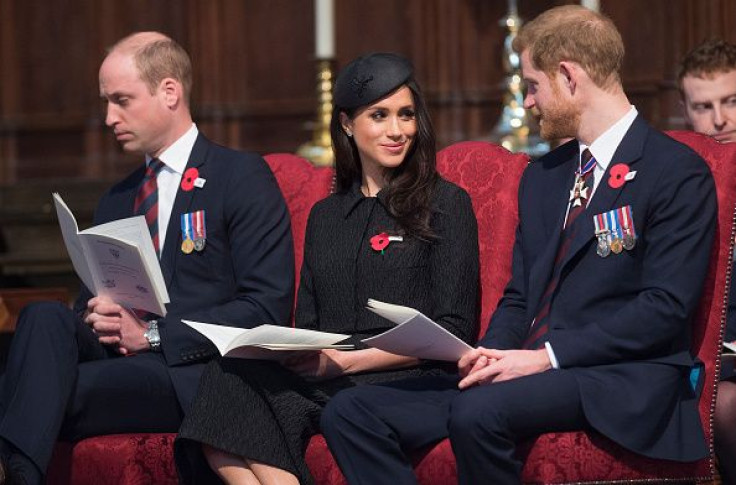 © Copyright IBTimes 2023. All rights reserved.