Prince William Rides A Motorcycle During His Trip To MIRA Technology Park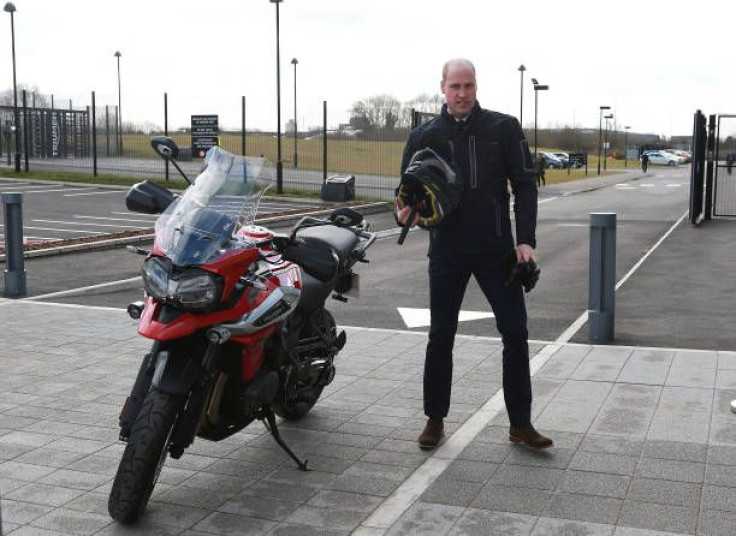 Prince William recently reminded everyone that he is a cool dad!
The 35-year-old prince visited the headquarters of Triumph Motorcycles and the MIRA Technology Park in Hinckley, England on Tuesday. While there, the soon to be dad of three rode a motorcycle, according to People.
Prince William, who is a self-confessed motorcycle enthusiast, took a test drive on Triumph Tiger 1200. Before taking the motorcycle for a spin and wearing his helmet, Prince William first posed for a series of photos. The photos showed that Prince William was in his complete motorcycle gear at that time.
The Kensington Palace Twitter account also shared a series of snaps of Prince William on board the motorcycle. Kate Middleton's husband was also taken for a spin on board an Aston Martin. In between his test rides, Prince William had the chance to talk to the apprentices and engineers about their work at Triumph.
Last year, Prince William revealed that he has already put his motorcycle days behind for the sake of Prince George and Princess Charlotte. Jonathan Rea, a triple World Superbike champion, had the chance to meet Prince William at the Buckingham Palace investiture ceremony last year.
"I know he's a bit of a motorcycle fan himself. We talked about his bikes and the fact that he has put it on the back-burner a little bit because of his children now," he said.
Last week, a photo of Princess Diana looking at her two sons while they were riding a motorbike was also released online. In the photo, Prince William and Prince Harry looked like they were just 3 and 5 years old. The photo is featured in the "Escorting the Monarch: We Lead, Others Follow" book, which is written by Chris Jagger.
He said that Princes William and Harry were riding the Special Escort Group's (SEG) motorbike in the picture.
© Copyright IBTimes 2023. All rights reserved.