Proud Boys Under Investigation After Interrupting 'Drag Queen Story Hour' In California
After a group of five Proud Boys interrupted a "Drag Queen Story Hour" event at a library in San Lorenzo, California, the sheriff's office said it would investigate the group for hate crimes.
A news release posted Sunday on social media said the authorities responded to the situation at 1:20 p.m. PT on Saturday. There was "a report of a disturbance" at the library during the event by those in attendance. Parents, children, and community members were there at the time of the incident.
The Proud Boys allegedly shouted "homophobic and transphobic slurs at the event organizer." The police also revealed that the complaints described the men as "extremely aggressive" with "a threatening violent demeanor, causing people to fear for their safety."
Deputies said they responded and attempted to deescalate the situation. They also revealed "an active hate crime investigation into the annoying and harassing of children."
Paula Dulce, the Drag Queen at the event, told The Guardian that the men said slurs like "tranny" and "pedophile." Dulce said they then attempted to escalate the violence, and their presence "totally freaked out all the kids."
Yesterday, a group of Proud Boys stormed a children's story time event in San Lorenzo. It was held by the public library & Bay Area drag queen Panda Dulce. I sat down with Panda this evening to talk about the experience and will share the story tonight at 11 on @abc7newsbayarea pic.twitter.com/L8GTUupLwn

Tim Johns (@tim_johns_) June 13, 2022
The incident also comes during Pride Month, which saw another plot to start a riot at an Idaho pride event on the same day. Police arrested 31 Patriot Front members crammed into a U-Haul truck near the pride event in Couer d'Alene.
31 members of neofascist group Patriot Front arrested for conspiracy to riot in Couer d'Alene Idaho. They are residents of 11 states: Texas, Utah, Idaho, Colorado, S. Dakota, Illinois, Arkansas, Wyoming, Washington, Oregon, Virginia. Names not yet released. #PatriotFail pic.twitter.com/ahyiB7Itr1

Jason Paladino (@jason_paladino) June 11, 2022
Additionally, those piled into the truck came from across the U.S., including Texas, Utah, Idaho, Colorado, South Dakota, Illinois, Arkansas, Wyoming, Washington, Oregon, and Virginia. The men were wearing riot gear, according to footage from the scene. Police also discovered at least one smoke bomb.
Patriot Front Fails are always what makes a good day. pic.twitter.com/xBnfaX5pwB

Daryle Lamont Jenkins (@DLamontJenkins) June 12, 2022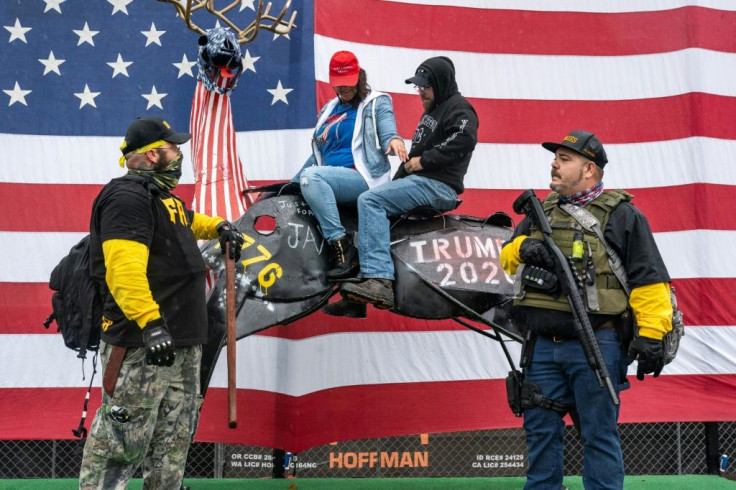 © Copyright IBTimes 2023. All rights reserved.