'Purge Election Year' Will Take Place Now That Donald Trump Is President, Some Twitter Users Predict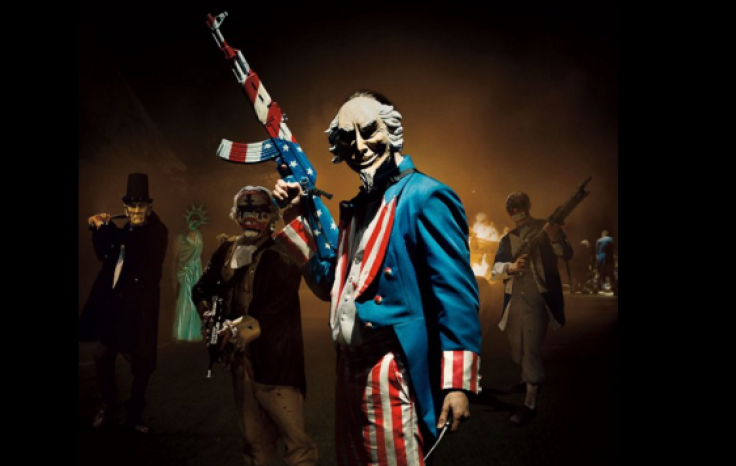 President-elect Donald Trump shocked much of the nation when he won the vote for the White House from former Secretary of State Hillary Clinton Tuesday. Many of those who oppose Trump view him as xenophobic and racist, which led some to write he would follow through with "The Purge."
"The Purge" is a horror movie that originally debuted in 2013. In the film, all crime is legal for 12 hours-- even murder. It's a night to "cleanse their souls," but what it really boils down to is the wealthy being allowed to murder minorities and those who are less fortunate.
Trump, 70, has not responded to allegations that he would create a "Purge." He never said he would do a "Purge." He did, however, promise to deport 6 million immigrants and build a wall along the border of Mexico.
The president-elect plans to unite the country. "I pledge to every citizen of our land that I will be President for all of Americans, and this is so important to me. For those who have chosen not to support me in the past, of which there were a few people, I'm reaching out to you for your guidance and your help so that we can work together and unify our great country," he said Tuesday. "As I've said from the beginning, ours was not a campaign but rather an incredible and great movement, made up of millions of hard-working men and women who love their country and want a better, brighter future for themselves and for their family."
But some critics claimed the president-elect will go after non-white Americans when he gets into office. It would happen in 2018, they wrote on Twitter. Hundreds of "Purge" tweets flooded the mini-blood Wednesday.
It's not the first time people wrote about Trump possibly created a "Purge" night. The notion first garnered attention in February when the trailer for "Purge: Election Year" debuted.
In the trailer, Sen. Charlene "Charlie" Roan, played by Elizabeth Mitchell, wants the violence of "The Purge" to end. "The soul of our country is at stake. The Purge targets the poor and the innocent," she says. "It is a night that is defining our country. The Purge has to come to an end."
Follow me on Twitter @mariamzzarella
© Copyright IBTimes 2022. All rights reserved.
FOLLOW MORE IBT NEWS ON THE BELOW CHANNELS