R. Kelly Encourages Fan To Touch Him During Concert Amid Cult Allegations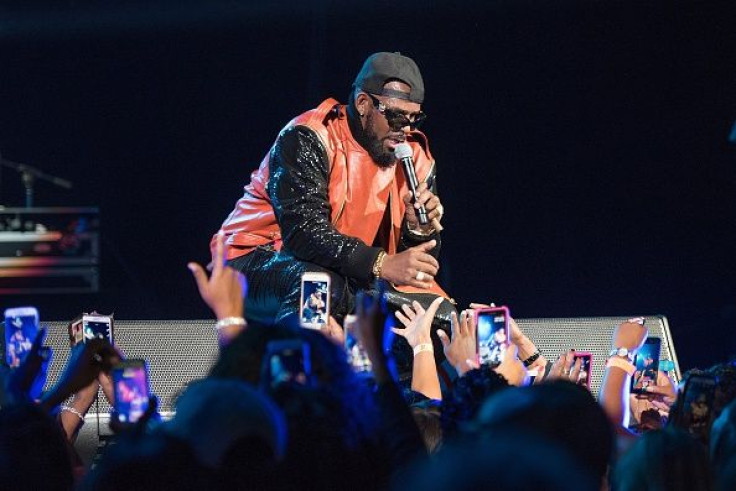 R. Kelly does not seem to be affected by recent accusations of him running a cult and holding women against their will. The singer held a concert on Friday, July 28, where he got a little too close and personal with some of his fans.
During his first concert since news broke of his alleged cult, the R&B singer took the stage in Virginia Beach, where he gave his usual sexy performance. At one point, he encouraged one concertgoer to touch his body as he crouched on stage in front of her, E! News reported. R. Kelly also asked another fan to hand him her phone, which he then rubbed against his crotch.
R. Kelly gave his fans a shoutout on Twitter following the Virginia Beach concert, tweeting on Saturday: "Last night in Virginia Beach the ladies were in the building… can't wait to see you all tonight in BALTIMORE for #TheAfterPartyTour."
READ: R Kelly's Alleged 'Cult Victim' Joycelyn Savage Breaks Silence
Fans later took to social media to talk about their experience during his concert, with some complaining that R. Kelly started his concert an hour and a half late and only performed for less than an hour. Instagram user @naomidinah posted videos from the concert and explained that a lot of lifelong fans still came to the event amid the rumors plaguing the singer. "Crowd was fine bc most were prob lifelong fans like me lol. Lil upset it was shorter than normal tho he wad only on stage 45 mins," she wrote.
Meanwhile, BuzzFeed News' Jim DeRogatis reported earlier this month that R. Kelly has been holding six women against their will in a "cult"-like atmosphere in Atlanta, Georgia and Chicago, Illinois. Several parents reportedly came forward accusing the singer of brainwashing their daughters and using the promise of a music career to make them obey his will.
One of the women, Joycelyn Savage, recently broke her silence regarding the cult rumors. In a video obtained by TMZ, the 21-year-old said she is in a "happy place" in her life and that she is "not being brainwashed" by R. Kelly. Savage also wanted her parents to know that she is "totally fine" and asked them, especially her father, to stop discussing her personal life with the media.
"Dad, you know everything that's going on with the media and the internet, and what you have done is a complete disaster and you need to stop," she said in the clip released July 18. "Right now, I am fed up with everything you're doing. You're embarrassing me and the whole entire family."
Despite the accusations, the "Ignition Remix" crooner has not been charged with any crime. The singer's attorney released a statement in response to the allegations saying that Kelly "is both alarmed and disturbed at the recent revelations attributed to him" and "unequivocally denies such allegations and will work diligently and forcibly to pursue his accusers and clear his name."
This is not the first time that R. Kelly has been involved in a controversy. According to Rolling Stone, he previously faced charges for numerous sex tapes and for allegedly engaging in group sex with minors. He also secretly married the late singer Aaliyah when she was only 15 years old. Their marriage lasted a year.
© Copyright IBTimes 2022. All rights reserved.
FOLLOW MORE IBT NEWS ON THE BELOW CHANNELS