Rachel Dolezal's Parents Gave Her A Strict, But Caring Childhood In A Small White Town, Family, Friends Say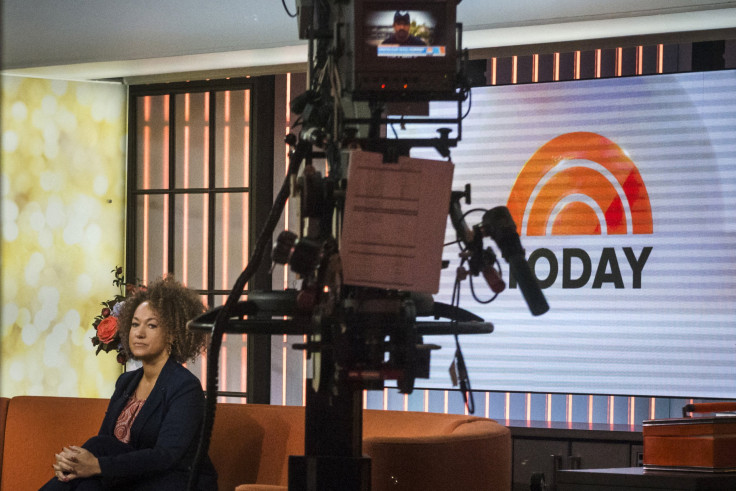 Larry and Ruthanne Dolezal raised their children with strong evangelical Christian values, believing in Young Earth Creationism, which holds the Bible as literal truth. But after Dan Dolezal, Larry's brother, announced he was gay and eventually introduced his longtime male partner, the family continued to embrace him.
"We live in America. Everybody's family has religious members," Dan Dolezal said. "Years and years and years ago we all agreed to disagree. ... If the conversation got out of hand, my mom would step in and say shut up."
The easy family relationship he described Wednesday stands in stark contrast to the growing public battle between his niece Rachel Dolezal, 37, and her parents. The family's story captured the nation's attention after a local newspaper talked with her parents last week about their racial identity. Dolezal had been presenting herself and identified as black for years, but her parents released old pictures of her with blonde hair and white skin. In the fallout, Dolezal resigned from her position as president of the Spokane, Washington, NAACP chapter on Monday, but continued to defend her black identity. Her parents fought back, describing her in numerous media interviews as a liar. At the same time, allegations surfaced that her brother had sexually abused another sister and that the legal case had torn the family apart, reported Buzzfeed News. The sister, Esther Dolezal, posted to her blog supporting Rachel.
The flurry of accusations revealed a portrait of a troubled family eager to debate their personal differences in public. But those who intimately know Larry and Ruthanne said they are simply a normal couple from a small town. Larry, 64, and Ruthanne, 59, live in Troy, Montana, on a homey property with an orchard that Dan Dolezal called "a lovely spot in the mountains." Ruthanne is a principal at a Christian school nearby and Larry was once a local official and later worked for a woodstove and heating appliance company. Dan Dolezal grew up alongside Larry in an idyllic small Montana town with a sister in a working-class family that revolved around a steel mill.
The town of Troy, where Rachel, her brother and four adopted siblings grew up, has about 1,000 residents and was about "as white as white can be," Dan Dolezal said. After Rachel went away to college, the family spent time in Georgia and South Africa, but Larry and Ruthanne later settled back in Troy.
Dan Dolezal, 63, described his brother Larry and Ruthanne Dolezal Wednesday as "pretty much the salt of the Earth" and said he remains close with them, seeing them a few times a year. Amid the reports of a family torn apart, he said he has been in contact with his brother frequently in the past few days.
As a child, Dan had the usual sibling rivalry tiffs with his brother, but the two have remained relatively close throughout their lives. He called Larry and Ruthanne "honest and generous to a fault, very kind, gentle, loving people." He described the Dolezal family growing up as "liberal-minded" and said Larry and Ruthanne ran a strict, spotless and under control household.
"As far as I can tell, she had a very good upbringing," he said of his niece, Rachel.
But her attitude and outlook apparently began to change after her divorce in 2004 from husband Kevin Moore, whom she met at predominantly black Howard University in Washington, D.C. She began to divide the family, Dan said.
"She wanted everybody to take her side," he said. "Who wants to take a side in a divorce? Here's this man who's the father of your nephew … You don't want to burn bridges."
After the story about Dolezal's racial identity emerged last week, phone calls and interview requests came from all over. Her uncle was surprised by the situation but noted, "Rachel has always been a bit of a publicity hound."
Dan Dolezal said he never had doubts about Larry and Ruthanne's version of the story. "Well, I would put myself firmly on her parents' side," he said. "I don't think they deserve the treatment."
Others also described the Dolezals as caring parents. Woody Chain said he employed Larry Dolezal as a "right-hand-man" of sorts at his company, Obadiah's Woodstoves, from in 2013 and 2014. Larry was one of his best employees. He would commit to memory the minute details of customers' lives he merely spoke with over the phone. Some of the adopted Dolezal children worked at the store in the summertime pulling weeds.
"He was probably one of the best family men I've ever met," Chain said. "Never had to worry about him cheating me or padding his hours."
Chain said Rachel -- whom he called "rebellious" -- seldom came up in conversation with Larry, mostly concerning her personal troubles. But if there were larger problems troubling the family, as some of the allegations suggest, Chain didn't see it. "For the most part, their family has been pretty rock solid," he said.
Chain last saw Ruthanne a few weeks ago at his grandson's graduation from a Christian school in Libby, Montana, where she is the principal. His grandson had previously been out to the Dolezal property and spent time on its orchard and had taken a liking to Larry.
Chain said the situation with the family is "a shame. I know it's very stressful for them. I can't imagine what they're going through."
Larry and Ruthanne released a statement Wednesday saying they would be taking a break from speaking with media. "Following the recent days of international media attention surrounding our daughter Rachel's ethnicity, we hope and pray for a continuing global conversation on the issues of identity and integrity, which will resolve in the recognition that truth is a kindness and a first step toward freedom, justice and personal peace," Rachel's parents said in the statement.
© Copyright IBTimes 2022. All rights reserved.
FOLLOW MORE IBT NEWS ON THE BELOW CHANNELS