Ramadan 2012: First Day Of Muslim Holy Month Around The World [PHOTOS]
Friday marked the first day of Ramadan, the holy month for Muslims, who are expected to fast and practice abstinence from dawn until sunset.
The month of fasting was officially began in Muslim countries around the world on. Ramadan is held yearly during the ninth months of the Islamic calendar after the sighting of the new moon, which occurred on Friday evening, and lasts for 29 to 30 days until the next new moon appears.
U.S. President Barack Obama commemorated the start of Ramadan on Friday in an official statement for the world's 1.5 billion Muslims.
On behalf of the American people, Michelle and I extend our warmest wishes to Muslim Americans and Muslims around the world at the start of Ramadan. For Muslims, Ramadan is a time of fasting, prayer, and reflection; a time of joy and celebration. It's a time to cherish family, friends, and neighbors, and to help those in need.
This year, Ramadan holds special meaning for those citizens in the Middle East and North Africa who are courageously achieving democracy and self-determination and for those who are still struggling to achieve their universal rights. The United States continues to stand with those who seek the chance to decide their own destiny, to live free from fear and violence, and to practice their faith freely. Here in the United States, Ramadan reminds us that Islam is part of the fabric of our Nation, and that-from public service to business, from healthcare and science to the arts-Muslim Americans help strengthen our country and enrich our lives.
Even as Ramadan holds profound meaning for the world's 1.5 billion Muslims, it is also a reminder to people of all faiths of our common humanity and the commitment to justice, equality, and compassion shared by all great faiths. In that spirit, I wish Muslims across America and around the world a blessed month, and I look forward to again hosting an iftar dinner here at the White House. Ramadan Kareem.
The purpose of Ramadan is to focus on spirituality, praying more often and withholding any acts of violence during the fast. All Muslims across the world are expected to participate, with the exception of the elderly, sick and pregnant.
As one of the five pillars of Islam, Muslims are expected to refrain from food and drink and abstain from smoking and sex each day during the celebration from dawn to dusk. The breaking of the fast, or iftaar, begins at dusk by eating dates. Some Muslims have slightly different variations and have broader definitions of practices during Ramadan.
The month-long fasting marks the anniversary of the Quran being revealed to the Prophet Mohammed. Ramadan commences annually with a celebration called Eid al-Fitr, comprised of feasting and prayer.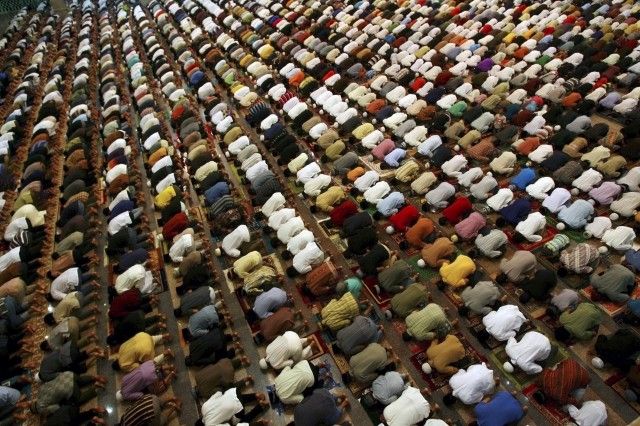 © Copyright IBTimes 2023. All rights reserved.
FOLLOW MORE IBT NEWS ON THE BELOW CHANNELS