Rand Paul Allegedly Attacked By Neighbor Over Landscaping Dispute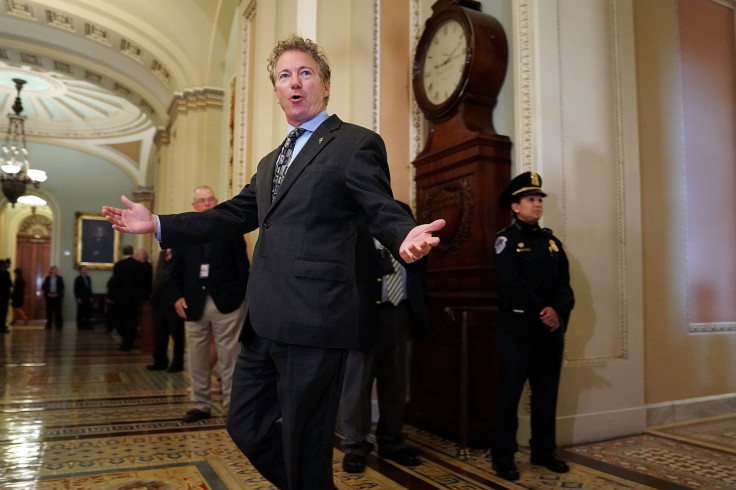 The alleged altercation that left Sen. Rand Paul with five broken ribs may have been the result of a landscaping dispute. Paul's neighbor, Rene Boucher, allegedly attacked the senator at his home in Bowling Green, Kentucky, Friday.
"Two Kentuckians tell me Rand's neighborhood fracas stemmed from a dispute over some sort of planting or flora issue around the properties," New York Times political correspondent Jonathan Martin tweeted Monday afternoon.
Paul was left with "minor injuries," including five broken ribs and "considerable pain." Doug Stafford, a senior strategist for Paul, said the injury was the result of "high-velocity severe force." Boucher allegedly tackled Paul from behind and forced him to the ground, according to the arrest warrant.
In a statement provided to Fox News, Boucher's lawyer said the incident was "regrettable" and hoped the men could "get back to being neighbors."
"Senator Paul and Dr. Boucher have been next door neighbors for 17 years," Matthew Baker said in the statement. "They are also prominent members of the local medical community and worked together when they were both practicing physicians. The unfortunate occurrence of November 3rd has absolutely nothing to do with either's politics or political agendas. It was a very regrettable dispute between two neighbors over a matter that most people would regard as trivial. We sincerely hope that Senator Paul is doing well and that these two gentlemen can get back to being neighbors as quickly as possible."
Boucher admitted going onto Paul's lawn and tackling him, the arrest warrant stated. He was arrested and released on $7,500 bail and faced charges of misdemeanor fourth-degree assault, according to CBS News. Boucher was also ordered not to contact Paul or his family and to stay away 1,000 feet away from them, aside from when he is at home.
It remained unclear when Paul would return to work.
© Copyright IBTimes 2023. All rights reserved.