Reactions To Trump Speech A Mixed Bag, Democrats' Response Elicits Memes
People took to Twitter to react to President Donald Trump's border wall speech immediately after it was aired on Tuesday.
Trump began the much-anticipated speech by urging Congress to sanction billions of dollars for the wall, which was "absolutely critical" for the safety of the nation.
"This is a humanitarian crisis. A crisis of the heart, and a crisis of the soul," Trump said in the prime time address from the Oval Office.
"As part of an overall approach to border security, law enforcement professionals have requested $5.7 billion for a physical barrier," he added. "At the request of Democrats it will be a steel barrier rather than a concrete wall."
He further implied that the United States had "run out of space" to accommodate the immigrants who were crossing the Mexican border and entering the country.
"America proudly welcomes millions of lawful emigrants who enrich our society and contribute to our nation," he said in the speech. "But all Americans are hurt by uncontrolled, illegal migration."
The POTUS also blamed the Democrats for the ongoing governmental shutdown.
"The federal government remains shut down for one reason, and one reason only. Because Democrats will not fund border security. Some have suggested a barrier is immoral. But then why do politicians build walls, fences and gates around their homes? They don't do it because they hate the people on the outside — they do it because they love the people on the inside," he said.
Lastly, he pointed at the dangers that "illegal aliens" posed for America and the history of violence that they have contributed to.
"How much more American blood must we shared before Congress does its job? This is a choice between right and wrong," he went on. "Justice and injustice. This is about whether we fulfill our sacred duty to the American citizens we serve. When I took the oath of office, I swore to protect our country. And that is what I will always do. So help me God. Thank you and goodnight."
Minutes after the president's address to the nation wrapped up, reactions started pouring in on social media from prominent figures like politicians, authors, journalists and humanitarian organizations. Opinions were divided as some criticized Trump's insinuation that there was a "border crisis," while others sided with the president's call for building the wall.
And then there were those who either skipped watching the speech altogether or simply felt like it did not make much of a difference:
Trump's nine-minute-long address was followed by a four-minute-long speech by Speaker of the House Nancy Pelosi (D-CA), and Senate Minority Leader Chuck Schumer (D-NY). The pair countered the president's speech by branding it "full of misinformation and even malice."
"We all agree that we need to secure our borders, while honoring our values: we can build the infrastructure and roads at our ports of entry; we can install new technology to scan cars and trucks for drugs coming into our nation; we can hire the personnel we need to facilitate trade and immigration at the border; and we can fund more innovation to detect unauthorized crossings," Pelosi said.
She blamed Trump for rejecting the "bipartisan bills which would re-open government - over his obsession with forcing American taxpayers to waste billions of dollars on an expensive and ineffective wall - a wall he always promised Mexico would pay for!"
Schumer further reiterated that Americans would not be governed by Trump's "temper tantrum." "No president should pound the table and demand he gets his way or else the government shuts down, hurting millions of Americans who are treated as leverage," he added.
Just like Trump's address, the Democrat's counter-speech was also met with reactions on Twitter, although this time, people drew up hilarious memes and jokes on the way Pelosi and Schumer delivered their statements.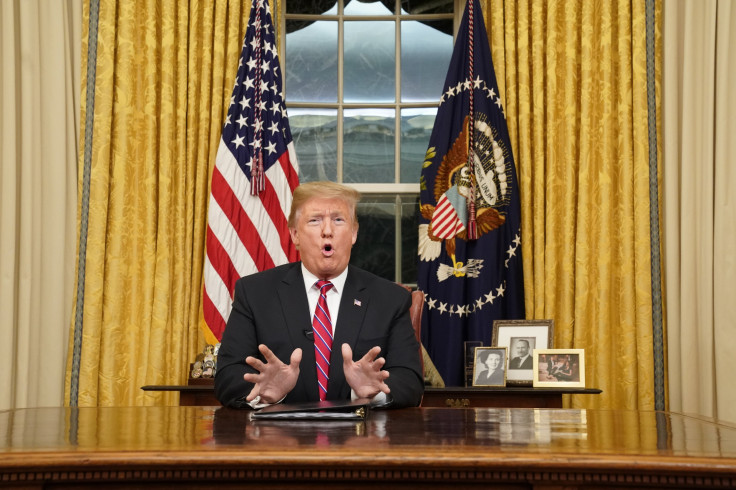 © Copyright IBTimes 2023. All rights reserved.