Real Madrid - Bayern Munich: Cristiano Ronaldo, Gareth Bale And 4 Other Players Key To Champions League Semifinal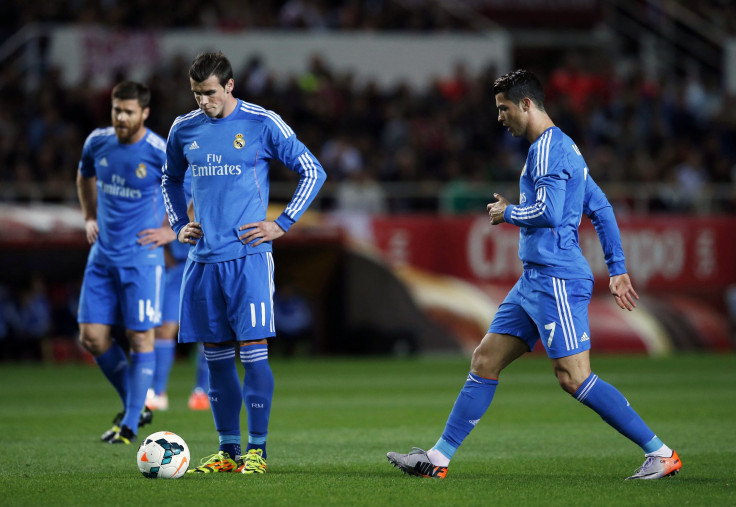 For the second time in three years Real Madrid and Bayern Munich will face off in the Champions League semifinals, beginning with the first leg at the Bernabeu on Wednesday. For both teams, the tie presents the penultimate challenge toward accomplishing an unprecedented feat.
Bayern Munich, already crowned German champions, are looking to become the first club to retain the European Cup in the Champions League era, while Real Madrid are still seeking a much-coveted 10th title to cement their legacy as the most successful club in the competition's history.
Here are six players who could play a key role in deciding the outcome of the first leg in the Spanish capital.
Cristiano Ronaldo
The forward has missed the past three weeks with knee and hamstring injuries and still faces a late fitness test ahead of the first leg. But the importance of the match, the fact he has returned to training and Ronaldo's desperate desire to play every game all point toward him starting at the Bernabeu. It goes without saying that he will be crucial to Madrid's chances. That is especially true, though, against a side like Bayern who will have plenty of possession and have shown a vulnerability to fast-paced transitions in each of their previous Champions League knockout ties this season. As it was in the 2012 semifinals, Ronaldo's duel with Philipp Lahm, if it happens, will be fascinating and integral to the tie's outcome.
Arjen Robben
The attacking intent in Real Madrid's lineup means that they can also be exposed on the counter-attack. The player in Bayern's ranks most capable of doing so is Robben. The Dutch winger was widely expected to be one of the first casualties of Pep Guardiola's reign, instead he has played a key role. His stats of 19 goals and 13 assists this season speak to just how effective he has been. While Robben can still be frustratingly selfish and single-minded at times, he gives Bayern directness to balance what can sometimes become sterile possession. Against a club who discarded him when signing Ronaldo in 2009, Robben will have plenty of motivation to send another message of just how wrong they were.
Gareth Bale
At the opposite end of the pitch to Robben, Bale will also be looking to cut in from the right and fire off shots and assists with his left foot. In doing so, the Welsh winger will be hopeful of taking advantage of the positioning of David Alaba, who so often becomes an extra midfielder when Bayern are in possession. Bale's first season in Madrid following a protracted record transfer was always going to be difficult. And so it proved early on, with recurring fitness issues. It is only a couple of months since some were calling, not without some justification, that youngster Jese Rodriguez should be starting ahead of Bale. But after a string of consistently impressive performances, Bale firmly answered his doubters by delivering spectacularly in a big game, with a sensational winner in the Copa del Rey final against great rivals Barcelona.
Bastian Schweinsteiger
Bayern Munich have an incredible collection of midfielders, encompassing both physical and technical attributes. Against a Real Madrid side that lacks a physically dominant enforcer, Guardiola could well turn to a more robust midfield than he ever had at Barcelona. Against the Catalans in last season's semifinals, Schweinsteiger and Javi Martinez were vital to Bayern's 7-0 demolition job by simply steam-rolling their opposite numbers. Although they have featured little together in the center this season, they could be turned to at the Bernabeu with the same idea in mind. Certainly Schweinsteiger, who may not be as fluent in the passing game as some of his teammates but continues to be a hugely influential presence, should have a big part to play.
Luka Modric
Real Madrid's front three of Ronaldo, Bale and Karim Benzema have garnered all the headlines this season, but it is Modric who has just as much claim to being the team's player of the season. Seldom used in a disappointing first season at the club under Jose Mourinho, Modric has embodied the shift toward a more proactive style under Carlo Ancelotti. Able to both create through passing and dribbling, he is a key figure on the right of Madrid's midfield three. Once considered too lightweight to play a deeper midfield role, his improved defensive qualities will also be put to the test against David Alaba and Franck Ribery.
Philipp Lahm
Bayern Munich's captain has incredibly been transformed into one of the world's best midfielders this season, but Guardiola may need Lahm to revert to being the planet's best full-back at the Bernabeu. While Rafinha has proved a solid deputy as Lahm has switched to controlling from the center, it would be a huge risk to leave the Brazilian up against Ronaldo. Madrid's strength is on the flanks and, even with Bayern missing their other deep-lying midfield passer Thiago Alcantara, it still makes sense for the Bundesliga winners to match up Lahm against Ronaldo. The experienced Germany international has the defending ability to battle Ronaldo as well as the boldness on the ball to expose Madrid's weakness on that flank with Ronaldo seldom tracking back.
© Copyright IBTimes 2023. All rights reserved.