Real Madrid Transfer News: Arsenal's Nicklas Bendtner And Liverpool's Luis Suarez, Juventus's Andrea Pirlo Linked To Rumors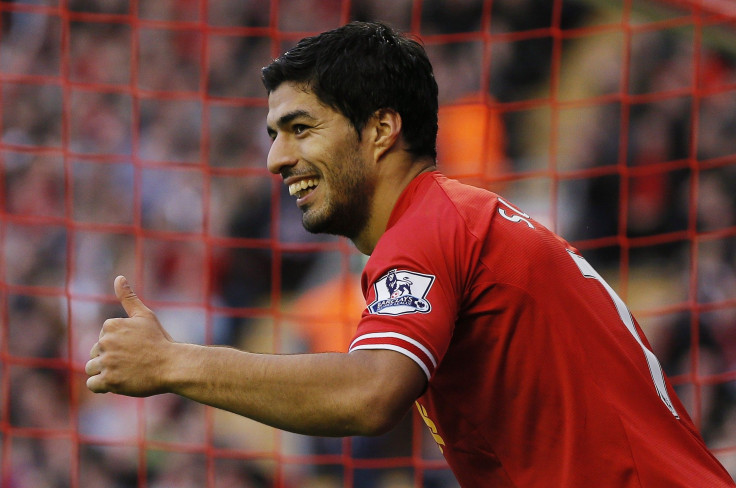 More often than not, players around the globe are linked to plenty of transfer rumors without making any sort of public statement.
Arsenal's Nicklas Bendtner clearly has decided to take matters into his own hands by claiming his future lies with either Real Madrid or Barcelona. Eager for a change of scenery, the Danish striker has failed to impress Arsene Wenger's side this season, and has been used sparingly behind Olivier Giroud.
According to Metro, the 25-year-old's contract expires next summer and the Gunners are not expected to make any new offer.
"I'm going somewhere where I know I can be happy to play. With a team where I can score goals and preferably to win something," Bendter reportedly said to a Denmark publication. "I do not want to sit on the bench staring. I love playing lots of games."
He then named the two Spanish giants as his ideal destinations. Bendtner's choices are odd considering the immense attacking talent both teams already possess. It would be highly unlikely for Bendtner to play anything other than a reserve role at the Bernabeu or Nou Camp.
Should Bernabeu officials sign him, it would likely be a last resort if their perceived efforts to land incredible Liverpool striker Luis Suarez fall short.
The Uruguayan has notched a Premier-League best eight goals this season and is signed through 2018, but rumors persist that his next destination would be Madrid if the Reds finally let him go.
Suarez reportedly wanted to make the switch last summer, but later said he planned to hold any move until 2014. The asking price for the 26-year-old is hovering around £50 million, and other interested clubs include Arsenal and Serie A's Juventus, who are looking for a player swap over a transfer fee.
Raising any sort of funds for Suarez reportedly won't come from a sale of midfielder Xabi Alonso, whose contract is also up at the conclusion of the season.
Manchester United and Chelsea have specifically targeted Alonso, and are allowed to negotiate with him throughout the spring. Madrid might not get anything in return for him should he strike a deal.
However Madrid manager Carlo Ancelotti completely dismissed any chance he moves the 31-year-old in January, with his club still in heavy contention for La Liga and Champions League, according to the Daily Star. Ancelotti also shouted down any swap of Alonso for Juventus playmaker Andrea Pirlo.
"Xabi is a vital player for Madrid now that he's recovered from injury. There are only two players like him in Europe. One is Pirlo and the other is Xabi," he told Mediaset according to the Star. "However, we have no intention of making a player exchange deal with Juventus. There is no substance to any rumour like that.
"I am still in touch with Andrea because I have a good relationship with him. I was pleased to see the Madrid fans give him a warm welcome when we met."
The Italian hero has made 80 appearances and scored 11 goals in the last two years with Juventus, and has never played for a league outside of his native land.
In the meantime, Madrid will try to parry any attempts Manchester City makes for defender Sergio Ramos. Aware of the player's increasing wage demands, City could step in this summer and pay Ramos a steep £7.2 million a year, according to the Daily Mirror.
Ramos wants his pay on par with Cristiano Ronaldo and Gareth Bale, and prefers a role as central defender over the right-back and midfielder positions Ancelotti has relegated him to this season.
© Copyright IBTimes 2023. All rights reserved.