Real Madrid Transfer News: Falcao Deal Close? Chelsea's Cech, Courtois And Others On Los Blancos Radar?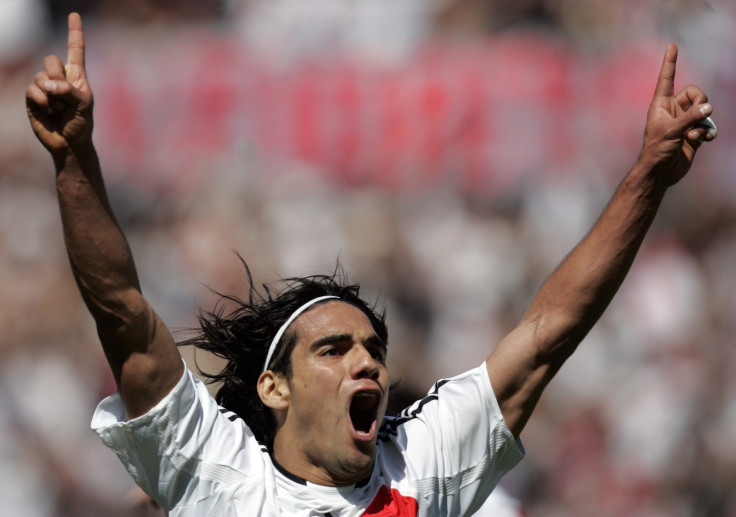 No one appears to have a handle on just where striker Radamel Falcao will play next season. The Colombian talisman was one of the most sought after players during last summer's transfer session, and wound up with Monaco to the tune of £50 million. Now, after one injury-ridden season in France, Falcao is keen on joining former Red and Whites teammate James Rodriguez at Real Madrid, the Guardian reports. Such an addition would send shockwaves through La Liga after Barcelona added former Liverpool star Luis Suarez this summer, and could have a major impact on Madrid's Champions League aspirations.
Citing Liverpool's attempts to pry the 28-year-old away from Monaco, the Guardian's report says the Reds were told Falcao is "destined" for a trip to Madrid. After a knee injury cut his Ligue 1 and World Cup hopes down, Falcao is set to make a return to La Liga, where he racked up 52 goals in 68 appearances from 2011 to 2013. Monaco have eased him back on to the pitch, and Falcao made his first start since injuring his knee in January in the Emirates Cup against Arsenal, scoring a glorious header goal for the friendly victory.
Should the deal for Falcao come to fruition, Los Blancos will focus much of their attention goalkeeping. As if swiping goalkeeper Keylor Navas from Levante for £8 million wasn't enough, Real Madrid are keen to complete an overhaul in net and are closely evaluating Chelsea's competition between netminders Thibaut Courtois and Petr Cech.
Present keepers Iker Casillas, who fell out of favor with former manager Jose Mourinho and failed to impress in the World Cup with Spain, and Diego Lopez might have seen their last first-team action at the Bernabeu. The Sun reports that Madrid officials have made finding Casillas's replacement a "top priority." That doesn't necessarily make Lopez's departure imminent, but it won't help his chances of seeing playing time as he did under Mourinho. Courtois, 22, led Atletico Madrid to the La Liga title and the Champions League final while on-loan, notched two clean sheets for Belgium during the World Cup and likely serves as better competition for Navas.
Courtois's ascension and Mourinho insisting the Blues net is ripe for competition are reasons enough for Cech to be available. After 10 years of service, and at this stage of his career, Cech doesn't want to spend the last few years of his career on the sidelines or behind a youngster. The 32-year-old also made 45 appearances in all competitions for the Blues last season, and appeared in top form for the majority of the season. Courtois reportedly has privately stated that he fully expects to be Chelsea's starting keeper in the Blues' season opener against Burnley on Aug. 16.
Who plays ahead of Navas and his counterpart next term is also up for debate, with Madrid one of several clubs in pursuit of Roma defender Mehdi Benatia. Chelsea and Manchester United are also in the mix for the 27-year-old Moroccan star, Express reports, and the bidding could start at £30 million. Benatia racked up five goals in 30 appearances for an Italian side was second in Serie A in goals allowed last term, and helped Roma return to UCL contention for the first time in two years.
After such success, Roma would appear very much inclined to keep Benatia, who's under contract for the next four years, but they are close to signing defender Konstantinos Manolas away from Olympiakos. Benatia would be welcomed at the Bernabeu with open arms after Manchester City became the favorites to land Porto and French international central defender Eliaquim Mangala, Daily Mirror reports.
In other news, the expected departures of midfielders Angel di Maria and Sami Khedira have put Madrid on high alert for Wolfsburg 27-year-old Luis Gustavo, according to Bild. Di Maria could land anywhere in the Premier League, with United the favorites for now, and Khedira's suitors include Arsenal, Bayern Munich and Chelsea. The Brazilian appeared in 29 matches and score four goals for the Bundesliga club last term, and his market value has risen to roughly £19 million. Gustavo's real value lies in protecting new midfielders Rodriguez and Toni Kroos, allowing both to aid the attack while he stymies any opponents attempt for a fastbreak.
© Copyright IBTimes 2023. All rights reserved.