Recession Hits Sandwiches at Business Meetings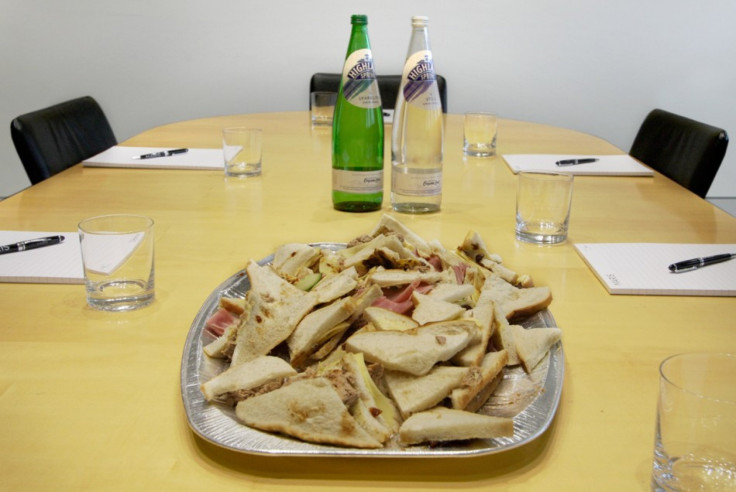 Companies are spending much less on sandwiches in the business meetings due to recession, according to a recent survey conducted by United Kingdom's office design company Maris Interiors LLP.
According to the survey, 80 percent of employees think the quality of sandwiches at their business meetings has fallen. Only 4 percent of the people who are questioned felt that the quality of sandwiches had improved over the last five years, with 16 percent noticing no change.
It's a sign of these austere times that companies are spending much less on sandwiches in the boardroom. It's certainly a sensible way to cut costs, but be careful not to overdo it: you won't impress a client with jam sandwiches!, Maris Interiors' Chairman Michael Howard said.
Maris Interiors said 185 people participated in the survey that was conducted between February 7 to 11.
The average cost of sandwiches per person at meetings currently stands a miserly 3.80 Great Britain pound. When the survey was first conducted in 2006, the average cost was just 5.91 Great Britain pound per person.
Popular sandwiches back in 2006 included 'crayfish and avocado' and 'chicken teriyaki' - but today 'cheese and pickle' and 'tuna and sweetcorn' featured much more heavily in the survey.
During September 2010, sandwiches have been banned from the boardroom of Transport for London that runs London's transport system to save money. The company fears losing about 20 percent of its 9 billion pounds annual budget in the Government's efficiency drive and has embarked on major savings that will lead to the loss of around 800 jobs on the Tube (The London Underground).
The free food would no longer be provided and said board members, including the mayor, Boris Johnson, would have to buy their own lunch from the City Hall canteen, Peter Hendy, the commissioner of Transport for London, who has already banned colour photocopying, told the 17 board members. Please note that sandwiches will no longer be served at the conclusion of TfL board meetings. There will be tea and coffee available during and at the end of the meeting.
Recession is a normal (albeit unpleasant) part of the business cycle; however, one-time crisis events can often trigger the onset of a recession, according to Investopedia. The global recession of 2008-2009 brought a great amount of attention to the risky investment strategies used by many large financial institutions, along with the truly global nature of the financial sytem.
As a result of such a wide-spread global recession, the economies of virtually all the world's developed and developing nations suffered extreme set-backs and numerous government policies were implemented to help prevent a similar future financial crisis.
A recession generally lasts from 6 to 18 months, and interest rates usually fall during these months to stimulate the economy by offering cheap rates at which to borrow money.
© Copyright IBTimes 2023. All rights reserved.