'Reign' Season 2 Spoilers: What Happened In Episode 11? Midseason Premiere Recap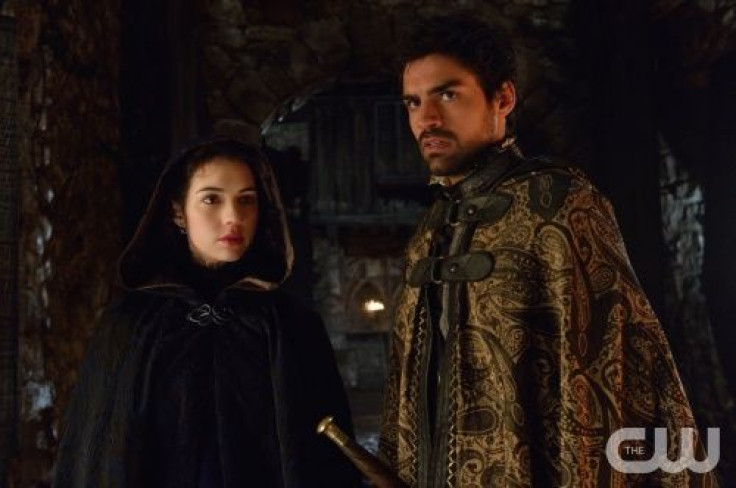 The drama never ends on "Reign." Season 2 of The CW series returned Thursday after going on hiatus in early December. Unfortunately for Mary (Adelaide Kane) and Francis (Toby Regbo) shippers, the break did nothing to help their marriage troubles.
Episode 11, the midseason premiere, found the French castle dealing with the mark of the Dark Riders. A mysterious assailant marked all the Protestant traitors that had been hanged in the castle courtyard. The Pope believed it to be the workings of a "secret league of radical traitors" and wanted to execute any living person bearing the mark. Unfortunately Condé (Sean Teale) happened to be one of the people bearing the mark.
The Cardinal called for Condé to be arrested, but Mary couldn't bear to see that happen to her confidant and friend. Still struggling with her break from Francis, Mary forced Condé to flee the castle with her to avoid execution. The pair went to seek safety from Condé's brother, who was staying nearby.
Condé's brother had a unique sense of fun. Tales of his wild parties were spread across the country, but Mary got to witness it first hand. Marriage or not, he set up a couple who lusted for each other and required them to act on it. With her status as Queen, Mary left the party. Condé tried to follow, but his brother had other plans for him. While his initial plan was for Condé to get closer to Francis in order to remove him from power, he realized that the better angle was getting Mary into bed. He asked his brother to seduce Mary, but Condé refused. Despite having feelings for his Queen, Condé lied to his brother and said that she was "prude."
Condé's loyalty to Mary remained intact, but that didn't stop him from hooking up with someone else. Although initially fighting it, he engaged in a steamy encounter with a woman who didn't mind the fact that he was thinking of someone else. Afterwards Condé returned to Mary's chambers to say goodbye. He urged her to go to Scotland for safety, and revealed that he worried about her staying around Francis. Mary wasn't buying it though. She scolded him for commenting on her marriage … especially since she read his love letter.
Condé apologized and promised that he wasn't trying to seduce her. Mary understood and brushed it off. The pair agreed to part ways, but that wasn't exactly in the cards. The Vatican caught wind of Condé's whereabouts and sent men to retrieve him. With no time to waste, Mary asked Leith (Jonathan Keltz) to remove Condé's mark of the Dark Riders by burning him with a hot sword.
While Mary worked to save Condé, Francis enlisted the help of Bash (Torrance Coombs) to stop the Vatican's witch-hunt. Knowing that the Cardinal was involved in a romantic relationship with his cleric, the brothers decided to attack the cleric and brand him with the mark. Bash carried out the act, but was cut by the cleric in the process.
Francis and Bash's goal was to stop the Cardinal from going after Condé, however the Cardinal refused to cave in. He simply pleaded his cleric's case, promising the king that he was a good and innocent man. While Bash felt guilty for framing the cleric, he needed the Cardinal to change his stance on the mark. Unfortunately for Bash, the Cardinal caught onto the fact that he was the one that framed his lover.
The Cardinal threatened to tell the Pope about Francis' traitorous act, but Francis managed to sway his mind after revealing that he'd kill the cleric. Not wanting to see his lover dead, the Cardinal agreed to drop the charges against Condé. However, he left Francis with a warning … that he was simply trying to do him a favor.
Condé was able to walk free, but others weren't so lucky. Kenna (Caitlin Stasey) tried to help Princess Claude (Rose Williams) by convincing her that Queen Catherine (Megan Follows) was trying to poison her. Claude didn't believe Kenna, and angrily told her that she had been lovers with Bash. Needless to say, Kenna was shocked and hurt that her husband had lied to her.
In the end Claude realized that her mother had been trying to poison her. She confronted Catherine, who confirmed that she was doing it because Claude had killed her twin sisters when she was 5-years-old. Claude denied it, but tried to drink a goblet of poison in order to satisfy her mother's thirst for revenge. Catherine stopped her before Claude followed through with the act, disappointing the ghosts of her husband and twins.
In the final moments of the "Reign" midseason premiere, Mary went to talk things through with Francis, but stopped when she saw him asleep next to Lola (Anna Popplewell) and their child.
© Copyright IBTimes 2023. All rights reserved.