The Religious Reason Why Jinger Duggar's Wedding Dress Train Was So Long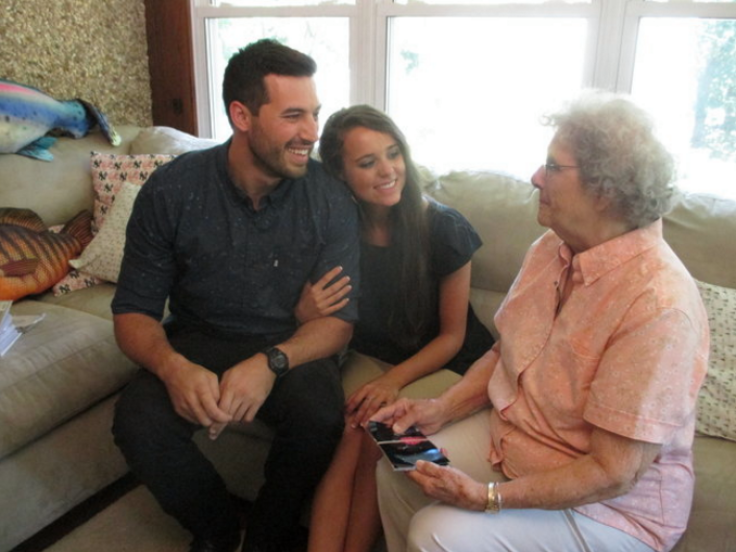 Jinger Duggar's wedding dress, specifically her super long train, was the topic of many "Counting On" fan's conversations during the Season 2 finale of the TLC series last year. Now, it has been revealed why the bride had such a long train during her wedding to Jeremy Vuolo, and the reason may surprise you.
According to Jinger's wedding dress designer, Renee Miller, owner of Renee's Bridal and Special Occasions, the reality stars specifically requested a long train for biblical reasons. "Both Jinger and Jeremy desired for the dress to have what I can a 'train fit for royalty,' based on a Bible verse that Jeremy had quoted to his wife-to-be," Miller revealed to Duggar Family Blog Thursday.
That verse was Isaiah 6:1 (...I saw the Lord sitting on a throne, high and lifted up, and the train of His robe filled the temple). When Jinger tried on the three protocol dresses, she always looked at the train before she looked at the front, so I knew that was her heart. I wanted the train to be the center of attention.
According to Miller, The dress that Jinger chose had a long train, but she decided to "hit it out of the ballpark" and embellish the train on her final gown a bit more. "The extension actually didn't come together until a couple weeks before the wedding," she said.
Read: What's next for the Duggars in 2017? More courtships and a wedding could be on the way
Miller met the Duggars after being introduced by the designer who crafted Jinger's sister Jill Dillard's wedding gown in 2014. Before first meeting with Jinger to design her gown, Miller exchanged texts and phone calls with the bride-to-be but found it difficult to nail down exactly what she was looking for.
"I tried to listen to her heart, which was difficult because we hadn't yet met face-to-face," Miller said. "I prayed that I would be able to create a unique dress that would fulfill her dreams."
After crafting three "protocol gowns" Miller flew to Virginia to meet with Jinger and her family, a meeting which will be see on "Counting On" Season 3, which premieres later this month. Miller says Jinger ended up picking the dress she predicted she would want. Besides a long train, Miller said Jinger also desired lace, an A-line skirt and sleeves for modesty reasons.
Watch Jinger's road to the altar when Season 3 of "Counting On" premieres on TLC on Monday, Jan. 16.
© Copyright IBTimes 2023. All rights reserved.