A Rental Named Desire
When the levees broke, the floodwaters stripped away much of New Orleans' most affordable rental housing. A decade later, people like Desi Grimes are still struggling to find a home.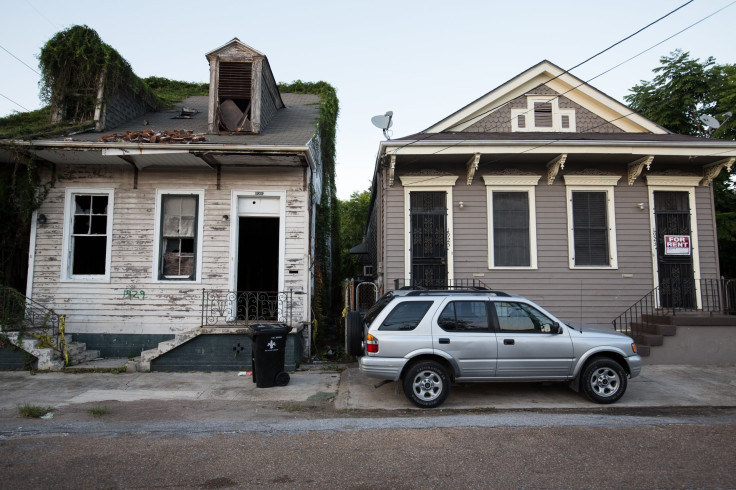 The beginning of the end of Desi Grimes' life in a New Orleans subdivision started with running the washing machine one night. The secretary and mother of four awoke in the morning to find water pooling in the den, collecting higher at the front of the house, where the floor pitched toward the lawn. Desi owned the washing machine, but she rented, with the aid of a housing voucher, the beige-brick home with green shutters and a tall magnolia tree anchored to a corner lot on the West Bank of New Orleans. Surveying the inundation, she summoned the principal resource available to her: her children, armed with towels and a mop, to help her sop up the mess.
The bad plumbing was a constant problem — even causing sewage to back up into the shower. Desi hoped each repair would be the last. She had already lived in six other rental homes since she returned to New Orleans in 2008, three years after Hurricane Katrina hit. Each rental came with a deal breaker: rats in the house, or a foreclosure secretly in the works, or industrious termites boring through a wall between the kitchen and the garage.
When the levees broke and floodwaters engulfed 80 percent of the city 10 years ago, the flooding stripped away many of the houses that people once rented at affordable prices.
Even so, the landlords usually found a way to keep Desi's security deposits, costing her about $5,000 over the years, she estimates. A 34-year-old African-American, she earns $32,000 a year as a receptionist at a legal aid organization downtown. There, a constant stream of clients facing evictions, worried about losing their housing vouchers and squaring off against slumlords evokes the precariousness of her own position. So long as she could apply her voucher to a property, she paid about $600 a month out of her own pocket in rent. Last year, between rentals, she had to go live at her grandmother's house on one side of the Mississippi River, while her children stayed with their grandmother on the other side. She wanted the house on River Oaks Drive to stick.
But by the time a work crew showed up with a special camera last winter, and determined that all the pipes underneath the house would need to be replaced, Desi knew her time was up – that the landlord would never pay for such an overhaul. What she didn't count on was that six months later, in the middle of a hot New Orleans summer, she'd still be scouring websites and real estate ads in search of an affordable, decent place to live, in a city where wages have stagnated and rents have climbed skyward over the past decade. Between 2005 and 2013, median gross rent (which includes utilities) rose from $590 to $925 -- a 57 percent increase, U.S. Census data shows.
New Orleans is reflective of the growing fragility of low-income renters in the U.S. When the levees broke and floodwaters engulfed 80 percent of the city 10 years ago, the flooding stripped away many of the houses that people once rented at affordable prices, in an economy that runs largely on tourism and low-wage service-sector jobs. In the rebuilding effort, officials dedicated the vast majority of $11.5 billion in federal funds to restoring homeowners' properties and only about 13 percent to tending rental stock. The city's decade-long comeback has brought with it the imports and engines of gentrification that drive rents up: an aura of Hollywood cool, hipster artfulness, Airbnb popularity, and investment capital flowing into luxury developments.
Nationally, the rental market is tighter than at any point in the last two decades. In 2014, the rental vacancy rate dropped to 7.6 percent – a 20-year low, according to Harvard's Joint Center for Housing Studies. The same report found that the number of renters who are cost-burdened – meaning more than 30 percent of their income goes to housing – reached a record high of 20.8 million households in 2013. In New Orleans, the portion of renters who spend more than half of their pretax income on rent and utilities – those who are considered severely cost-burdened – has soared, from 24 percent of renters in 2004 to 37 percent in 2013, according to the Data Center.
Meanwhile the federally funded housing choice voucher program (also known as Section 8), one of the primary tools in the U.S. for helping low-income families make up the difference between what they earn and what the market demands for rent — is backlogged. The Department of Housing and Urban Development's website warns newcomers to expect a wait, and the National Low Income Housing Coalition says the wait for assistance often stretches for years. In New Orleans, the number of vouchers in use has more than doubled since the storm, yet some 13,000 families are currently waiting for one, more than 90 percent of whom are African-American.
"It is hard to find housing in New Orleans and other parts of the country," said Todd Richardson, a HUD deputy assistant secretary in the office of policy development and research, during a recent press conference. "Rents are high in many places, limiting some choices about the neighborhoods you can live in. So it's not a perfect story. Many families are still in high-poverty neighborhoods."
The urgent need for more affordable housing – typically defined as rent and utilities that do not exceed 30 percent of a household's income – is underscored by a new report outlining housing goals for the city in the next 10 years. The assessment, released last week by a broad coalition group called HousingNOLA, pegs demand at 33,593 additional housing units overall by 2025, including approximately 11,000 rental units for people with low and moderate incomes. "We still have so much work to do," says Andreanecia Morris, a member of the board of governors of the Greater New Orleans Housing Alliance. "That's what these numbers show."
"When you have an economy that is not designed to pay workers enough to support themselves," says Colette Tippy, a lead organizer at the New Orleans Workers' Center for Racial Justice, "you either need to address that reality in the economy, or you need to subsidize housing for people to be able to make ends meet."
"When you have an economy that is not designed to pay workers enough to support themselves, you either need to address that reality in the economy, or you need to subsidize housing for people to be able to make ends meet."
You can hear that sentiment all over the city from people like Harry Haynes, who started a mentorship program for at-risk youth 20 years ago and moonlights as an Uber driver. Landlords "charge what the market bears" and income isn't keeping up, he says on a recent Friday night while navigating a bumpy road to the hipster-fied Bywater neighborhood. As an example, he says a single mom might be working one shift at Walmart and another one at Burger King just to cobble together full-time hours. "If her job changes, she's outta there within a month," he says.
David Williams, who breaks out his saxophone some evenings on the banks of the Mississippi to earn extra money for food, understands. As boats glide by and the water glows with orange tints cast off from the lights of the bridges over the Mississippi, Williams points across a dusky sky and the fading outlines of the French Quarter to a luxury building under construction. It's the site where he earns $9 an hour as a welder. He says he pays what he can to stay with a friend and buys microwave meals from Family Dollar to keep a low profile and not "wear out my welcome."
Judy Morgan also needs help making ends meet. She cares for a disabled granddaughter and a 27-year-old son with stage 4 cancer who had to leave his job at Red Lobster when he was diagnosed. Like Desi Grimes, Morgan has a coveted housing voucher, and yet she had a hard time finding a suitable place. She searched for many months before taking an apartment in New Orleans East, in a neighborhood where a young girl had recently been sexually assaulted. She had just received the keys in mid-July and she knew she would not allow her own granddaughter to go out alone.
Desi wished to avoid making this choice. But the search wasn't going well on the West Bank – the side of the Mississippi River where her children went to school. It's also where their grandmother, who often watches them, lives, and where the grocery stores were close enough together that Desi, who gets $324 in food stamps each month, could hop from one to another, hunting for sales.
She grimaces recounting the listings she found that accepted vouchers: bad areas, filled with drugs, where people stand around all day. When she called other ads for rentals in neighborhoods where she wanted to live, they weren't taking tenants with housing vouchers.
And so, in the middle of July, two weeks before she had to move out, she was still making contingency plans. Her grandmother, who had raised her and never turned her away, had been in and out of hospitals and nursing homes since December. Desi knew if she had to, she could stay there while she continued to search. She had eaten dinner almost every night in that house growing up. It was the last place where her younger brother, killed by police in 2009, was alive. The living room was still festooned with Christmas decorations awaiting her grandmother's return.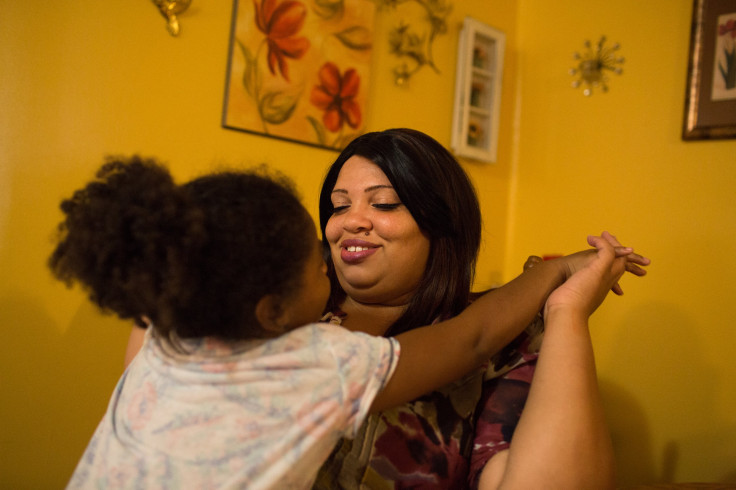 Desi's Odyssey
Desi Grimes and her younger brother, Adolph Grimes III, grew up between their parents' house in the Ninth Ward and their grandmother's narrow "shotgun house" in the Sixth Ward — two blocks removed from the quirky mansions that line Esplanade Avenue. Her mother, Patricia, worked full time for a textile manufacturer. Her father worked offshore as a chef. They made sure to take the kids on trips to places like Disney World, and to Mississippi, and Arkansas.
It was her grandmother, Earline, who taught them their ABCs and their numbers before they started school and who made dinner for them every night. Desi can still recite the menus by heart: red beans; corn and rice; spaghetti and cheese; spaghetti and meatballs; gravy and rice. "She pretty much raised us," Desi says.
From a young age, Desi learned to be independent and resourceful. She worked two jobs in high school. When she became pregnant at age 18 (much to her father's disappointment), she moved out and gave her car back to her parents. Her dad died this year. Looking back, she says, the reason they didn't always see eye to eye is because they shared the same outspokenness: "My dad taught me, Don't bite your tongue. Say what you have to say. That's the only way you're going to be heard."
By the time Katrina hit in late August 2005, money was tight, though Desi and her boyfriend Damon were making it work. Now they were parents to three children. Damon worked at Cafe Du Monde as a cook making the beignets. Desi worked at Southeast Louisiana Legal Services, where she'd held a variety of administrative roles since 2001. Desi signed up for the housing voucher waitlist, and meanwhile, they paid around $650 or $700 a month to rent an apartment in Gretna, across the river. Some months they gave up cable in favor of bootleg DVDs.
Katrina displaced more than a million people – Desi and Damon, and Adolph Grimes III among them. Adolph was living with his older sister and her family at the time. Adolph always loaned her money when she came up short. "If I needed it, and he had it, I had it, too," Desi says. In turn, she always let him stay when he needed to. The weekend that the storm started blowing across the Gulf Coast, they all evacuated to Houston together. The three adults and three children – Damon, Damiyah and Damia – piled into Desi's Chevrolet Impala.
They spent the next 24 hours on the road. With Desi behind the wheel, they listened to the Q93 hip-hop and R&B station, and talked about how uncomfortable it was to be trapped in the car all that time. Another sound emanated from the backseat: 6-month-old Damia's legs were in casts from an operation to correct club feet, and during car rides she banged them on her car seat so much that Desi had to take her back to the hospital several times to have the casts replaced. The long trip to Texas was no exception.
At last, they reached Damon's brother's house in Houston. But the respite proved short-lived. The brother woke them up a few hours into their stay and directed them to a church shelter in Galveston, Texas. They stayed there for two weeks. The people who ran the shelter thought the New Orleans people were "making too much noise," Desi recalls, and started locking the doors at a certain hour. Once, some passers-by came up and gave them a bag of McDonald's hamburgers. Another time, a woman offered Desi a fan and a gift certificate for $100. Once again, Damia had so dinged up her casts that they had to come off. Lacking medical coverage, Desi performed this task herself, dissolving the casts in water until they melted away.
New Year's Day 2009
Desi and Damon's diaspora lasted until a letter in the mail waved them home. She remembers the relief that washed over her when she discovered the news in early 2008: Her wait for a housing voucher was finally over. "It could not have come at a better time," she says.
They'd gone from the shelter in Galveston to a hotel, and then an apartment in Houston, where Desi found a job at a call center and Damon worked for a temp service. FEMA assistance paid the rent, she says. They married in 2006. ("Everyone got married after the storm," Desi says.) When Damon lost the job, they moved to Baton Rouge, Louisiana, while Adolph stayed in Houston. Back in Louisiana, employment trouble frayed their finances and strained their relationship. They both lost jobs, their rental assistance was ending, and Desi, to her great surprise, found out she was pregnant. Hence the name Destiny was bestowed upon the baby girl born Aug. 7, 2008.
But she returned to New Orleans largely on her own. Damon left her alone at the hospital when Destiny was born, and he'd left her, too, with all the responsibilities of maintaining a household. So that fall, housing voucher in hand, she moved to a barren stretch of New Orleans East. By the time the holidays rolled around, her own family planned to reunite. Desi's parents, who moved to North Carolina after Katrina, were back in town. Adolph was coming to visit from Houston, with his 17-month-old son, who had yet to meet many of his New Orleans relatives.
Desi says she told her little brother he could come see her house on New Year's Day 2009. Instead, that morning, she heard a knock on the door and opened it to find her uncle. "He said, 'I just want you to know, whatever I'm getting ready to tell you, it's going to be OK,'" she remembers. "And that's when he told me that the police had killed my brother."
Adolph had driven in from Texas and made it to the city late on New Year's Eve. He died shortly after 3 a.m., around the corner from his grandmother's house. The coroner determined he was shot by officers 14 times, including multiple shots to the back of his body. Five months later, the New Orleans Police Department confirmed it cleared the officers involved, according to the Times-Picayune, and said Adolph had shot at them after a plainclothes unit encountered the 22-year-old on his grandmother's block and identified themselves as police.
"He said, 'I just want you to know, whatever I'm getting ready to tell you, it's going to be OK.' And that's when he told me that the police had killed my brother."
The Grimes family vehemently rejects that portrayal. Desi's parents, Patricia and Adolph Grimes Jr., filed a civil suit against the city in 2009, as did the mother of Adolph Grimes III's young son. The two lawsuits were consolidated, and stayed in 2010, pending the outcome of a federal investigation of the case, according to court records. Attorneys for Arabia Whitfield, the mother of Adolph's child, have said in court papers that Adolph had a permit to carry his gun. The lawsuit contends that he was shot "without provocation, justification or probable cause" minutes after stepping outside the home where he'd been talking with his parents and where his son lay sleeping.
The controversy surrounding the death of Adolph Grimes III – the graduate of a prestigious Catholic prep school with no arrest record -- has been habitually chronicled in the local media. His case arose as the feds were investigating post-Katrina shootings of black residents by New Orleans Police Department officers. Eventually, in 2011, the Justice Department released a scathing report on use of excessive force and biased policing in the department. The NOPD has operated under a federal consent decree since 2013.
Earlier this year, however, the New Orleans Advocate revealed that the Department of Justice had quietly declined to pursue the Adolph Grimes III case further. The decision dealt a blow to the family. "I don't have any confidence in the police department at all," Desi says, "and I try to avoid them at all costs."
Desi's mother, and her father before his death, have played a more public role in the case. Behind the scenes, it has been extraordinarily painful for Desi. After her brother died, she can't escape the feeling that "there's nothing here for me."
The search for a house, though, continued. She says this quest stalled her plans to finish the last 20 credits or so needed for her college degree, added new costs to a stretched budget, and played out, unrelenting, even as loved ones died and her marriage was breaking up.
"My attention is kind of everywhere," she says. "Just trying to figure: OK, am I going to find something today?"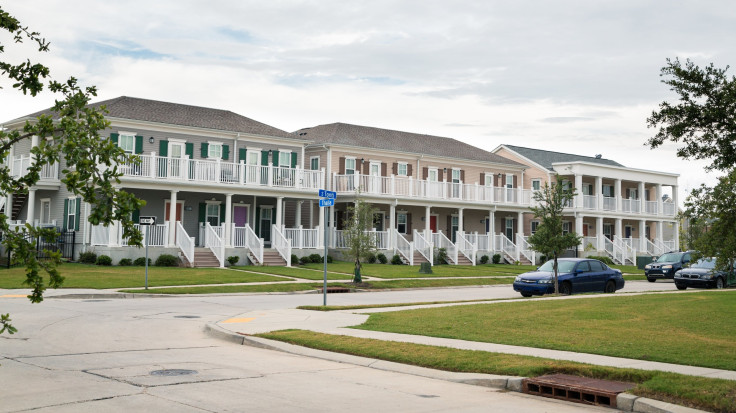 Eviction Court
The eviction hearings start shortly after 10 a.m. in a courthouse located next door to City Hall and across the street from a park where people walk their dogs and find shade. Through a beat-up metal detector, past a poster of repossessed homes on the auction block, up an elevator and steps from an office decorated with fake flowers and an American flag, Court Room 202 is as quiet as a church. Landlords and tenants check in with the clerk, then sit in wooden chairs. Judge Black enters, and the first 12 cases fly by quickly, then it's Charles James' turn.
He goes to the front of the high-ceilinged courtroom, dressed in khakis and a short-sleeve, plaid button-down shirt. "I have possums in my ceiling and living conditions are just so deplorable," he says. Water is coming out of his ceiling, too.
Judge Black listens, but tells him: "You are now three months behind in rent. You're going to have 24 hours from tomorrow to vacate the property."
James didn't have a lawyer — which is typical of renters who come to Southeast Louisiana Legal Services, where Desi works, looking for help. Many grow frustrated that they are living in a poorly maintained unit, which can create health problems as well. "Then they'll often decide to stop paying rent, and that is the quickest way to get evicted in Louisiana," says executive director Laura Tuggle. At the same time, she notes, "It's an expensive proposition for people to move too." This fall, her organization will relaunch a program they started after Katrina to assist clients with security deposit disputes. "So many people never get that money back," she says.
Outside the courtroom, James sat on a bench in the hall and explained his situation. He said he started renting the apartment on North Galvez Street last year, and he allowed the landlord to deduct the $395-a-month rent directly from his fixed income of $733 a month in Supplemental Security Income. He said he had a chronic skin condition that made it unsuitable for him to keep working behind deli counters, and that he had PTSD. The apartment on North Galvez was the cheapest one he could find, and he was glad to find it, because before he'd been in and out of homeless shelters.
The problems in the apartment were numerous: the refrigerator broke down, the stove worked when it wanted to, and there was the issue with the possums, which appeared one day in a hole in the ceiling above the shower. The landlord didn't truly fix anything, he said, and had attempted to repair the bathroom ceiling with a piece of cardboard stuck into the hole. "Would you like to see?" he asks. He pulled a manila envelope from his plaid shirt and produced four photos of a decrepit bathroom, a ceiling sweating with water beads, and water dripping from an overhead light fixture. He said he stopped paying the rent, and he stayed in hotels, and sometimes with friends or family members.
James didn't know where he was going to go after the eviction. But he pointed to a return address sticker on the envelope that he was now using to safeguard photos of his slummy apartment. The sticker read "Permanent Supportive Housing." James said he'd just received an application to apply for a unit in the local program. "This might be even better for me," he said, and he tapped the manila envelope.
Post-Katrina, new Permanent Supportive Housing units have helped reduce the size of the city's homeless population, according to the HousingNOLA report. Flozell Daniels Jr., president and CEO of the Foundation for Louisiana, calls the policy a prime example of post-storm leadership and "doing things that work."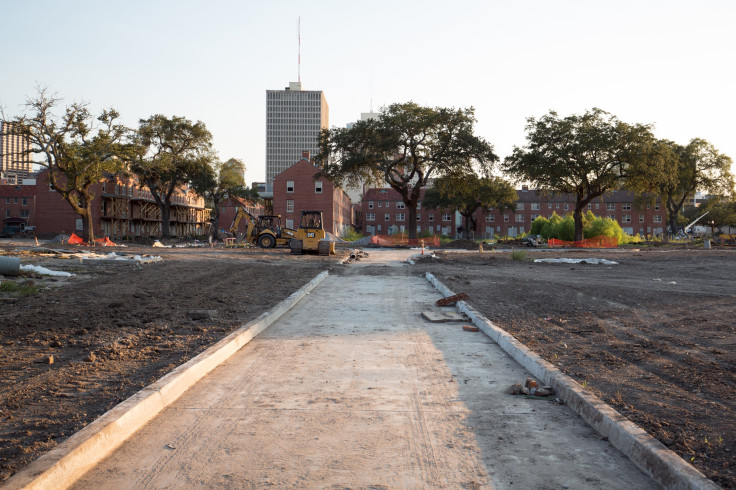 A variety of mixed-income developments have replaced the city's old public housing projects, too. But building subsidized housing often involves complex financing deals, and the influx of federal dollars that spurred development -- and attracted additional private and philanthropic capital --- in the wake of the Katrina has largely dried up. So now is the time, says Daniels, when the coalition will be looking to a large swath of advocacy groups, investors, philanthropists, elected officials and, importantly, residents to come up with inclusive and creative solutions to meet demand. "Like many other parts of the country," he says, "we actually need policies that build consensus and allow us to protect people." Otherwise, he adds, "we're going to go back to a community of haves and have-nots."
From her receptionist desk, Desi Grimes has a front-row view of this reality every day as people come into the office. She has never been evicted, but she understands the feeling of being forced to leave, and of having to lean on the mercy of others for a temporary roof. That's the situation she found herself in over a painstaking weekend in early August, as she and her children cleared out of the house on River Oaks Drive. Once again, the kids would go stay with their grandmother, closer to their schools, and she would stay in her grandmother's house. Shortly before the move, an envelope arrived for the landlord, and she didn't have to open it to know that it was a foreclosure notice. As the family carted their belongings in the sweltering heat, the electricity cut out.
Not only that, but she was suffering through an especially demoralizing string of events. One evening she discovered the back tires on her old Suzuki had been slashed. Lacking an adequate storage space, she had piled boxes and bags full of bedding and kitchen items inside her grandmother's home, transforming a middle room into something that resembled a child's makeshift fortress. Technically she didn't finish the move until Monday, Aug. 3 – her 34th birthday, which she then spent at the hospital where her grandmother lay ill, her lungs in constant need of suctioning. The family agreed to a do not resuscitate order.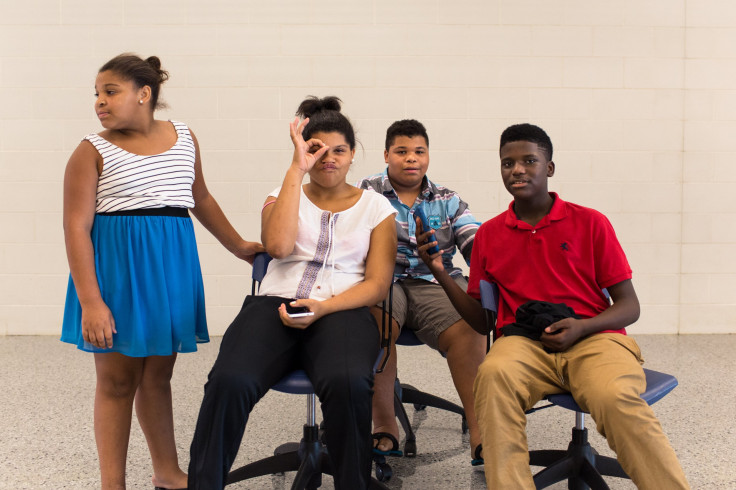 That Friday she was finally supposed to put a deposit down on a rental, but the realtor stopped returning her calls. That day, Aug. 7, was also Destiny's birthday. She was turning "7 on 7" and Desi had promised her a trip. Not that she had the money for it. She was relying on two free nights at a casino hotel in Biloxi, Mississippi, where bad fortune followed her like a long shadow. On Saturday morning, the realtor at last texted to say the landlord wanted more money than Desi's voucher would pay. That afternoon, as she and the kids drove to the grocery store, smoke started pouring from inside the driver's side door. She removed the paneling to discover the charred box that controlled the power windows – three of which were now permanently stuck down.
On the way home Sunday night, she got a flat tire.
On Monday after work, her world slowed for about 10 minutes as she waited for Damon to pick her up. Even though he didn't provide any financial support, they had a "shared interest" in the car she'd bought for $500 from his mom. And tonight she had three errands ahead of her: the post office, where her mail was on hold, the mechanic, so she could order the part to fix the windows, and a store to buy pants for Damiyah's charter school uniform — which she hoped to find on sale.
She stood on the sidewalk near a dumpster area behind her office, the sun still unforgiving in the late afternoon. A bobby pin kept her long bangs swept back from her face. In profile, her lashes curled up like fairy wings.
"Yesterday I was really, really frustrated," she says. And then: "Everything just hit me."
Her voucher would expire in mid-September if she hadn't found a place by then. "That time is just — " she snapped her fingers in the hot air — "it's passing."
She didn't want to move, just to move again because she wasn't comfortable with the area. She didn't want to have to settle for New Orleans East, with all the murders in the news. She didn't want the mechanic to give her any more bad news about the car, even though she knew it was on its last legs.
When the gold-colored Suzuki came around the corner, the front bumper was entirely missing and the windows were down, frozen in place. Desi had to laugh. "When I tell you it's holding on, I really do mean it."
Damon pulled up to the curb, and Desi darted to the passenger side and hopped in. As they pulled away, she smiled and waved goodbye through the stuck-down window until they were gone from view, and all you could see was the back of the car, and an empty circle of space where a spare tire should have been.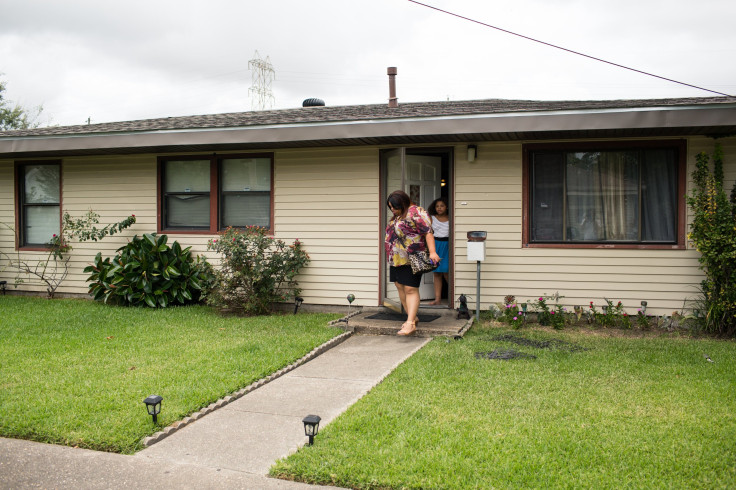 'A Better Place'
This past Saturday, at St. Peter Claver Catholic Church, Desi attended her grandmother's funeral. Earline Eloie died, at age 81, on Aug. 14. Two of Earline's sisters died, too – one the day before, and one the day after.
"Missing you dearly," Desi posted in an online guestbook, "but I know that you are in a better place."
Desi, though, was in the same place this week: shouldering rental rejections, still staying in her grandmother's house, and now feeling the strangeness of her grandmother's absence.
She'd swung by there after work earlier this month – another hot evening, while her grandmother was still in the hospital, the family wondering if they'd be able to bring her home. Desi pointed out the kitchen of so many childhood dinners, all the way at the back of the narrow shotgun. Moving toward the front of the house, she passed through her grandmother's room, and the middle room – both piled with Desi's own things. She fetched a picture of her brother, a photocopied image stuck to a piece of cardboard, and she settled, for a little while, in a chair by the front door.
"We work. We raise our kids just like everybody else do. We just want, really and truly, a decent place to lay our head."
Two small Christmas trees made of tinsel and two gingerbread figurines atop the television set harked back to December, when Desi had rushed from work to ride in an ambulance with her grandmother. She didn't even know where she'd put the decorations at this point. And, besides, she said, they'd been hoping for a miracle.
The talk of memories mingled with present realities. Desi mentioned that male prostitutes worked both corners of the block, for instance. Did she want her children seeing stuff like that? No.
What she did want was simple enough: for landlords to repair things that broke and to exterminate pests, and for potential landlords to not stereotype voucher-holders as bad tenants.
"We work," she says. "We raise our kids just like everybody else do. We just want, really and truly, a decent place to lay our head."
As she talked, the sun dimmed behind a drawn curtain, until finally it was time to go tackle the next mission: She still needed to find pants for Damiyah's uniform. She opened the door and stepped outside to a sky of disappearing light and gray-blue clouds fanning out across the horizon. She'd head across the river to do the shopping, and then come back here to lay her head.
FOR FREE to continue reading
✔️ Unlock the full content of International Business Times UK for free
offer available for a limited time only
✔️ Easily manage your Newsletters subscriptions and save your favourite articles
✔️ No payment method required
Already have an account?
Log in
© Copyright IBTimes 2023. All rights reserved.