Republican Congressman Who Confronted Alexandria Ocasio-Cortez Doesn't Give Direct Apology
KEY POINTS
Rep. Ted Yoho addressed the confrontation he had with Rep. Alexandria Ocasio-Cortez on the steps of the Capitol while speaking in the House chamber
Yoho apologized for the "abrupt manner" of their "conversation," but denied using profane language at the representative from New York
Ocasio-Cortez said she was not pleased with the apology, pointing out how he never used her name and tried to divert attention from what she called a "verbal assault"
Rep. Ted Yoho, R-Fla., on Wednesday addressed but avoided a direct apology to Rep. Alexandria Ocasio-Cortez, D-N.Y., for reportedly cursing at her during a heated altercation outside the Capitol building. Yoho addressed the confrontation in front of a mostly empty House and after members on both sides of the aisle called for him to apologize.
"I stand before you this morning to address the strife I injected into the already contentious Congress," Yoho said. "I rise to apologize for the abrupt manner of the conversation I had with my colleague from New York. It is true that we disagree on policies and visions for America but that does not mean we should be disrespectful. Having been married for 45 years with two daughters, I'm very cognizant of my language."
The confrontation happened Monday while Ocasio-Cortez was leaving the Capitol building. Ocasio-Cortez said Yoho approached her and "verbally assaulted" her, with witnesses confirming an altercation took place. She said his outburst was sparked by comments she made about how poverty and unemployment made worse by the coronavirus were driving factors in New York City's rising crime rate. She said it ended with Yoho walking away and calling her a derogatory word.
Yoho denied using profane language during the exchange and instead apologized if his words were misunderstood.
"I cannot apologize for my passion, or for loving my God, my family and my country," Yoho said.
House Majority Leader Steny Hoyer, who was among those calling for Yoho to apologize, said he was pleased with Yoho's apology and thanked the congressman.
"I hope that Mr. Yoho feels that apology sincerely," Hoyer said. "And I hope all of us take a lesson to think before we speak so harshly toward one another."
Ocasio-Cortez took to Twitter shortly after Yoho was done speaking to voice her frustrations with Yoho's comments, pointing out that he did not mention her by name and tried to turn the focus away from the confrontation.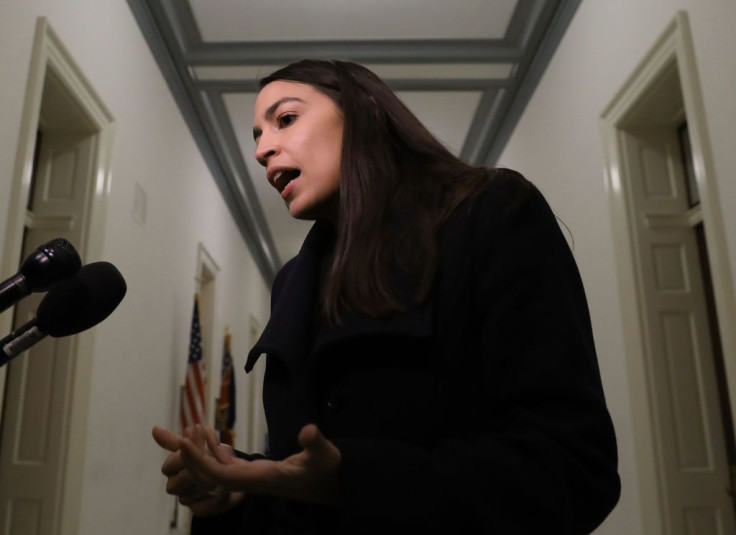 © Copyright IBTimes 2023. All rights reserved.