Republican Presidential Debate Live Updates: Best Quotes, Twitter Reactions, Memes And Analysis As It Happens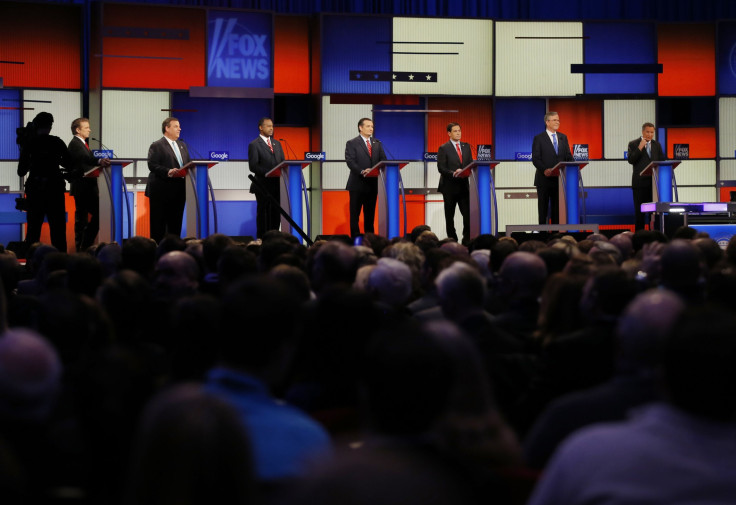 UPDATE 11 p.m. EST — The Republican debate ended relatively on time Saturday, and both Democratic candidates responded to the event on social media, making jokes about their opponents in the opposite party. Vermont Sen. Bernie Sanders posted a vine of him shaking his head, and Hillary Clinton posted a GIF from Saturday Night Live.
UPDATE 10:40 p.m. EST — People on Twitter have been complaining about when the debate will end, and they were getting their answer before the two-hour mark. Closing statements started earlier than in many of the debates.
Former Florida Gov. Jeb Bush mentioned that Saturday is Ronald Reagan's birthday in his closing statement, bringing up one of the GOPers favorite heros.
UPDATE 10:22 p.m. EST — All of the candidates generally agreed that the Veterans Administration should be reformed, and several of them give good answers, but they didn't differ very much.
UPDATE 10:13 p.m. EST — Florida Sen. Marco Rubio was asked if he would visit a mosque as president, something President Barack Obama just did this week. Rubio answered he would, and then moved to connect discrimination against Muslims to the infringement of religious freedom on Christians in the United States.
UPDATE: 10:07 p.m. EST — After the break, the moderators turned to racial tensions and policing in America. Donald Trump defended police, saying that they are afraid to act because they will be criticized and claiming that "minorities all over the country, they respect the police of this country."
"The police are absolutely mistreated and misunderstood," Trump said. "The police in this country have done an unbelievable job of keeping law and order."
UPDATE: 10 p.m. EST — When Ben Carson was asked about the differences between him and Democratic front-runner Hillary Clinton, he said that he is trustworthy and called the former secretary of state "deceitful." He also said he would do well against Clinton if he were up against her in the general election. "I'm the last person she wants to run against," he said.
Clinton, who often tweets during the Republican debates, did not seem to agree.
UPDATE: 9:55 p.m. EST — Twitter is really loving Ohio Gov. John Kasich's performance in tonight's debate. He has inserted himself on a lot of questions, which is important for him as he tries to appeal to New Hampshire voters.
UPDATE: 9:48 p.m. EST — The candidates talked about states' rights and wanting to give federal money back to the states for infrastructure repairs. Jeb Bush said he trusts New Jersey Gov. Chris Christie and Ohio Gov. John Kasich over lawmakers in Washington. "I trust the state capitols to be the source of innovation and reform in this country," Bush said.
UPDATE: 9:38 p.m. EST — The moderators asked Texas Sen. Ted Cruz a tough question about waterboarding and he says he would not "not bring it back in any sort of widespread use."
Some of the audience booed Cruz on that answer, and Trump took a much harder line on the issue. "I would bring back waterboarding, and I would bring back a hell of a lot worse than waterboarding," Trump said. He has supported the tactic before and seemed very enthusiastic about it during the debate.
Rubio got asked the question next and mostly said President Barack Obama is not tough enough, but added that security tactics should not be discussed in public.
UPDATE: 9:25 p.m. EST — You know what's really wrong with America? We don't have enough millionaires. That's Jeb Bush's argument. He said we should stop worrying about taxing the rich and instead help people get wealthy. "And I know how to do this," he said.
UPDATE: 9:16 p.m. EST — Donald Trump and Jeb Bush are just not going to be friends this campaign season, OK? After a fierce election season, Trump unleashed a new wave of insults toward Bush Saturday night during an ABC News debate in New Hampshire.
"He wants to be a tough guy," Trump said about Bush. "Let me talk. Quiet," Trump told Bush at another point.
UPDATE: 8:57 p.m. EST — Florida Sen. Marco Rubio received a question about whether he stood up for his Gang of Eight immigration legislation and he responded by saying the bill had very little support. "It is not leadership to continue to try something that has no chance of happening," Rubio said.
UPDATE: 8:53 p.m. EST — On an immigration question, Ohio Gov. John Kasich stuck to a moderate tone, saying he would not deport undocumented immigrants. Texas Sen. Ted Cruz, on the other hand, joked that Trump will build a wall for him and said "We're gonna build a wall, we're gonna triple the border patrol."
UPDATE: 8:45 p.m. EST — Donald Trump doesn't agree with Marco Rubio on one crucial fact: President Barack Obama does not know what he is doing in the White House. Trump said Rubio's repeated remarks that Obama is very intentional are incorrect.
"I think he has no idea what he is doing, and our country is going to hell," Trump said during the debate Saturday night.
UPDATE: 8:35 p.m. EST — New Jersey Gov. Chris Christie and Florida Sen. Marco Rubio got into a back and forth, hitting each other on their experience and how well they have done their respective jobs. Christie slammed Rubio for missing votes in the Senate and said he was not prepared to be president of the United States.
UPDATE: 8:30 p.m. EST -- It was a weird start to the last GOP debate ahead of New Hampshire, as Ben Carson missed his cue to walk onstage, Donald Trump stared at the camera and the hosts forgot to introduce Ohio Gov. John Kasich.
Asked whether he was too moody to be president, Trump defended his penchant for insulting everyone around him. "I've gotten along with people for years and years," he said.
Original story: The Republican presidential candidates are facing off for the last time before the New Hampshire primary election on Tuesday. The action will start at 8 p.m. Saturday night in Manchester, New Hampshire.
Ahead of the debate, Donald Trump maintained his lead in New Hampshire polling, while Florida Sen. Marco Rubio has recently shot up to second place in the state. Trump stood at 30.7 percent support in the state, while Rubio stood at 16.4 percent and Texas Sen. Ted Cruz and Ohio Gov. John Kasich were in third place at 12 percent, according to Real Clear Politics.
In national polling, Cruz still holds second place, but the Iowa results have moved the needle in New Hampshire. After coming in second and third respectively in the Iowa caucuses on Monday, Trump and Rubio managed to steal the media narrative this week and are both hoping to use that attention to do well in the Granite State.
With just days to go until the first-in-the-nation primary, the establishment candidates pinning their hopes on the state faced particularly high expectations going into the debate. As Rubio racked up support from mainstream GOPers this week, former Florida Gov. Jeb Bush and New Jersey Gov. Chris Christie attacked him on the campaign trail, likely hoping to stop his momentum. Meanwhile, Ohio Gov. John Kasich has tried to stay out of the fray and focus on delivering his own message to voters, so political analysts have been eager to see how he will perform in Saturday's showdown.
The Republican presidential field is now down to eight major candidates, and all but Carly Fiorina were invited to the ABC News debate. She sent out a message to supporters before the debate saying she would be having a date night instead of watching the event.
As the candidates face off and trade jabs in Manchester, New Hampshire, check back here for live updates.
© Copyright IBTimes 2022. All rights reserved.
FOLLOW MORE IBT NEWS ON THE BELOW CHANNELS