Republicans Need Passion from Young Conservatives to Win
Analysis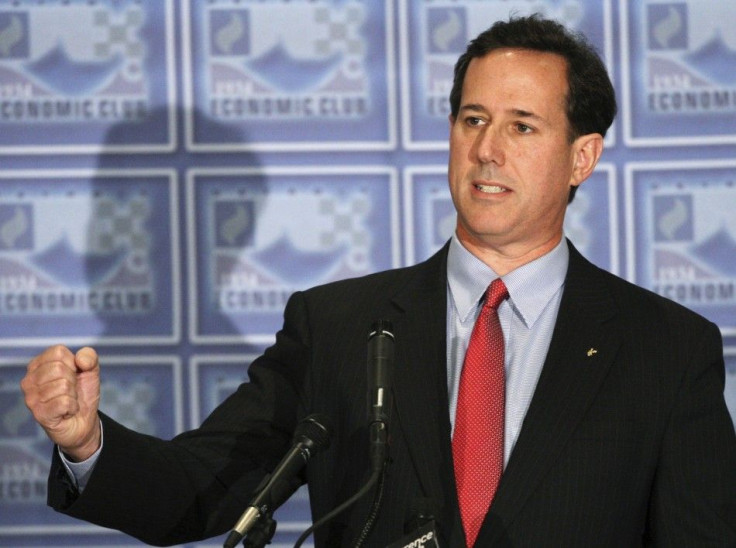 An impressive number of young conservatives made the trek to Washington in mid-February for the Conservative Political Action Conference -- more than one-half of the attendees were between 18 and 29 years of age.
The CPAC attendees represent just a small proportion of the collective 8 million young people eligible to vote for the first time this year, but they provided an interesting look into what can be expected next fall.
Among the Republican presidential candidates, former U.S. Sen. Rick Santorum of Pennsylvania appeared to generate the most interest among young people at the political summit -- every other person seemed to be wearing a Santorum sticker -- but it was former Massachusetts Gov. Mitt Romney who won CPAC 2012's straw poll.
Romney Struggles to Energize Young Conservatives
Romney wins at CPAC and in the Maine caucuses may give him a bit of momentum coming into the Arizona and Michigan primary elections on Tuesday, but he chronically appears to struggle at connecting with young people. While Democratic President Barack Obama engaged young people with unique means on his way to a convincing win over U.S. Sen. John McCain of Arizona in the 2008 presidential election, Romney has seemingly struggled with energizing the conservative base despite his front-runner status throughout the Republican primaries.
Those struggles could be due to Romney's inability to make his cause bigger than himself.
There's something immeasurable that you can't purchase in politics, and that's passion, Paul T. Conway, president of Generation Opportunity, a nonpartisan group that appeals to young adults. It's the fervent belief of young activists.
Generation Opportunity has more than 2.3 million Likes on its different Facebook accounts and provides a nice insight into the minds of the notoriously finicky young voting bloc. Last April, Generation Opportunity polled so-called Millennials and learned that 77 percent of the respondents were delaying major life changes due to economic restraints. These delays included buying a home, paying off a student loan, and starting a family.
Conway, who previously worked as chief of staff to U.S. Labor Secretary Elaine Chao in the Bush administration, believes that those individual ramifications are what are frequently left out of the narrative about the economy. He said that some poll questions will ask about the biggest issues such as the economy, but they won't delve further into what it is about the economy that is specifically impactful.
Young Conservatives Concerned about U.S. Economy
The impact of a poor U.S. economy was a topic of frequent discussion at CPAC, especially among young conservatives. Corina Cappabianca, the president of New York University's College Republicans, called the economy far and away the biggest issue in the coming election and one that many of her peers would make their voting decision based on.
She indicated hope that Obama could successfully turn around an economy beset by a 8.3 percent unemployment rate and rising debt levels, but that as things currently stood she didn't think it would happen before the November general election.
A similar mentality is what could drive young people in droves to the election booths in November to rebuke Obama's policies and inject a new candidate to fix things in Washington.
Four years later at 2012 when you have unemployment numbers at the way that they are, especially among young Americans, to think that inviting people to the political dance in 2008 and not expecting them to hold you accountable for results is total fallacy, Conway said. This demographic is very engaged in what is going on and they know how bad the economy is. They know in personal terms what the lack of opportunity means.
Obama has made a point to reconnect with young people -- he has visited hundreds of high schools and colleges over the course of his term -- but the fear of disillusionment is certainly a factor for his campaign. Obama campaign manager Jim Messina said in December about the newly eligible voters, Their brothers and sisters started this whole thing, and they're going to finish it, but Conway isn't too sure about that, given the polling numbers Generation Opportunity has collected.
Has Obama Failed to Deliver to Young Voters?
Do you trust the person who told you to change history in 2008 if you are here now and don't have that opportunity? Conway asked. Can you afford to wait another four years? How much more can you delay your life?
That point is certainly not lost on youths, but, interestingly enough, the candidates who generate the most buzz among young people -- Santorum and U.S. Rep. Ron Paul of Texas -- haven't made the economy the absolute focal point of their campaigns.
Both have tied it into their positions against Obama, but Santorum especially seems to appeal to true social conservatives.
I feel like Santorum, when it comes down to it, is actually the most conservative candidate, said Ron Ozarowski, a student at Towson University. Romney hasn't always been consistent with his conservatism. Santorum is more focused on the classic conservatism, while Romney is a new type of conservatism.
Annie Fortaknp, a student at Wright State University, concurred and said that she supported Santorum because of her own moral principles, including being pro-life.
Passion, Life-Relevant Issues, Social Media: Keys to Engaging Young Voters
The way that this can be explained goes back to a point Conway made earlier: passion. A failed economy could be the way for a Republican to defeat Obama this year, but the passion might still lie with the more socially conservative viewpoints that Santorum has made a staple of his campaign.
What's fascinating about it is that level of passion usually comes when a candidate has connected with a demographic, constituency over a long time, Conway said about the passion Santorum invokes. You can't just invent this stuff overnight.
If you can't get their passion, you can't get their understanding or commitment, either.
One way to get their passion is through reaching them on as many platforms as possible -- through grassroots movements, stump speeches, and social media. All four of the major Republican candidates have embraced social media to some extent, but none have the reach that Obama currently has.
Unsurprisingly, given that he is the president of the United States, Obama has a whopping 12.68 million followers on Twitter. The four Republican candidates have fared well on Twitter, but pale in comparison to him. Newt Gingrich leads the way with 1.41 million followers. Romney has more than 347,000; Paul has more than 246,000; and Santorum has more than 141,000. Interestingly, Santorum has the fewest followers, but an MSNBC analysis on Friday showed he has been the most talked-about Republican candidate since he swept events in three states on Feb. 7.
Generating buzz on social media while trying to engage with your audience is crucial in modern political strategy, according to Conway, who has worked on numerous campaigns in the past.
If you have a comprehensive strategy and you are sincere on reaching young Americans, you're absolutely going to be on social media and you'll be using that with many other tactics to turn people out to events, he said.
He believes that if you can achieve all of the above with youths -- generating passion, reaching them on a multitude of levels -- you can have a long impact on them.
When you have a generation that will come out and fight for you -- you have them for life.
That type of passion doesn't guarantee success in November, but it does explain the success and continued popularity of past presidents such as Franklin D. Roosevelt, John F. Kennedy, and Ronald Reagan.
Those presidents, according to Conway, understood the importance of the youth vote and made sure to engage them in the most appropriate ways. Whether any Republican candidate can see similar success is unknown, but the ability to engage young Americans will likely play a major part in whether anyone can defeat Obama in November.
© Copyright IBTimes 2023. All rights reserved.